Fashionista Ends Up With Hilarious 2-Piece Set After Shopping From Online Vendor
A lady recently left social media users cracking up after sharing her experience with an online vendor
In the video, she shared a photo of the two-piece set she wanted and then a video of what she got
The post which has since gone viral, left many people cracking up with laughter over the lady's outfit
Not everyone is lucky with online shopping experiences and this lady is one of them.
She recently took to social media to share her hilarious albeit disappointing experience with an online vendor.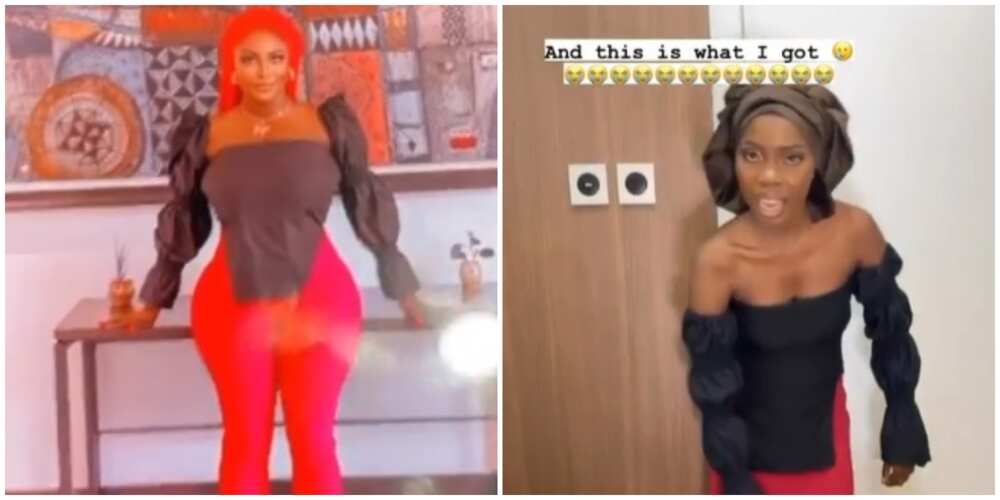 The video shared by Tunde Ednut starts with a photo of a curvier model in the outfit which comprised of an off-shoulder tiered sleeve top with a pair of fitted red pants.
While it looked flattering on the model, what the client - a slimmer lady - got wasn't exactly nice.
While the top seemed okay, the crotch of the pants was way too long for her frame.
Check out the video below:
Social media users react to lady's online order
veseverah:
"You forgot to order the shape."
nonsky:
"Aunty rest na you no get shape."
superstarace:
"Actually funny. You're not built like what you saw and ordered. Stop complaining."
officiallrosie:
"She would ordered for body suit to join body, this vendor no try at all."
scoobynero:
"Aunty u be magician?"
djkella_:
"Even what she ordered is not fine."
officiallayon:
"You're not serious."
_kingest:
"This one want just embarrass herself."
What lady got after replicating colourful fringe dress design
While many tailors are known for disappointing clients, there are those putting in the work to launder the image of Nigerian designers.
One such person is the talented hands behind one lady's colourful dress which left many people impressed.
A client had commissioned @q_couture_, an Ibadan-based tailor to replicate the draped fringe design.
Disastrous blue dress blunder stirs hilarious reactions from netizens
A designer has taken to social media to post a video showing the dress her client ordered, presumably online, and what she received instead.
In a classic case of, 'what I ordered versus what I got', in the snap of what the lady ordered, a gorgeous, silky, skinned-tight dress could be seen.
However, what the lady got instead was a blue bunder that looked nothing like the garment she had ordered.
Source: Legit.ng