Man Undergoes Dark Lips Neutralization in Viral Video, Internet Users Amused: "Lock Up All of Them"
A video of a man showing how he underwent a dark lips neutralization process has left people amused
In the video, a student learning the process carries out a practical on him which sees him with much brighter pink lips
While some believed what was shown in the video was not the end result, others simply found it hilarious
The trend of people brightening their lip colour has continued to trend on social media and one particular clip has got people talking.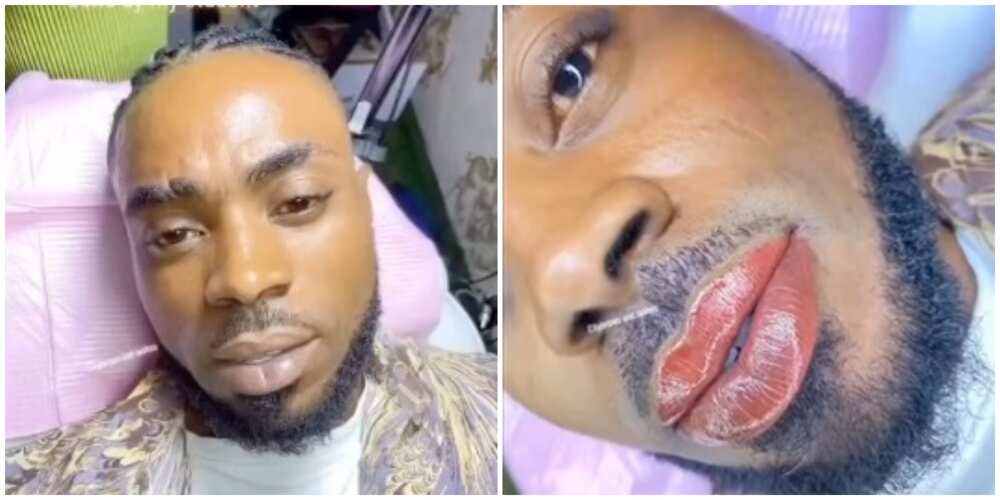 In the video, a man is seen showing his lips which were dark before the procedure which saw the colour change.
The procedure carried out by a student of the beautician sees him with much brighter and glossier lips.
Watch the video below:
Some internet users pointed out that what was seen at the end of the video was not the final look, adding that it would look more natural with time as he healed.
Check out their comments below:
adornareaccessoriesng:
"This is still fresh na, the healing would take a bit for you to see what it looks like for real ... you can't condemn off this clip."
zeeliciousfairy:
"Y'all calm down, that's lip neutralization. Orange corrector pigment was used to neutralize the dark lips and give it a lighter lip color. Once the lip heals, it's not going to be that color, it's going to be normal lip color, but with a brighter tone. This is even more effective and safe than using pink lips balm."
the_romance_room:
"This shows that many of you that claim to be woke aren't nearly woke and advanced yet. they did well . It hasn't healed and it's still fresh. Give it like 3-5 days. It will become normal and look better. Not too colored like this. The colour will fade and it will look natural."
Internet users amused with man's pink lips transformation
ask.dehrine:
"Certificate even Dey? … Abeg let this be your last practical work."
reshapeme_nig:
"Ok, I'd go to bed now. That's enough Internet for the night."
elzaryeyeclinic:
"Kai, I think a girl would have been used for this advert, just maybe ..it maybe be "giving , this one is not giving at all o."
dammythegreat:
"It's not giving."
theelizabeth_:
"What did I just watch pls ? And he too he posed?"
kinghashthattag:
"Got to hand it to him. He did good letting us all know how he got there. Some would come lying. I was "born with pink lips"..... Adjust your crown King..."
ndamoiselle:
"They need to lock all of them up for a wrong job well-done."
Reactions as fashionista shows off her mullet hairstyle in viral video
Valentine's Day is in a couple of weeks but it appears some people are already gearing up for the special day.
A video has gone viral on social media in which a young lady posing for the camera after getting her hair done.
While mullets are making a comeback in the western world, it isn't exactly a popular hairstyle choice in Nigeria.
Source: Legit.ng