10 ladies Share What They Did With Their Traditional Wedding Outfits After Event
Ever wondered what happens to these traditional wedding outfits worth hundreds and millions of naira after the bride is done with them? In this article, Legit.ng satisfies this curiosity with responses from some ex-brides.
When it comes to traditional weddings in Africa, Nigeria takes the lead with lavish ceremonies that often run into millions of naira.
With a focus on brides, the breakdown of a cost estimate for most wedding looks - involving makeup and gele - has remained a constant thing of debate on social media.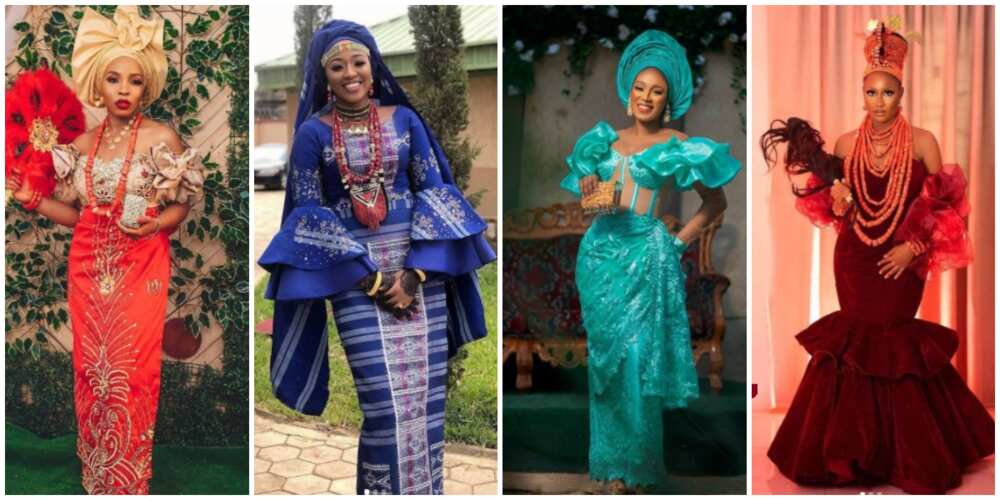 The dresses rocked by brides for traditional wedding ceremonies are more often than not, elaborately designed to fit the extravaganza that is a Nigerian wedding.
Interestingly, these dresses are far from casual and cannot be rocked on regular days. So what happens to them after the glitz and glamour?
Twitter user, DJ Alonso, put out a tweet asking brides what happens to these dresses after the ceremony is over.
Legit.ng has compiled ten responses gotten from women.
Check them out below:
1. @cworji_fashion
"I wear mny first outing cloth every ist Sunday in December 3 years now and counting. Na me sew so allowance plenty inside . 2nd outfit for annual Thanksgiving, the money will not waste those outfit must served until it expires well. Reception gown is always for ist Sunday of January each year Na serious investment so it must serve. My husband does not want me to convert my wedding gown to short gown if notif not."
2. @beatbycoco_mua
"I tried to make outfits I'll be able to wear again cuz Omo the weren't cheap , my reception dress is what I don't think I can wear again but the style isn't complicated , I'll either gift them or I don't know lol."
3. @vonnie_mutofwe
"I made a museum to come show my children and my grandchildren just like my graduation gown."
4. @mrs_jibs
"I blessed someone with my own."
5. @kemmyluvs
"Wore my second outfit for by baby dedication but since then, it is tucked away in my Apoti"
6. @odamiss
"My own has not come out of my box since them , I've not even brought it out . And my Asooke too. Thinking of it now, maybe I should re structure them or just auction them."
7. @jenelanifa
"We were them now.... Me I wore my traditional dress for my son's covenant naming and also for photoshoot for dedication."
8. missinye
"I wear it for special occasions in church."
9. bimbolakemi
"I bought dresses I can re rock, so rocking both traditional outfit nd Registry gown eseun."
10. jaydee_fabrics
"All my outfit....I still wear Dem perfectly..I revamped my reception dress and am wearing my trade to church this Sunday for Thanksgiving "
For the fashion baddies: 8 beautiful ladies show how to slay in asoebi looks
The weekend is here again and if you are unsure of what to make for that upcoming owambe then keep reading.
If you're a fan of the glam that asoebi styles provide, Legit.ng has compiled a list of eight beautiful looks that should inspire your next design.
Source: Legit.ng