Unapologetically Feminine: How DJ Cuppy Remains the True Queen of Her 'Pink Fashion World'
They say don't change to fit the fashion, instead, change the fashion to fit you. This appears to be what DJ Cuppy has been doing ever since she shot into the limelight following her sojourn into music.
Real name Florence Otedola, the music enthusiast who became a public figure after kickstarting her DJ career, has remained one of Nigeria's most talked-about female celebrities - and her music isn't just the only reason.
Being the daughter of Nigerian billionaire business magnate, Femi Otedola, a lot of people expect that such a 'rich kid' would have access to the best stylists in town.
Her love for pink
Now, while this may be true, it appears DJ Cuppy is one who lives by her own tenets and not by what people expect of her.
A trip to her Instagram proves this to be true.
Cuppy's affinity for the colour pink reflects in every aspect of her lifestyle. If she isn't sporting a pink hairdo, best believe that her outfit or at least an accessory will carry that colour.
And on days she wears nothing pink, never forget that the billionaire kid got her penthouse decorated in pink - all shades of pink.
In a 2021 interview with Glamour Magazine UK, she explained her love for pink:
"I just think pink is constantly used as a weakness or vulnerability, but it's strong. Pink for me is about strength. Pink for me is about being a rebel and about being unapologetically female. I'm a DJ in a male-dominated industry and I have my battles to fight every day because of that, so pink is a way of expression."
The only sibling with a unique taste
Oftentimes, people express on social media that it is hard to believe that the Original Cuppy crooner and Oxford student is related to fashion enthusiast, Temi, and their older sister, Tolani who is into music.
Now, while Tolani is more laid back and keeps her affairs out of public sight, Temi - who is currently dating singer Mr EAZI - is more fashion-conscious and is often described as au courant in all things fashion and style.
And right in the middle is Cuppy, whose style is loud and unapologetic despite the heavy criticism it attracts from Nigerians.
Her love for eccentric designs and unconventional ensembles often makes her the subject of ridicule online.
In February, the billionaire daughter got dragged online over her choice of outfit for her #CuppyGoldDust live performance.
In the videos shared, the singer who appeared to have put on a noticeable amount of weight donned a red silk-like high-leg midi dress with feather puffs around the sleeves.
She paired the look with some hot pink sneakers, which complimented her signature pink hair.
However, the dress did anything but flatter her seemingly new body and it didn't take long before the pregnancy rumours started flying around on the internet.
Watch video below:
Pre-Pink Phase
Before the pink hairs, clothes and lavishly decorated pink penthouse, DJ Cuppy used to have a thing for blond weaves and braids.
This was during her early days as a disk jockey. Every sighting of DJ Cuppy saw her rocking different shades of blond hair and several Ankara ensembles.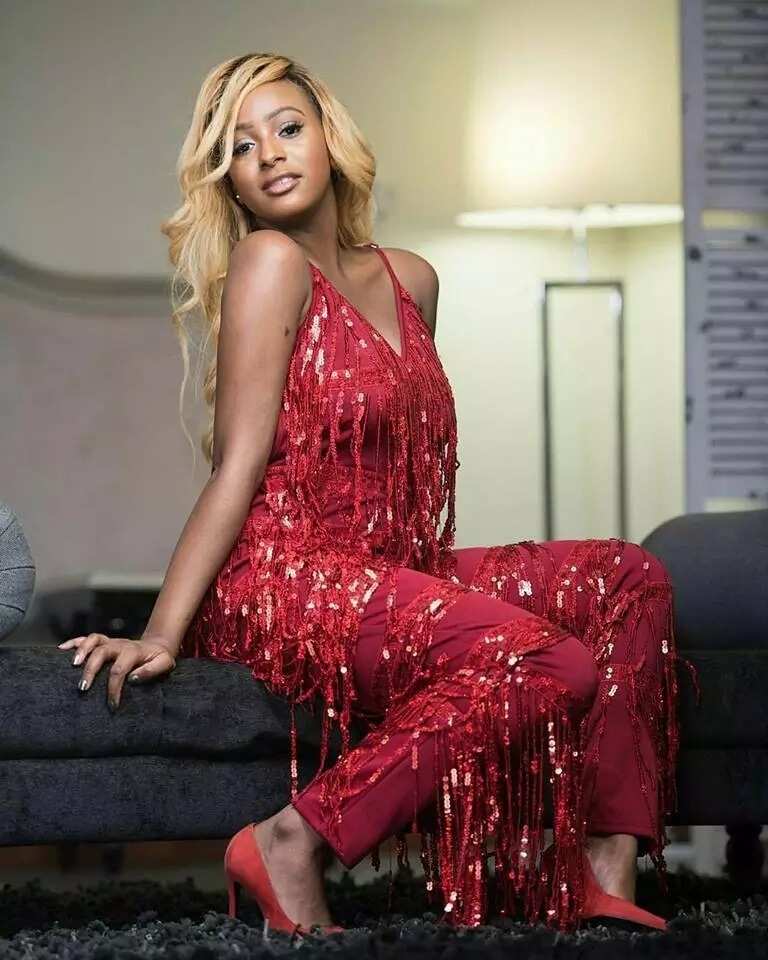 Never dimming her light for the haters
Despite earning a master's degree in music business from New York University, many people attributed her success to her father's affluence.
Well, if unbothered was a person, it would most certainly be Cuppy because her only response has been her consistency in doing the things she loves whether it passes the 'Nigerian standard' or not.
While there are still people who detest her sense of style, a lot more others have come to love the pink craze Cuppy has going for her.
Her journey through fame is the perfect example of why it is important to stay true to oneself. Like the saying goes, 'do you, the world will adjust'.
So, when next someone tells you to dim your light, hand them some sunshades!
Source: Legit.ng