What I Ordered: Lady Disappointed by Online Store Forced to Wear T-Shirt and Jeans to Event
In yet another online shopping disappointment story, internet users have shared their thoughts on what could have possibly gone wrong with the order.
If you thought that the only thing constant in life is change then you most definitely thought wrong. Standing tall beside change is the online shopping disappointments alongside 'breakfasts' served by tailors.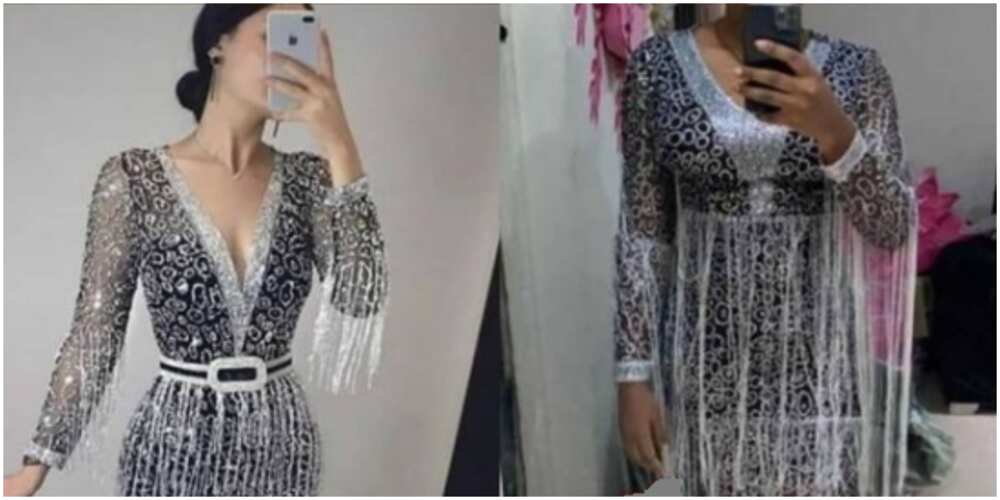 In this story, however, the focus is on online vendors marketing things they do not have in store.
Entrepreneur, Hustlersquare shared a post about a lady who had ordered a dress online with the intention of wearing it to a wedding ceremony that she was supposed to attend.
However, what came in the delivery package was not what she had hoped for.
PAY ATTENTION: Install our latest app for Android, read best news on Nigeria's #1 news app
Though sporting the same design as advertised on the 'luxury online store', the cut and fitting of the dress was very different and also subpar.
According to Hustlersquare, the lady was forced to wear a casual outfit to the wedding due to the disappointment she suffered.
The caption for the post reads:
"Aunty said she bought this from a luxury store on Instagram (So it's not a cheap dress)... Finally she had to wear Tshirt and Jeans to the wedding she had... Sometimes I don't understand the disparity between What you are selling online Vs. What you actually have??? Abeg who can help me spot the difference and proffer solutions."
See post below:
Reactions
Below are some comments from internet users:
jarabosshair_:
"They sold a replica to her. The dress she got looks like the one on the model but it's definitely not the same dress. My guess is they got a replica and used the model to attract customers."
deezfreshjuice:
"The dresses have some similarity in fabric and design, definitely not in style. The vendor used the model as a bait to attract buyers"
ola__ife:
"One is turkey , the other is China ."
glitzlingerie:
"Luxurious vendor should start taking pictures of their products"
janelibeddings:
"They sold Egungun masquerade festival cloth to her."
divabyqbwigs:
"Hmmm.. this one is loud o!. There is a Hoooge difference!! The length, material used and finishing of the dress is not anything like the original dress. The solution, in my opinion is to return the dress for a refund if the business has such policy in place… if not na to dash person wey no mind wear am like that "
feetzandsparkle:
"It is well o some vendors will just be spoiling online business for us the difference is obvious and for the sake of Goodwill, the vendor should apologise and do a refund except the vendor no get conscience "
Tailor disappoints lady
There are many great disappointments in life and not having a good tailor or fashion designer in your corner will most certainly have you experiencing some pretty big let-downs, just like the lady in this story.
Sometimes, it is easier and often cheaper to have stylish looks rocked by celebrities recreated by your own tailor rather than take it to the original designer.
Such seems to be the case of a lady who was recently stunned after she took delivery of a dress she commissioned her tailor to make.
Source: Legit.ng