Bvlgari Babe: Blogger Linda Ikeji Splashes over N4m on Designer Wristwatch
When it comes to living the good life, be rest assured that money is anything but a problem for Linda Ikeji, and it shows in how often she spends on luxury.
The Nigerian celebrity blogger and media mogul has over the years proven herself a lover of the finer things of life and we cannot blame her.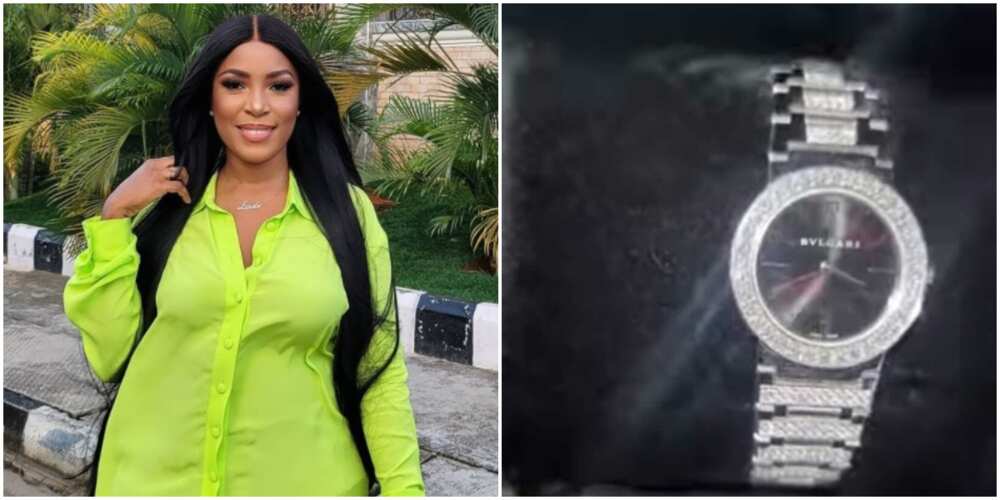 With a successful blog and a rapidly growing media house to her name, it is only fair that she spoils herself every once in a while.
Well, she most certainly went all out this time around.
Her sister and top Instagram influencer, Laura Ikeji, recently took to her Instagram Story to share videos of Linda's latest acquisition and it is nothing short of opulence.
Sharing a video of a Bvlgari wristwatch, Laura captioned:
"My sister is living my dream sha! Dang!!! Linda is balling different."
See the video below:
Price check
A quick trip to Bvlgari's official website showed no results for the watch but a website theluxurycloset.com listed the 'Bvlgari Black Diamonds 18K White Gold Bvlgari Quartz' for the price of $10,710 which is about N4.4 million.
Birthday luxury
Linda Ikeji celebrated her 41st birthday on September 19, 2021, and held an intimate dinner with family and close friends.
However, while there may have not been a lot of buzz surrounding this year's birthday celebration, Ikeji was not about to be caught 'unfresh'.
The millionaire businesswoman chose quite the ensemble for her birthday celebration.
She took to her Instagram page to share photos of herself in a neon yellow dress with a flower print clutch purse.
Laura Ikeji's expensive collection of sunglasses
Meanwhile, Laura Ikeji is one style enthusiast who is in love with the luxury side of life and holds no apologies for it.
The mother of three - who is known for giving fans glimpses of her wardrobe - is certainly a collector of high-end branded fashion items and it goes without saying that she has an expensive taste when it comes to looking good.
Several months ago, the popular Instagram brand influencer shared a video in which she flaunted her collection of designer sunglasses, and in that video, 20 sunshades were showcased.
Source: Legit.ng