Iyabo Ojo Visits DJ Splash, He Speaks About Naira Marley, Spills Messy Details About Marlian Records
Naira Marley's former disk jockey, DJ Splash, has now spilt more tea about Marlian Records boss to actress Iyabo Ojo after she visited his home
In a heart-wrenching interview making the rounds online, Splash explained how Naira and his boys planned to poison him because he wanted to start music
DJ Splash's explanation of the horrors he faced with Naira Marley got many Nigerians showing concern
A Nigerian man, Adeyemi Kendrick, spoke with Legit.ng on young people who suddenly find wealth and how it confuses them
PAY ATTENTION: Сheck out news that is picked exactly for YOU ➡️ click on "Recommended for you" and enjoy!
DJ Splash, a young disk jockey who reportedly lost his mind while working for Naira Marley, has spoken up.
Nollywood actress Iyabo Ojo visited DJ Splash's home to speak with him after singer Mohbad's death.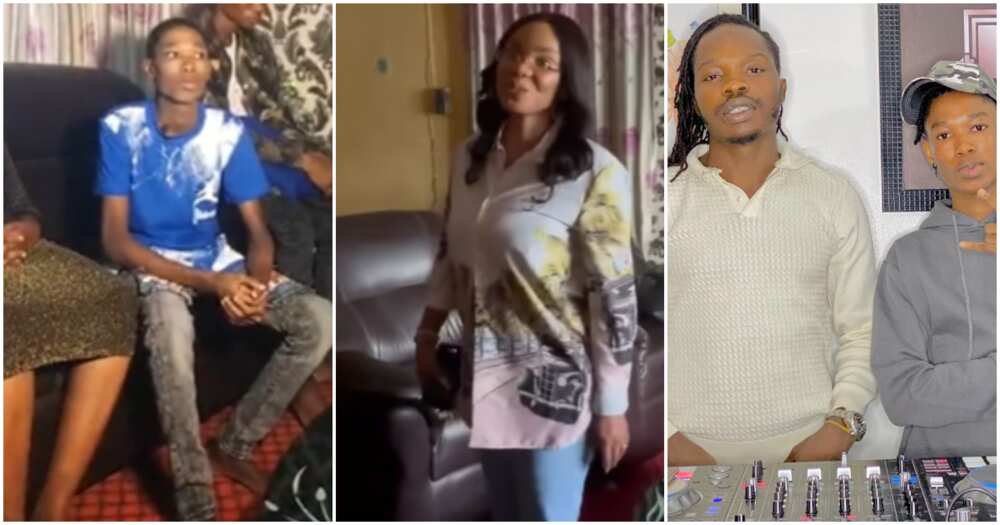 The talented disk jockey was seen looking sickly as he recounted how Naira Marley and his boys planned to poison him and later dumped him back with his mother after he stayed with him for a while.
In the video posted on Iyabo Ojo's Instagram page, DJ Splash explained that he started living with Naira Marley and doing his disk jockeying, but he wasn't making money to be able to send home to his folks and the little money he made, he used it to eat and fend for himself.
Splash then noted that he decided to leave DJ-ing and venture into music with the hopes of making money to be able to care for his family. The youngster revealed that he made his intentions known to Naira Marley, and the Marlian Records boss was not pleased with it.
DJ Splash explained that after he revealed his intentions to Naira Marley about starting music, the Marlian Records boss and his boys started plotting to poison his food and make him mad while also telling his mother that he was not okay.
The youngster explained that they were not aware that he heard their discussion. DJ Splash added that after a while, his body started to feel strange, and he decided to stop eating their food. He started buying his food outside.
The youngster said his plan to start making music was not because he wanted to do better than them but because he wanted to be able to make better money and do something tangible with his life.
DJ Splash revealed that Naira Marley even reported to his mother that he was no longer cooperating with them.
See the heart-wrenching video below:
Reactions as DJ Splash reveals how Naira Marley plotted to make him mad
DJ Splash's narration of his ordeal with Naira Marley soon caused a huge online buzz, and many Nigerians expressed their displeasure with the Marlian Music boss.
Read some of their comments below:
yhemo_lee:
"He looks sick!! Very sick at that."
thefoodnetworknig2:
"Oh okay, so in short, NairaMarley picks up destinies and just destroys them! A ritu alist and more."
stanbnx:
"At this point I think this record Label is beyond what we know."
ladyque_1:
"They ruined him That record label should be ban already."
ab_phill:
"Wicked Record Label, Even Cubana Chief Priest go lean if Marlian Records sign am."
priscillia_oluchi_:
"All these against one person. And you manage to close your eyes to bed? I'm utterly gobsmacked!"
annieberrycourrt:
"U force boys to take drugss..u use them as ur lab rat and ur mum is aware of the whole situation according to what dj splash confessed….haaa except they kill God,except they close the heavens,except there is no more God…Naira and everyone involved will never know peace…Amen."
cleopatrasblog:
"I'm sick to my stomach."
affordableart.ng:
"What a wicked world I can,t hold tears."
sisitranz4mers:
"Naira marley mama should be questioned dat one only one slap she go sing truth."
sisitranz4mers:
"Gawd pikin say e wan sing join dj naira marley turn d boy to enemy so drugging him to turn him mad was his option?..una see say mohbad wasn't lying."
Money can overshadow how you think - Adeyemi Kendrick
A young Nigerian prince, Adeyemi Kendrick, spoke with Legit.ng on the drama surrounding Mohbad's death and his former record label, Marlian Music.
Adeyemi spoke on how young people suddenly making money can affect them and how they first need to make investment plans in case the money stops coming in.
"The thing money is that when you have it all of a sudden at a very young age, the thing about you and money in that particular time is that it starts to overshadow the way you think, you won't be able to do some things, that's why you need to have trusted people around you, people who can lead you right and give you advice. It's not like you start making money as a young person and the next thing you do is move to Banana Island, start buying cars and other things that don't add value to your life in a reasonable way. You're just making money and there should be a clear plan of what you should do at a particular time, an investment plan, how to build your future in case that money stops coming, what are you going to live on? What do you want to survive on?" he said.
Adeyemi also spoke on substance use among young musicians and how their management is to blame. According to him, they need to help their artistes get on track because having talent is not enough.
In his words:
"They need to stay away from using substances. I see the way these people use substances, especially the youths in the music industry, managers need to start doing better because they need the psyche of their artiste to be upright and the more you are substance-induced, the more you derail. Using substances may not affect your talent but it will affect your lifestyle and orientation and when those things become distorted, the talent may no longer be valid despite the fact that you may be good at your craft. So when a young person is making money, there should be a trusted management that would put their life on track in case things go sideways for a bit."
Mohbad's father reveals why he hurriedly buried singer
Meanwhile, Legit.ng had earlier reported that Mohbad's father, Joseph Aloba, explained why his late son was hurriedly buried in a 'rough' location.
Recall that Mohbad's burial site, located beside a cassava farm, had raised a series of complaints from Nigerians who felt it was not befitting for a celebrity.
In a video posted on Instagram by @temilolasobola and spotted by Legit.ng, Mohbad's father explained that in Yoruba land, such a corpse cannot be kept for long because he died young.
Source: Legit.ng