"All I Have Are the Things I Travelled With": AY Makun Returns Home After Fire Accident, Takes Tour of House
Veteran Nigerian comedian AY Makun recently shared a clip online of his Lekki mansion that was gutted by fire
The famous comic, in his post, revealed that the only clothes, shoes, and jewellery he has now are the ones he took along when travelling
AY has been away from Nigeria for some months, and it was during his time away that his house was gutted by fire, destroying it beyond recognition
Popular Nigerian comic and filmmaker AY Makun was recently hit by a terrible incident that left him and his family homeless.
AY's famous Lekki mansion was gutted by fire on August 8, 2023.
The comedian, who revealed in a post after the inferno that he was not in Nigeria when the incident happened, finally returned to the country and has now visited the ruins of his old house.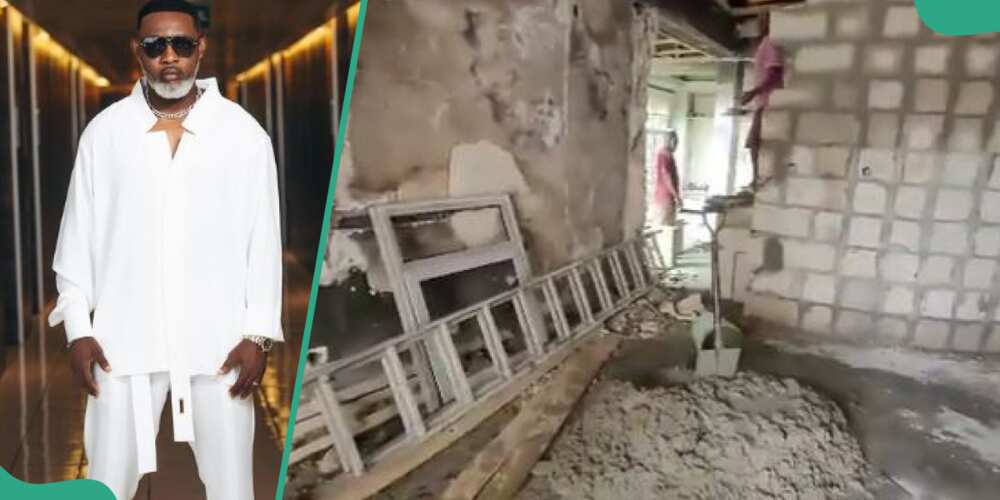 But what seems to have captured people's attention the most about the video was that construction workers were already on site renovating the house.
No going back to square one, we shall rebuild - AY
The comedian noted that as he walked through the house while the renovation was on, he realised that the only clothes, shoes and jewellery he had left with him were those he had taken along when he travelled out of the country.
See AY's comment below:
"There is no such thing as going back to square one. We shall rebuild our lives using this adversity as a stepping stone to greatness. God, no go shame us."
Watch the video of the remains of the house as renovation goes on:
See the reactions the clip stirred online
@HonObahiagbon:
"May this deleterious experience transmogrify into a coruscating denouement for you in Jesus Name."
@DJDaley:
"It's very sad to see this happened to you and your family. May God Almighty recover all that has lost for you in tenfold. Stay strong; as the saying goes - where there's life, there's hope."
@shyna4me:
"Stay strong!!! I hope you got insurance."
@DikeKelechi6:
"The lord is ur strength... You will come back better big bro."
@StevenOyuwe:
"God will not shame you. It is only a step back for your step up."
@laraGold143:
"The two hardest tests on the spiritual road are the patience to wait for the right moment and the courage not to be disappointed with what we encounter. I have told you already God will give you much more than what was taken from you. You're the strongest person I know."
@Glorych2gen2:
"You are Great already, what is yours is yours forever, no man on earth can pull you down."
@sodiqakeem17:
"Sorry for your lost Boss man. Everything will come back "double double"
AY breaks silence after fire guts his Lekki mansion
Meanwhile, Legit.ng reported that popular Nigerian comedian and filmmaker AY Makun finally broke his silence following the ugly fire incident in his home.
Even though the prolific stand-up comedian and filmmaker had not officially commented on the incident, fans showed him love, support and solidarity when the news broke.
In a post on his Instagram page, the comedian put netizens' minds at rest over his safety.
Source: Legit.ng