"Ritualistic Vampirism Rubbish": TBoss Knocks Monalisa Stephen's Revelation of Her Boyfriend's Bedroom Tactics
Nigerian actress Monalisa Stephen broke the internet when she opened up about her boyfriend's bedroom skills on the popular Nedu's podcast
In a conversation with Nedu Wazobia, Monalisa said her boyfriend used to go down on her during her period
Reality TV star TBoss joined the vehemence against the actress as she reacted to the viral clip from the interview
Big Brother Naija star Tokunbo Idowu, better known as TBoss, reacted to Monalisa Stephen's shocking revelation about her bedroom life.
In a popular Nedu's podcast dubbed honest bunch, Monalisa revealed that her boyfriend goes down on her while she is on her period.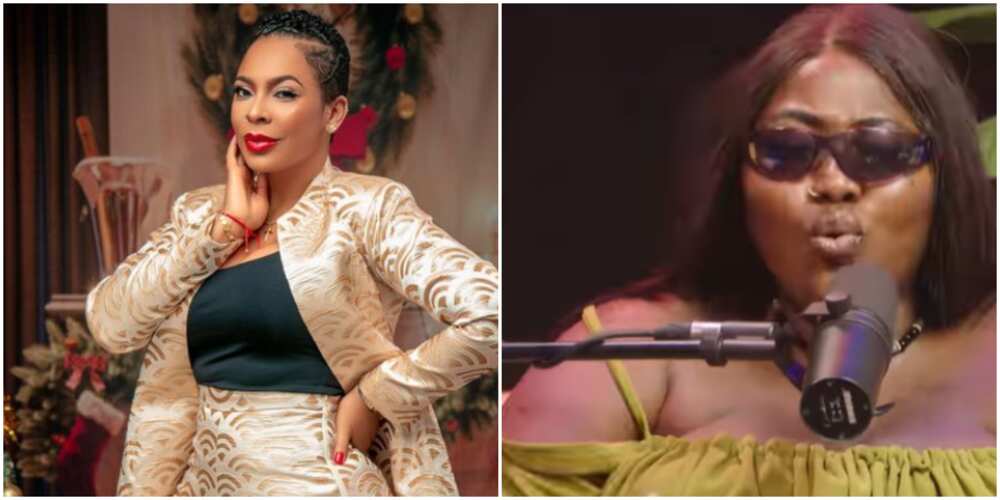 She said that, at first, she was uncomfortable with it; however, as he continued over time, she realized that her boyfriend was showing his love and was ready to love everything that came out of her body.
"My boyfriend used to go down on me when I was on my period. The first time, I did not know what he was trying to prove, then he did it again and again" she said.
Social media users have been discussing the video where she made her admission; many are unhappy with it.
Big Brother Naija reality star TBoss, reacted to the video, saying:
"The way she's trying to convince us that that's not some ritualistic vampirism. Rubbish is seriously giving me a migraine. Tell us who that boyfriend is so we never go close to him. I don't even want you to speak near me with that mouth. Eeewwww."
See her post below
Nigerians join TBoss to drag Monalisa Stephen
cruisewithjoe:
"Somebody please tag her boyfriend. He needs a doctor"
just_shedrack:
"Monalisa is just saying that for clout bcus i don't see a reason why a guy will ever do such, moreover she's not even beautiful or s8xy so why i no sure say she go get boyfriend. Tufiakwa."
7figurenwty:
"Una know if she dey lie....some of them can say rubbish just to trend which normal right sane man would go under on his woman during her menstrual flow either she Dey lie or something is going on."
foloflowpr:
"You Dey drag person way no get boyfriend."
eyebreakdrules:
"The saddest part is that Monalisa doesn't have a bf…shiorr."
benybentz:
"That girl doesn't have a bf. Who wan date that kind person? Person way her belle cover her toto. How you wan take knack talk more of giving head. She's just lying and she has set herself up for drags."
Nedu spills the tea about how some female celebrities make money
Popular media personality Nedu Wazobia made headlines over his revelation about some female celebrities and how they make their money.
Nedu while speaking during a podcast shared how he walked in on two famous celebrities sleeping with his rich friend at Transcorp Hilton Hotel in Abuja.
While he didn't mention names, Nedu gave a hint about a Big Brother housemate who his rich friend gave N3 million just to talk to her and also gave her almost N7m after sleeping with her.
Source: Legit.ng