"He Is an Opportunist": Fela's Son Seun Kuti Slams Peter Obi, Says He Lacks Political Integrity, Video Trends
Seun Kuti, son of legendary Nigerian singer, late Fela Anikulapo Kuti, recently bashed the Labour Party presidential candidate, Peter Obi
The Afrobeat singer shared his thoughts about Peter Obi's presidential bid, tagging him as an opportunist who only created the Obidient movement for his selfish ambitions
Seun also labelled Peter Obi a capitalist using the platform of a socialist party like the Labour Party to pursue his political gain
Grammy-nominated Afrobeat singer, Seun Anikulapo Kuti, held no bars back as he criticised the Presidential candidate of the Labour Party, Peter Obi during a recent interview with his namesake Seun Okinbaloye.
Seun Kuti said, while on the MicOn podcast, that Peter Obi is nothing but an opportunist who is merely using the Labour Party platform to actualize a selfish personal ambition.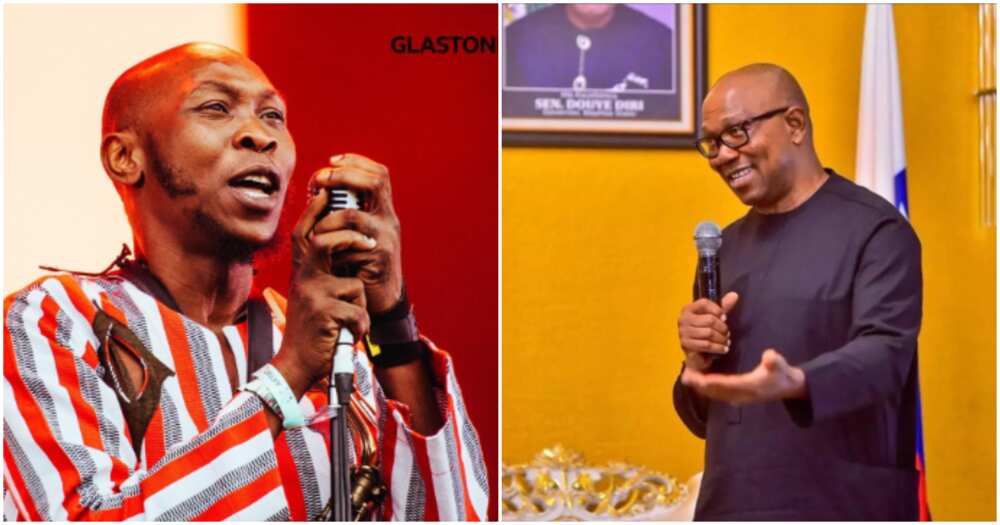 He went on to state that Peter Obi is a staunch capitalist, which was why he was in the People's Democratic Party (PDP) but for his selfish desires, jumped ship to a socialist party.
Seun, like his father, is a political activist and socio-commentator with strong political views about how to make Nigerian better.
Watch Seun Kuti bash Peter Obi while on the political show theMicOn:
See how netizens reacted to Seun Kuti's bashing of Peter Obi
@shakara_:
"My problem with this guy is that he talks too much, keeps pointing out errors without solutions."
@allen_influ:
"So what is your solution right now you don't just talk anyhow so tell us who do you want us to vote for ?? Confuse man."
@uptownthehommie:
"This guy is just another perssimistic career activist. They never create or backs any solution, they just push the idea of Nigeria is irredeemable so we can continue to be perpetual protesters instead of solution bringers."
@debbie_ken101:
"No President can save Nigeria, only people of Nigeria can save Nigeria and people of Nigeria Choose Obi.. Now what are you saying sir? Is Obi not a Nigerian? Tell me if you're not the opportunist."
@officialweyinmiprecious:
"Criticism without suggestions or solutions is not the kind of structure we need either."
@olakunlewahab:
"Seun just said what I have always been saying God bless you. The earlier these internet guys know this the better."
@remo_ola:
"This guy is just a noise maker acting on the glory of he's father... Mugu."
@ayam_ikenna_84:
"Seun Only knows how to Talk philosophy. PO is an opportunist, and no president can change Nigeria. So should we then sell the country ? You."
@payday.sure:
"See finish, una dey always easily down play calm people. That's because Nigeria never get Dictator wey be say na only himself he sabi, na there una go know say Legislature and Judiciary na bobo."
Seun Kuti channels powerful God in 40th birthday photo
Meanwhile, Legit.ng recalls reporting that It was indeed a moment of joy and celebration for Nigerian musician, Seun Kuti, who recently celebrated his 40th birthday celebration in good spirits.
The Grammy-nominated musician took to his official Instagram page with a photo specially taken in celebration of the new age.
Apparently, Kuti teamed up with celebrity photographer, Kelechi Amadi, to come up with powerful images that truly capture how he is feeling as a new 40-year-old.
Source: Legit.ng