It's Audacity of This Z-List Actor for Me: Tonto Slams Ifemeludike for Disagreeing With Her Post on Olunloyo
Nollywood actress Tonto Dikeh recently advised Nigerians to ignore controversial investigative journalist Kemi Olunloyo's issue
The mother of one said focusing on Olunloyo could make people lose sight of the real issue which is getting justice for the Oromoni family
Tonto's younger colleague Chioma Ifemeludike disagreed with her, stating that it's time the journalist understood there are consequences to actions
Nollywood actresses Tonto Dikeh and Chioma Ifemeludike were recently spotted exchanging words on social media
It started when Tonto urged Nigerians to ignore Kemi or deal with her legally so as not to lose sight of the justice everyone is demanding for the Oromoni family.
Ifemeludike replied the actress and said that Kemi has to be held accountable for the things she says on social media. According to the actress, the journalist hurts people with her words and the posts she makes online.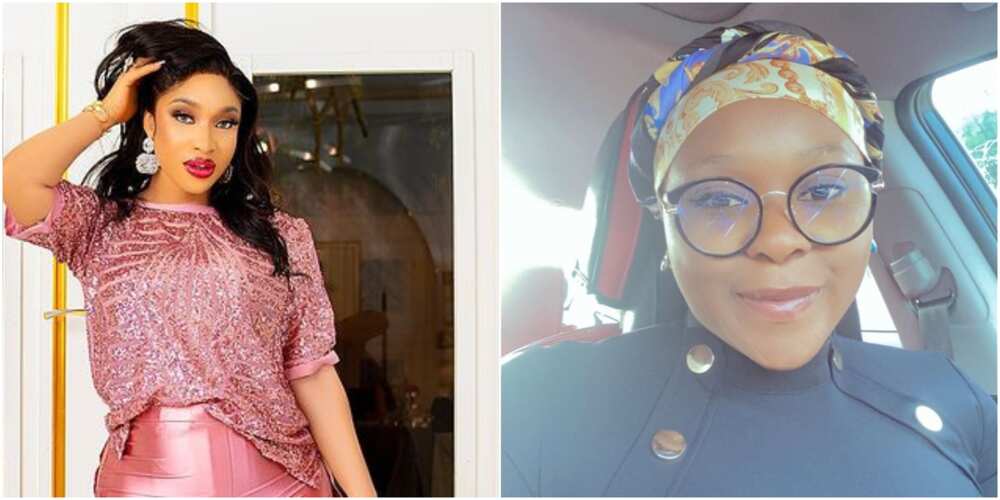 Below is what Tonto Dike said about Kemi Olunloyo:
Read Ifemeludike's response to her post below:
Tonto seemed to have spotted her younger colleague's response and she replied her.
In a now-deleted post, the actress wrote:
"Ifemeludike, if I seat down to reply you, Darling you will land on Apostle's Di*k... It's the audacity of this Z-list actor for me."
Again, Ifemeludike replied to Tonto's description of her:
Nigerians react
ladyque_1:
"Tonto said attention has been divided and she's right. I pray Sylvester gets justice."
agwai_paulinious:
"There's always one person to counter anything you say smh."
dominica540:
"Tonto just said let's not focus on kemi and forget the main case. How is this so difficult to understand."
topman_tech_registered_company:
"Its hightime we kept Kemi in her place. Lets not ignore. Else she will be misleading the unwise ones."
livy_kamzy
"My problem is she is diverting people's attention from #justiceforsylvester."
petezslims_:
"I totally agree ; she needs to the police where she got her information from."
a_bimb_ola:
"What I know is this whole dragging of Kemi is taking the spotlight from the real issue …."
Femi Falana requests police to investigate Kemi Olunloyo
A law firm, Falana & Falana's Chambers owned by Femi Falana, wrote the police to invite Kemi Olunloyo over her claims that late Sylvester Oromoni willingly allowed himself to be beaten and agreed to drink engine oil.
The police were requested to investigate the allegation of false information made and published online by the journalist.
Nigerians took to social media to rejoice over the news on Olunloyo.
Source: Legit.ng