Baba Suwe: Controversy Over Actor's Burial As Islamic Clerics Disagree With Family in Video
Nollywood actor Baba Suwe is finally being laid to rest at his residence in the Ikorodu area of Lagos state
However, live coverage from the event sparked reactions on social media as Islamic clerics and the family members seemed to be in disagreement
The video sighted online captured a crowd of onlookers who watched the drama between the parties unfold
Funeral arrangements have already kicked off for Nigerian veteran actor Babatunde Omidina popularly known by many as Baba Suwe.
A live recording from the venue of the late actor's Ikorodu residence was shared on the official Facebook page of The Nation, and it was reported that there was controversy.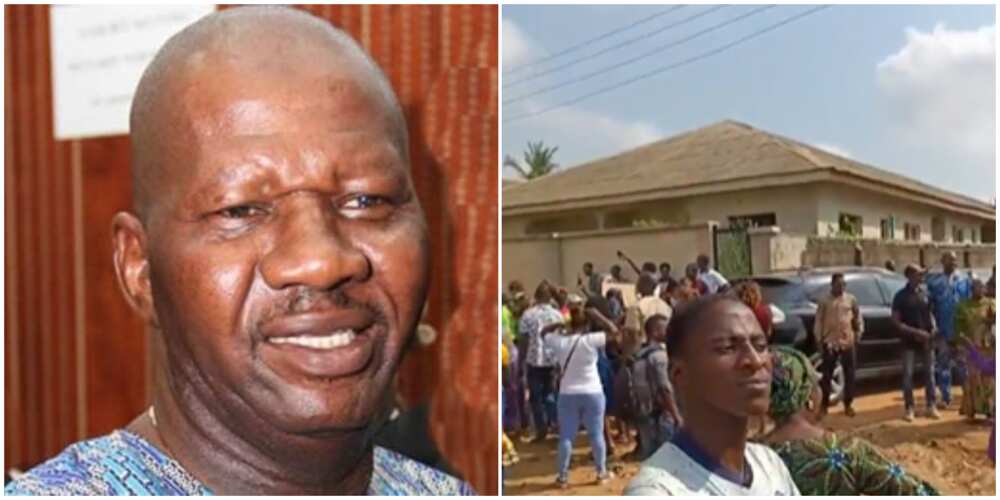 Apparently, the late actor's family members and some Islamic clerics present at the ceremony seemed to have come to some disagreement over how he should be buried.
The 15-seconds clip spotted on Facebook captured a crowd of onlookers who were gathered at the scene as the drama unfolded.
Watch the clip here.
Reactions
One Facebook user who reacted to the recording noted that the actor should be buried according to the teachings of his religion before death.
He wrote:
"Allow him to be buried in accordance with the teaching of the religion he embraced and practiced b4 he dies."
Another individual wrote:
"Family tradition supercedes any embraced religion.The clerics should persuade the family, they can't do it by force."
Baba Suwe's ex-wife, Suwe, breaks down in tears as she mourns him
Earlier on, Legit.ng reported that an ex-wife of the late Nollywood actor, Baba Suwe, came out to recount the actor's last hours and how he gave up the ghost in her hands.
The woman identified as Suwe broke down in tears while speaking with journalists at the family's residence in Lagos.
Suwe explained how she had been called upon to check on Baba Suwe just moments before he took his last breath.
The heartbroken woman also pointed out that his mother is still alive as she prayed to God to grant their family members the strength to bear the painful loss.
Source: Legit.ng