Humorous Tale of Two Countries: A Review of Ghana Jollof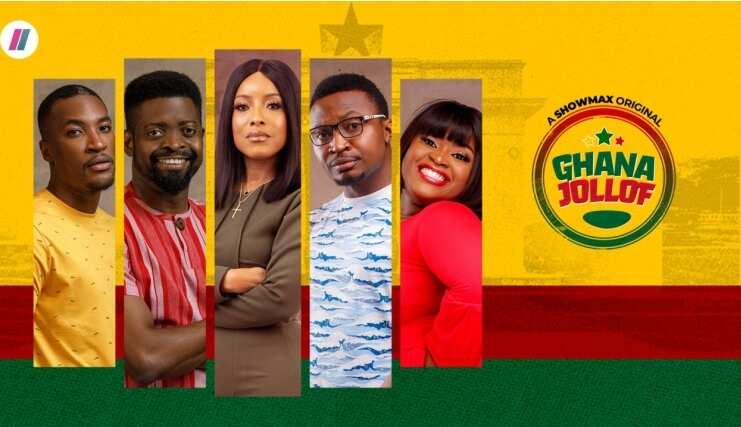 The first episode of Ghana Jollof, the first original comedy series on Showmax may not do justice to the entire body of work, especially if you love a linear plot. The 13-episode series produced by legendary Nigerian comedian, Basketmouth, tells the story of four friends who shared a room as undergraduates and grew to become close friends. While one of them, Nnamdi, goes to Germany as he claims, as you can never know with him, the rest meet up in Ghana, where most of the series takes place.
The story of Nigeria and Ghana can best be described as "brothers from different mothers", with each constantly trying to show they are better than the other while having so much in common. Despite having two francophone countries between them, they seem to continually be battling for supremacy from music (Shatta Wale's recent outburst comes to mind), to who can make the best jollof rice.
A brilliant introduction of the characters opens the first episode as they all speak for themselves and begin to reveal their character and interests. Kweku, who comes from Ghana to study in Nigeria, is soon revealed as a loverboy who seems to have little time for education and more time for womanising. Then there is Nnamdi, who tries to project himself as a big boy and sees himself in a constant supremacy battle with his Ghanaian friend. Romanus and Jasper seem like two peas from the same pod, although Jasper would make anyone believe he is the most intelligent in the room with a first- class degree (a lie, of course).
When Jasper and Romanus moved to Ghana, it seemed like they had moved from one part of Nigeria to the other or, better put, one part of Lagos to the other. Hawkers besieging commuters, commercial motorcycles swerving in and out of traffic; the semblance to Lagos is overwhelming.
In Ghana, the different stories intertwine: There is a strain in friendship between the three friends as a result of Romanus' relationship with Kweku's ex-girlfriend, Mabel. Mabel is also on the verge of having a showdown with her father, The General, over his rejection of her Nigerian boyfriend caused by his own experience with a Nigerian in the past. Then there is Mabel's friend, 'Juilet' who is also Kweku's sister and having a tough time getting over her ex, 'Tony' - a close friend of Mabel too. This criss-cross relationship would have been challenging to follow, but in this series, they are introduced gradually, making it easy and fun for the viewer to follow their lives and relationship.
The humour in Ghana Jollof is primarily hinged on relatable Nigerian and Ghanaian jokes lifted from everyday lifestyle, so it might not be too clear to someone who is unfamiliar with the two countries. However, Boniface and Mambo, played by Basketmouth and Buchi, bring their own brand of comedy that cracks everyone's ribs.
It will be difficult to pin down the meaning of the title, Ghana Jollof, to one single issue or incident in the series, making it even more perfect. While it is possible some viewers would see it as the constant battle between Nigeria and their West African counterpart, Ghana portrayed in the series, others may see it as a representation of the treatment dished out to the Nigerians in Ghana. For example, Mabel's father is strongly against her relationship with Romanus because he is a Nigerian. This is because a Nigerian sidestepped him to date the lady he had planned to marry. To make sure she doesn't continue her relationship with Romanus, he matches her with his friend's son and even deploys a spy to watch her every move.
The story builds up gradually and becomes expansive, thereby providing many stories to keep up with. Kweku and his co-workers provide for an excellent office drama; Kweku's relationship with Romanus and Mabel is the typical love triangle; Boniface and Mambo are the usual stock characters who add little to the development of the story but make up for this with belly- cracking humour. Almost every word that comes out of their mouth, mannerisms, and gestures evoke laughter.
Beyond the relatable humour in Ghana Jollof is a rich drama that explores the lives of Nigerians and their quest for greener pasture outside of the country's shores. Nnamdi leaves Nigeria for Germany while Jasper and Romanus have to try their luck in Ghana. It seemed at first that they would be carried away by the freebies handed to them by Kweku in exchange for their dignity, but towards the end, they step up to show how Nigerian they are, with Romanus willing to fight Kweku without fear of being evicted from their small apartment.
Each episode tells its own story but is connected to the larger plot of the whole series. This means without following each episode religiously, one can watch one and still understand its essence. For maximum fun, however, watching the whole series is recommended.
Although producers of Ghana Jollof haven't hinted on the future of the Showmax Original comedy series, chances are Season 2 might be on its way as there is so much unresolved drama to look forward to.
[SPONSORED]
Source: Legit.ng