Ex-NANS PRO "Deeply Concerned" About State of Education in Nigeria
Awoyinfa Opeoluwa, a Masters student at the Federal University of Technology, Akure (FUTA), has said Nigeria's education system is in a state of crisis
Opeoluwa, popularly called Opiano, praised Nigerians as resilient, resourceful, and energetic people
Speaking to Legit.ng, he decried the abduction of female students of the Federal University Gusau, Zamfara state
Akure, Ondo state - Awoyinfa Opeoluwa, an aspirant for the position of Senate President of the National Association of Nigerian Students (NANS), has bemoaned the condition of education in the country.
Opeoluwa, in a chat with Legit.ng on Monday, October 2, said the recent school fees increment at tertiary institutions and the kidnapping of schoolgirls at the Federal University of Gusau in Zamfara state, are "disturbing".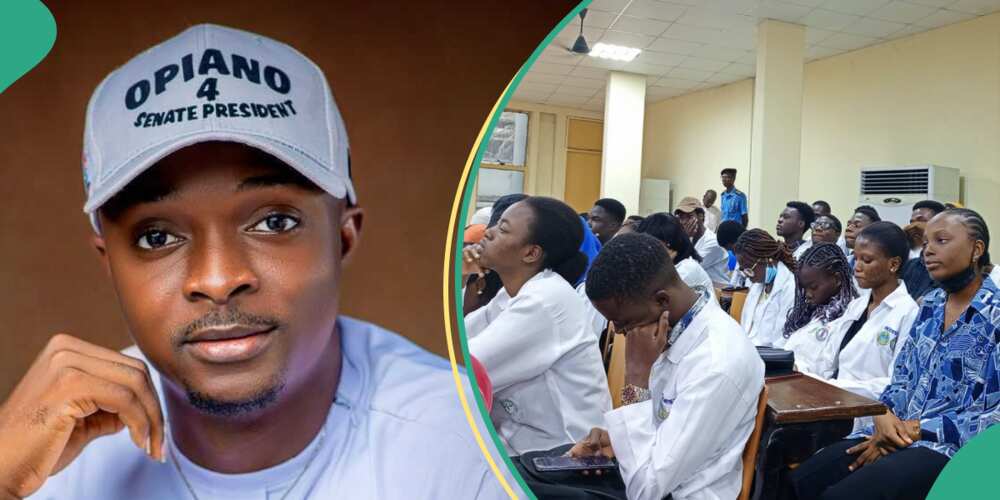 'Destiny of a nation shaped in classrooms'
The former public relations officer (PRO) of NANS Southwest (Zone D) described the Zamfara abduction as "a heinous crime" which "undermines the fundamental right to education".
Opeoluwa said:
"The state of education in Nigeria is very important because it will shape the destiny of our nation.
"As an advocate for education, and as a citizen who cares deeply about our future, I am deeply concerned about the challenges we face, focusing specifically on the recent school fees increment at our tertiary institutions and the disturbing incident of the kidnapping of schoolgirls at the Federal University of Gashua in Zamfara state.
"According to UNICEF, as of my knowledge cutoff in 2021, Nigeria is home to 10.5 million out-of-school children, the world's highest number. The reasons are multifaceted - economic hardship, security issues, insufficient infrastructure, and a lack of qualified teachers.
"Let's look at the northern part of our country where insecurity and cultural norms have significantly hindered education, particularly for the girl child. This is a grave issue, the repercussions of which extend far beyond academics.
"Denying our girls education is denying them their fundamental human rights. It also limits their ability to contribute to our nation's growth."
Meanwhile, Legit.ng understands that the 2023 NANS National Convention will be held soon.
NANS lists key demands for Tinubu's administration
Earlier, Legit.ng reported that Opeoluwa listed vital areas of the organisation's interest to the President Bola Tinubu.
Opeoluwa said NANS hopes that the Tinubu administration will give unprecedented priority to education in the country.
Source: Legit.ng