Full List of Universities, Polytechnics and Colleges of Education Established by Buhari Administration
Since his assumption of office in 2015, President Muhammadu Buhari-led federal government has approved the establishment of 30 new tertiary institutions, a report by Daily Trust has stated.
Among the new tertiary institutions established by the Buhari government are 11 universities, 10 polytechnics and nine colleges of education.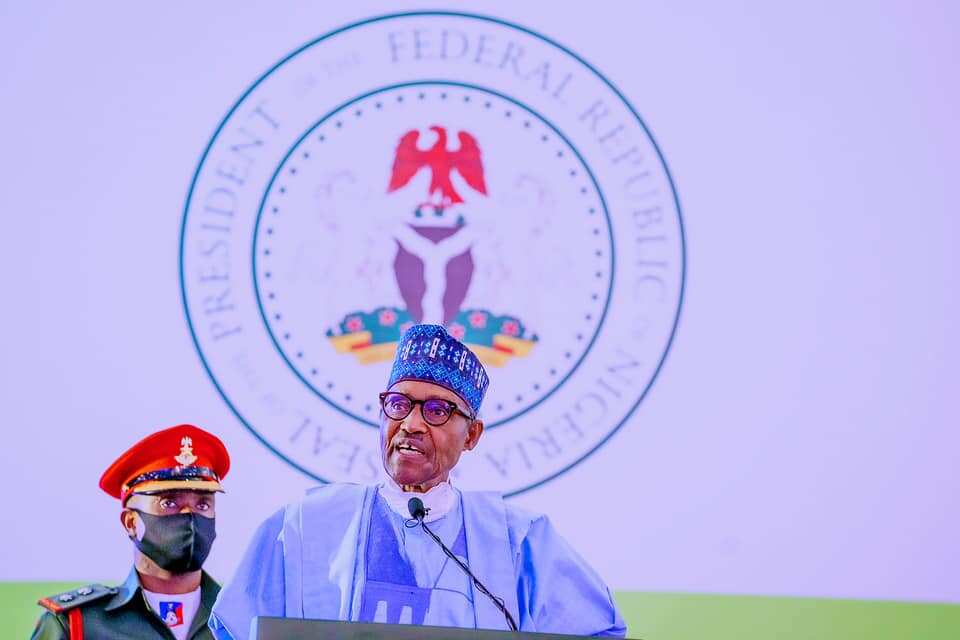 Universities
Nigerian Maritime University, Okerenkoko (2018)
Air Force Institute of Technology, Kaduna (2018)
Nigerian Army University, Biu (2018)
Federal University of Transportation, Daura, Katsina state (2018)
Federal University of Agriculture, Zuru, Kebbi state (2020)
The University of Health Technology, Otukpo Benue state (2020)
Federal University of Technology, Babura, Jigawa state (2021)
Federal University of Technology, Ikot Abasi, Akwa Ibom state (2021)
Federal University of Health Sciences, Azare, Bauchi state (2021)
Nigeria Air Force University, Kaduna (2018)
Federal University of Health Sciences, Ila Orangun, Osun state (2021)
Polytechnics
Federal Polytechnic Ile-Oluji, Ondo state
Federal Polytechnic, Daura, Katsina state
Federal Polytechnic Kaltungo, Gombe state
Federal Polytechnic Ayede, Oyo state
Federal Polytechnic Munguno, Borno state
Federal Polytechnic N'yak, Shendam, Plateau state
Federal Polytechnic Ohodo, Enugu state
Federal Polytechnic Ugep, Cross Rivers state
Federal Polytechnic Wannune, Benue state
Federal Polytechnic, Orogun, Delta state.
Colleges of Educations
Federal College of Education, Iwo
Federal College of Education, Odugbo
Federal College of Education, Isu
Federal College of Education, Ekiadolor
Federal College of Education, Gidan Madi
Federal College of Education, Jama'are
Federal College of Education, Birnin Kudu
Federal College of Agriculture, Kirikasamma.
Note: The report only listed eight out of the nine Colleges of Educations reportedly established under the Buhari government.
More institutions, poor funding
Amid the establishment of new tertiary institutions, Daily Trust noted that there are public concerns over poor funding of the existing ones as well inadequate budgetary allocations to the education sector.
The newspaper cited the Academic Staff Union of Polytechnics (ASUP)'s president, Anderson Ezeibe, as raising a concern that the establishment of polytechnics in Nigeria was fast becoming mere 'constituency projects' to satisfy political convenience.
A Professor of Education Leadership Development at the University of Abuja, Salihu Ingawa, said the establishment of more tertiary institutions is a "crude fraud", alleging that the lawmakers are using it to please President Buhari and to "get something for their pockets and constituency".
He said:
"Yes we have the number but do we have the capacity? How many universities can admit even 30,000 students?"
However, another scholar, Dr Abdullahi Yalwa, said there are two sides to it.
He said based on the population and the space for people to study, there is a need to establish more institutions considering the number of applicants from JAMB and the institution.
Dr Yalwa added that there is a need for expansion for absorption capacity.
Students might be sent home as fresh strike looms in Nigerian universities
Meanwhile, academic activities in universities in Nigeria may once again be put on a hold, following a disagreement between various unions over the sharing formula of the just-approved N22.127 billion for payment of earned allowances for staff members.
Information made available to journalists in Abuja stated that out of the approved amount, the Academic Staff Union of Universities (ASUU) is to take a lion share of 75 per cent while the other three unions will share the remaining 25 per cent among themselves.
The three unions are the Non-Academic Staff Union of Education and Associated Institutions (NASU), the Senior Staff Association of Nigerian Universities (SSANU), and the National Association of Academic Technologists (NAAT).
Source: Legit.ng