Bola Tinubu: A Call for Urgent Development of Local Talent for Global Success, by Prince Abdulsalami Ladigbolu
Editor's note: Prince Abdulsalami Ladigbolu, in his piece, called the president-elect's attention to why there is a need to leverage the millions of young talents in the country to help foster sustainable development.
The ultra-light beam for sustainable development for a nation starts with the mental acceptance of a working ideology conceived by the nation's leadership and its subordinates.
Nigeria, at present, is caught between a slippery muddy cliff and a distant rocky fall.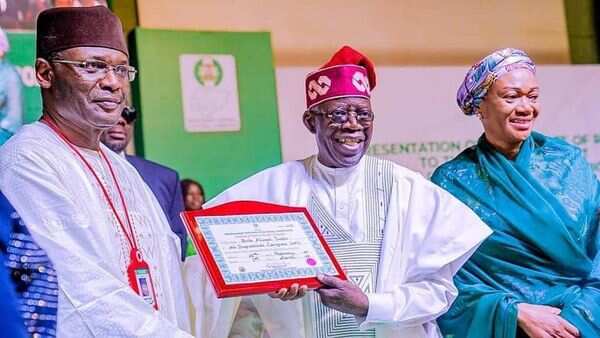 Idowu Koyenikan, in his book 'Wealth for all Africans: How Every African Can Live the Life of Their Dreams', said:
"Show me the heroes that the youth of your country look up to, and I will tell you the future of your country."
First, congratulations to Asiwaju Bola Ahmed Tinubu on his historic victory in the just-concluded 2023 Presidential elections. His emergence at this crucial time in Nigeria's history is indeed timely.
Tinubu's emergence will be a litmus test that must overcome all the shortcomings, brimstone and negativity that have stained the status of Nigeria.
As a concerned citizen and strong believer /supporter of smart intellectuals who believe in intergenerational mentorship and solidarity, I put forward to you my opinion about the plight of Nigerian youth and the urgent action that needs to be taken to ensure our youths achieve global success.
I believe that there is no keener revelation of society's soul than the way in which it treats its youths because discouraging the youth is simultaneously destroying the Nation's prosperity!
Nigeria is one of the world's largest producers of crude oil and with an abundance of gas and mineral resources, Nigeria is Africa's largest economy. The International Monetary Fund predicts that Nigeria could become the ninth-largest economy in the world by 2050 if it mobilizes its 200 million population into a nation of entrepreneurs and producers.
However, Nigeria's population advantage could become its Achilles heel as it currently struggles to overcome rising unemployment, unstable power supply, poor education and poverty.
Nigeria has a range of issues; the government's fiscal deficit is expanding above budget, unemployment is trending upwards and uncertainty around petrol prices all combine to create an atmosphere of economic instability.
This uncertainty means that the West African nation has seen a steady outflow of its most promising young talent to Europe, leaving behind a damaging human capital problem.
With an entrepreneurial deficit, the country is unable to develop the broad-based economy needed to provide employment, competition, and innovation as well as insulation from the global price and demand shocks in its natural resource markets.
Mass unemployment and poverty means that many Nigerians lack the basic amenities of life and are vulnerable to crimes such as human trafficking and modern-day slavery.
Furthermore, Nigeria's youth population sits precariously at over 55% of the total population. Why precarious? It is precarious because, in our current times, where high unemployment rates and misplaced priorities are the norms rather than the exception, and impatience and greed seem to have become a virtue rather than flaws, there is much cause for concern. And necessarily so, when the sheer amount of young unemployed young people with a limited scope of knowledge and skills are taken into account.
Without a doubt, this country's youth population boasts some of the most original creatives in the world. Given the right tools and environment, Nigerian youths can compete at the highest levels in various industries and exceed expectations.
It is paramount that meaningful enrichment and sustainable programmes in four identified critical areas among the youth should be put in place, which are; Intellectual, leadership, economy and digital technology capacity building.
This will contribute to and accelerate the provision of such improved competencies and capabilities. I hope this will enhance the enlightenment of Nigerian youths about the dynamics of international markets, exposing them to globally recognized and proven wealth creation strategies and doubtlessly satisfying your ambition to make Nigeria an economic powerhouse and establish us firmly in that march towards economic independence.
Africa needs all her young people, and she needs them wise in the business ways of the world. No one is coming to save us. We owe ourselves our salvation. We owe ourselves our rescue.
I am aware of the potential impact of Tinubu's manifesto, and optimally hopeful of producing a flood of empowered young people, with a deliberate focus on popular inclusivity for women with the aim to relaunch the authority of originality in an enterprise, and to encourage the intersection of fresh ideas, "the s8x of ideas" as Matt Ridley puts it in his book, The Rational Optimist.
I congratulate you once again on your success as the 16th President of Nigeria and I assure you all of my unflinching commitment to your success if needs arise. Indeed, these are exciting times.
Creativity and innovation remain the hallmarks of thriving nations in today's world, and we're privileged to put Nigeria on the march towards it. Let us remember that today's marketplace frustration and hard-to-till entrepreneurial land is tomorrow's street anger and restlessness.
Finally, I reiterate my abiding dedication to the actualization and the roaring success of Nigeria's young people in their chosen fields. I am fully committed and will do all in my disposal to assist your mission to launch a new era of economic productivity among our blissfully large youth population as we march towards the 2030 Agenda for Sustainable Economic Development.
Disclaimer: The views and opinions expressed here are those of the author and do not necessarily reflect the official policy or position of Legit.ng.
Your own opinion articles are welcome at info@corp.legit.ng— drop an email telling us what you want to write about and why. More details in Legit.ng's step-by-step guide for guest contributors.
Contact us if you have any feedback, suggestions, complaints, or compliments.
Source: Legit.ng