Musk's Bold Move to Charge Twitter Users for Verification Grabs Zuckerberg's Attention, Others May Follow
Mark Zuckerberg has revealed a new verified option that will see users pay to get the blue checkmark on their account
The move is from the playbook of Elon Musk, who launched a pay verification method immediately after taking over Twitter
Zuckerberg has also promised that a blue badge would come with several other benefits, including increased visibility
Social media has become integral to connecting with others, sharing content, and staying informed.
However, as the number of social media users continues to grow, there are concerns about the authenticity of accounts and the spread of fake news.
In response, social media platforms grant verification marks to notable figures, including celebrities, business leaders, journalists, politicians, and athletes.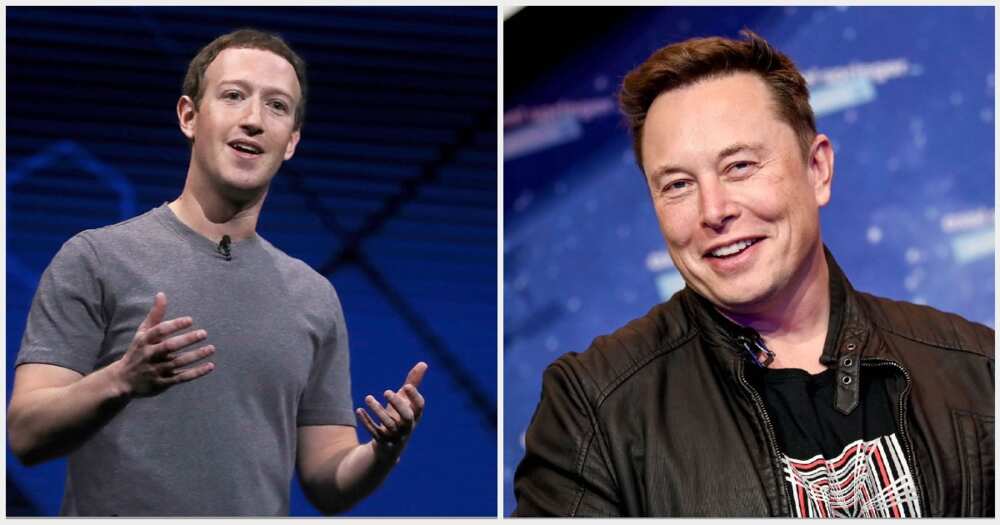 However, the purpose of verification has changed since billionaire investor Elon Musk, took over Twitter.
PAY ATTENTION: Follow us on Instagram - get the most important news directly in your favourite app!
In his bid to generate revenue for his new company, Musk introduced a paid-for blue verification method that costs $8 a month.
Although Musk's move was the first of its kind and received backlash, he stood his ground as regards the importance of users paying.
Today, on Sunday, February 19, 2023, Mark Zuckerberg, the CEO of Meta, has taken a page out of Elon Musk's playbook, as he has announced plans to charge users for verification.
Dailymail reports that the verification will have a price tag of $11.99/month on web and $14.99/month on iOS.
Users on Instagram and Facebook can pay to become verified users, which will entail, among other things, a blue verification badge.
In a post on his verified account Zuckerberg said:
"This week we're starting to roll out Meta Verified - a subscription service that lets you verify your account with a government ID, get a blue badge, get extra impersonation protection against accounts claiming to be you, and get direct access to customer support.
'This new feature is about increasing authenticity and security across our services.'
Facebook verification benefits
Zuckerberg explained that users who sign up for Meta's new systems will be given exclusive stickers for stories and reels, and receive 100 free stars per month, or the digital currency used to tip Facebook creators.
Nevertheless, Verge reports that businesses can't apply for a verified badge yet, and individual who wish to change their profile name, username, birthday or profile picture have to go through the verification process all over again.
Other social networking companies might follow
The CEOs of other major social networking websites, including TikTok, YouTube, Pinterest, Snapchat, LinkedIn, and Telegram, might keep a close eye on Elon Musk and Mark Zuckerberg's recent move of introducing paid verification services, as they also need additional revenue sources.
These platforms are among the most popular social media websites, and their CEOs will be interested in seeing how users respond to the new subscription-based verification model.
Expert praises Elon Musk
Ndubuisi Ekekwe, a Nigerian inventor, researcher, and entrepreneur, has written a note on his page praising Elon Musk for creating a new revenue source for social media.
He said:
"For years, nobody wanted to do this until the boldest entrepreneur in our generation, Elon Musk, did it, and it is going to become an industry standard henceforth.
"I am waiting for the LinkedIn one as that is the only one I will pay for; I will put it under business expense since LinkedIn is my CNN, NTA, BBC, NYTimes, Economist, etc combined for business and professional visibility.
"This is a new revenue source for Meta. I can assure you that most times, we overestimate how customers will react. Those people paying at Twitter are still there because they get more than $20/month for that visibility.
"Welcome to Internet Utility 2.0 where you will pay for the privilege of feeding aggregators with data and raw materials which they use to make money. Of course, you also get value in return."
Elon Musk makes N4.45trn in one week
In another report, Elon Musk, the owner of Tesla, is getting closer to recovering his status as the world's richest man by the day.
After topping the billionaire list for nearly a year, Musk was deposed by French billionaire Bernard Arnault and his family.
Elon Musk has now earned over N4.45 trillion in one week to narrow the wealth gap between himself and Bernard Arnault
Source: Legit.ng