Ethiopian Airlines Removes Nigeria Air Painting from Aircraft, Resumes Carrying Passengers, Live Tracker Shows
Ethiopian Airlines has removed Nigeria Air branding from its aircraft and resumed regular operations.
The aircraft owned by Ethiopian Airlines, has returned to the airline after briefly representing Nigeria Air
The reasons behind the temporary branding and subsequent removal remain undisclosed by Ethiopian Airlines and Nigerian government
Ethiopian Airlines has removed the Nigeria Air painting from the aircraft that was initially unveiled as part of Nigeria Air's fleet.
According to a live tracker, Ethiopian Airlines is now using the same aircraft for its regular operations.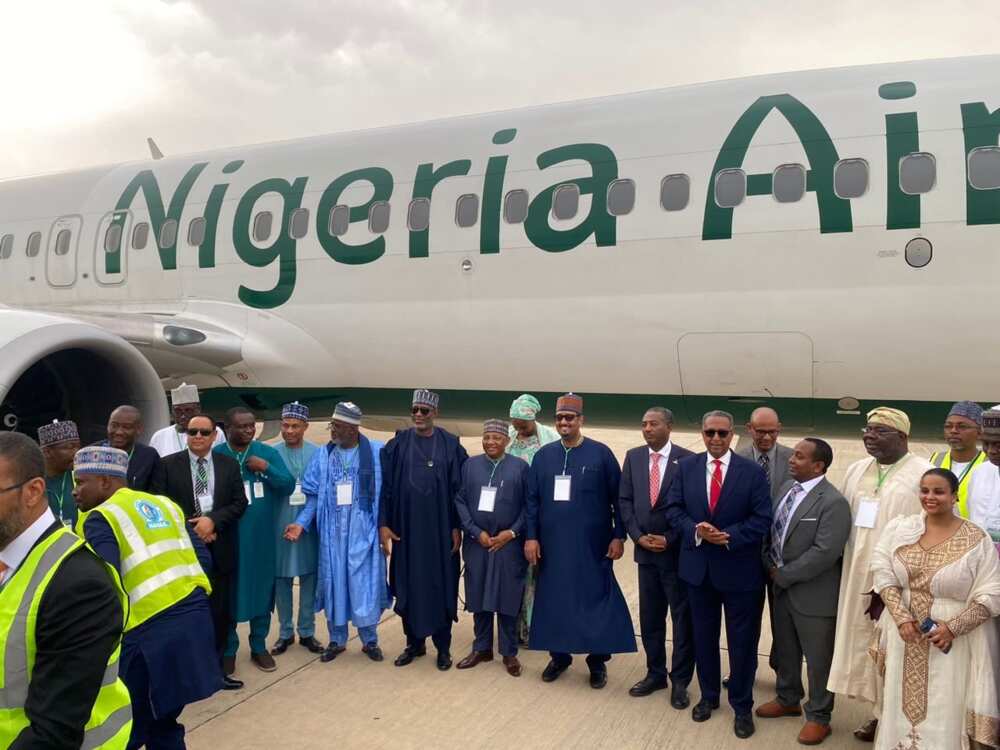 The aircraft, a Boeing 737-800 which has registration Number ET-APL, Mode S Q4005C, and serial number: 40965/4075, was repainted and rebranded to represent Nigeria Air at the request of Nigeria's Minister of Aviation, Hadi Sirika.
However, it has since been returned to Ethiopian Airlines, its original owner.
Where is Nigeria Air Aircraft
Flight records from the live tracker show that as at Wednesday, March 30, 2023 afternoon, the aircraft departed from Addis Ababa and flew to Mogadishu.
Later that evening, it made a return flight back to Addis Ababa.

Independent journalist David Hundeyin brought attention to the flight tracker via his Twitter handle, noting that the Nigeria Air aircraft had undergone a quick removal of its new branding and was back in service on its usual Addis Ababa-Mogadishu route.
Legit.ng had previously reported on the Nigeria Air plane's return to Ethiopia based on information from the flight live tracker, 'flightradar24.com'.
The tracker also showed the aircraft's relocation from Nigeria back to Ethiopia.
Details about the aircraft
Investigations into the aircraft's history reveal that it has been in service for approximately 11 years.
Its first flight was conducted on June 22, 2012, under Ethiopian Airlines. It later operated under the name Malawi Airlines from February 16, 2014, before being released back to Ethiopian Airlines on August 12, 2015.
Despite the change in colors, the ownership of the aircraft remains with Ethiopian Airlines.
Airline to weigh passengers before they board aircraft
Meanwhile, in another report, Air New Zealand has decided to weigh passengers boarding its aircraft.
The program aims to gather weight load and distribution data for safe and efficient aircraft operation.
Passengers' privacy is protected, as the collected data is made anonymous, and there are no visible displays of individual weights.
Source: Legit.ng