Tracker Shows Nigeria Air Aircraft Returned to Ethiopia After Launch as Local Airlines Operators Issue Warning
Nigeria Air aircraft has returned to Ethiopia, its initial departure point, according to a flight tracker
It was earlier claimed that Ethiopian Airlines provided an aircraft repainted and rebranded it to represent Nigeria Air as its own
Airline operators have also warned of potential airspace bans from the US and European countries
In a surprising development, the Nigeria Air aircraft, unveiled as the nation's flagship carrier, has returned to Ethiopia, its initial point of departure.
The aircraft touched down in Ethiopia on Sunday, May 27, 2023, just 24 hours after its grand unveiling to Nigerians on Friday, May 26, 2023, as reported by BusinessDay.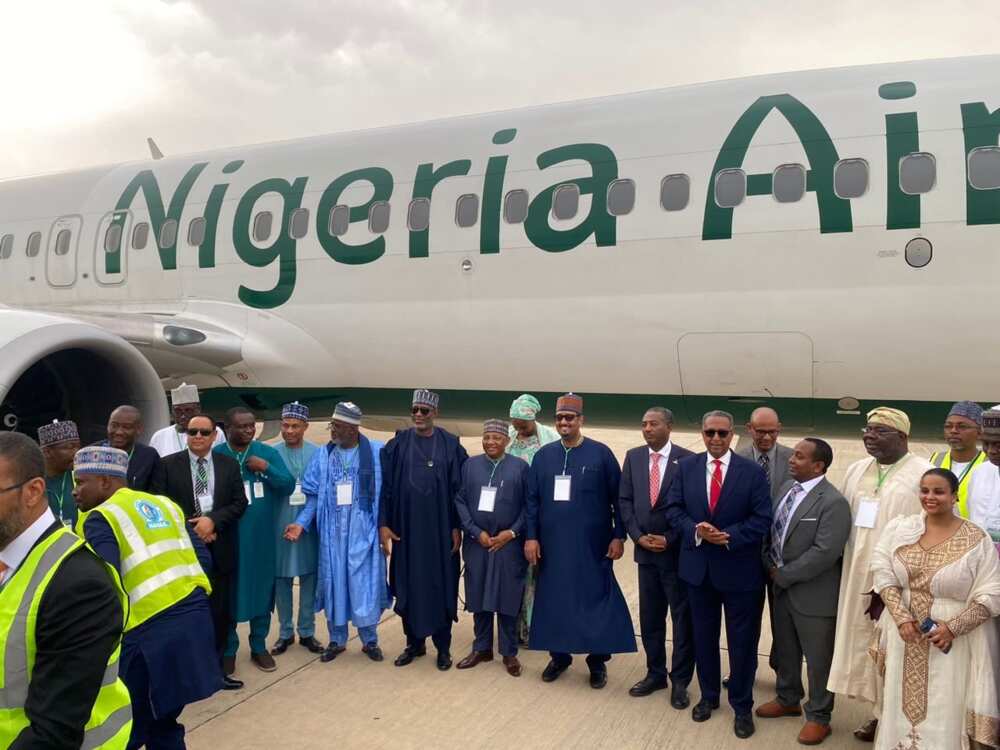 The revelation came to light through the flight live tracker captured on 'flightrader24.com.
Legit.ng had reported that Hadi Sirika, the Minister of Aviation, had approached Ethiopian Airlines to provide an aircraft that would be presented as belonging to Nigeria Air.
Ethiopian Airlines agreed and proceeded to repaint and rebrand one of its Boeing 737-800 which has registration Number ET-APL, Mode S Q4005C, and serial number: 40965/4075.
Despite the change in appearance, ownership of the aircraft remains with Ethiopian Airlines.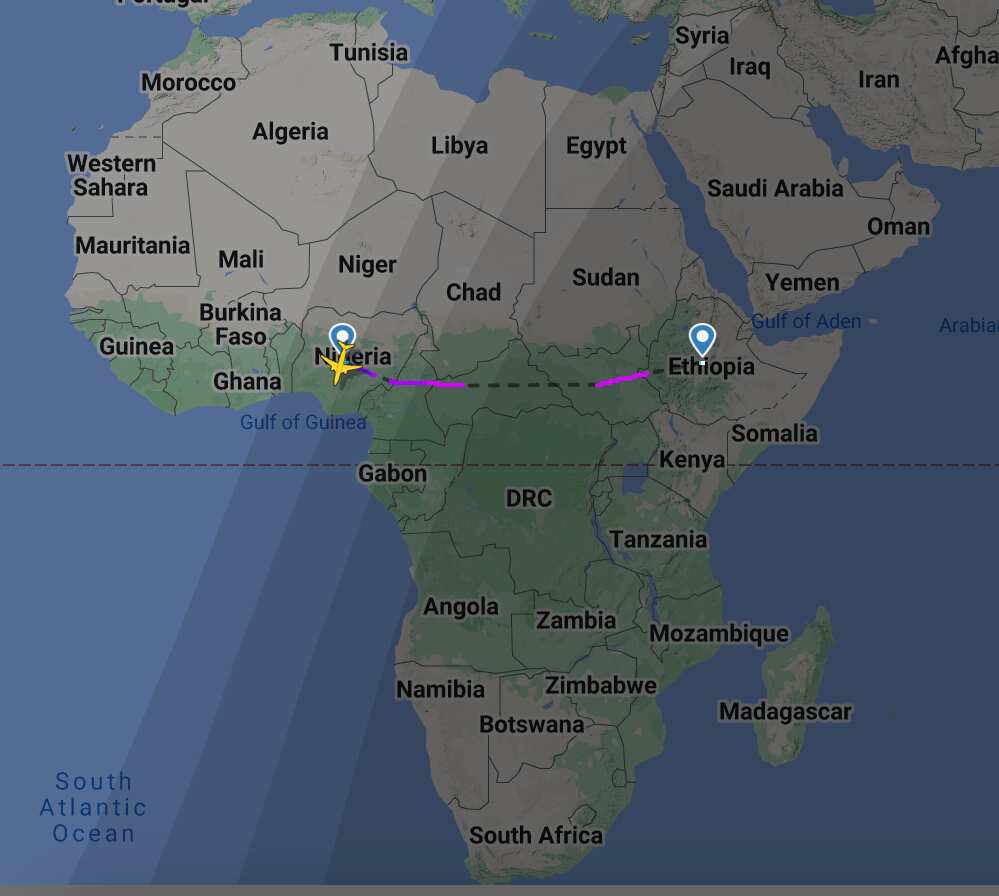 Criticism of Nigeria Air
The aircraft's return to Ethiopia has raised concerns and attracted criticism.
Independent journalist David Hundeyin highlighted the situation, pointing out that the hastily repainted aircraft would have its new colours removed in Addis Ababa before resuming regular service for Ethiopian Airlines.
Also, the Airline Operators of Nigeria (AON) issued a statement expressing concerns about the potential ban Nigeria may face from the airspace of the United States and European countries.
The AON cited Minister Hadi Sirika's handling of Nigeria Air's certification process as the reason for the potential ban.
AON spokesperson Obiora Okonkwo explained that Sirika was pushing for Nigeria Air's operations to commence without undergoing the rigorous five-phase certification process required to obtain the Air Operators Certificate (AOC).
Okonkwo emphasised that failure to complete the certification process would be considered a severe violation by the International Civil Aviation Organisation (ICAO).
He said:
"This could result in international aviation safety agencies such as the US Federal Aviation Administration (FAA) and the European Aviation Safety Agency (EASA) blacklisting Nigeria.
"Consequently, Nigerian airlines would be prohibited from flying into the US and European countries, while these nations would restrict their airlines from operating in Nigerian airspace."
Expert speaks
Reacting, Alex Nwuba, the former CEO of Associated Airlines in Nigeria, criticised the decision to launch the national carrier hurriedly.
He described it as a wasteful expenditure on unnecessary events, displays, and ceremonies.
Air Peace, others get new rival as Kano billionaire buys N4.2bn aircraft
In another report, Rano Air will soon be flying over Nigerian airspace after receiving approval from the federal government.
The airline is owned by Kano-born business mogul and oil magnate Alhaji Auwalu Abdullahi Rano.
Rano has spent over N4.2 billion buying a new aircraft to start the airline operation.
Source: Legit.ng