Reports Show How FG Repainted Ethiopian Airlines Aircraft to Present as Nigeria Air, Presidency Defends Action
The decision of the Federal Government to repaint Ethiopian Airlines aircraft as Nigeria Air has sparked controversy and criticism
The presidency has quickly come out to defend the decision stating that it was never a secret
Ethiopian Airlines holds a significant stake in the Nigeria Air project, with a 49% ownership share, while the federal government holds just 5%
Reports have emerged revealing that the Nigerian government repainted an 11-year-old Ethiopian Airlines aircraft and presented it as Nigeria Air, the country's national carrier.
On Friday, Hadi Sirika, the Minister of Aviation tweeted celebrating the landing of Nigeria Air aircraft at Nnamdi Azikwe Airport, Abuja.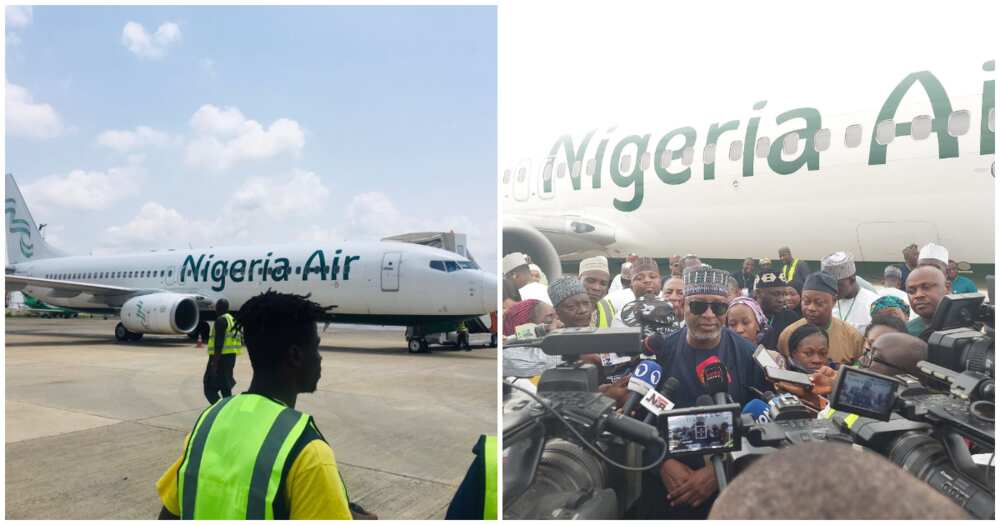 His words:
"We are here. To Almighty God be all the glory. It has been a very long, tedious, daunting and difficult path. We thank everyone for the support. This, by the will of God, will be for us and generations to come. Ya Allah make it beneficial for our country and humanity"
Nigeria Air aircraft repainted
However, what appears to be a glorious ending to a 5-year wait for Nigerians to celebrate their own national carrier has been marred by controversies.
A BusinessDay report reveals that the Boeing 737-860 Max aircraft used for the launch of Nigeria Air actually belongs to Ethiopian Airlines.
The report also disclosed that Sirika, a few days ago, reached out to Ethiopian Airlines to secure an aircraft that could be presented as belonging to Nigeria Air.
Ethiopian Airlines agreed by repainting and rebranding one of its aircraft.
More discovery about Nigeria Air
Dailytrust also corroborated the findings, revealing that the Boeing 737-860 Max with registration number ET-APL, Mode S Q4005C, and serial number 40965/4075 had its first flight on June 22, 2012(11 years ago), as an Ethiopian Airlines aircraft.
According to the aircraft's history, it was transferred to Malawi Airlines on February 16, 2014, but later returned to Ethiopian Airlines on August 12, 2015.
David Hundeyin, an investigative journalist who initially reported the facts about the aircraft, disclosed that as of last Sunday, May 21, 2023, the airline had undertaken a trip from Addis Ababa to Tel Aviv in Israel.
Additionally, a check by Legit.ng on Flightradar, a popular flight tracking website, shows that on May 20th, the aircraft operated flights to both Mogadishu in Somalia and Beirut.
The day before, it also serviced Beirut, the capital of Lebanon.
Presidency defends decision to repaint Ethiopian airline aircraft for Nigeria Air
Bashir Ahmed, the Special Assistant to President Muhammadu Buhari on Digital Communications, responded to the reports.
He defended the repainting, emphasising that it was never intended to be kept a secret.
His words:
"It is never a secret that Ethiopian Airlines is one of the major shareholders/partners in the Nigeria Air Limited projects. Never! Save the cry now, and expect to see more Ethiopian Airlines aircraft branded in our national carrier's colors.
"Like NigeriaAir, many major airlines around the world are not owned by their governments, British Airways, which IAG owns, is an example."
Local airlines kicks as FG launches Nigeria Air
Meanwhile in another similar development, local airlines have kicked against the launch of Nigeria Air.
There major grievances has been that the federal government chose to work with an Ethiopian airline and see it as a threat to their business.
Domestic airlines are also threatening to sue the minister for the launch of Nigeria Air despite a standing order.
Source: Legit.ng