Smart Lady Makes N920 Million Selling Her Handwritten Nursing Study Notes, Handouts Online
Stephanie Beggs sells her handwritten nursing notes on social media
She said she used coloured pens to make her notes attractive to buyers, which worked
Beggs said she has since grossed about $2 million in revenue and employs her aunt, who helps her with delivery
According to Stephanie Beggs, within the first nine months of working in an office, she discovered that marketing wasn't for her and decided to return to nursing, her first interest.
She said she had always loved the hands-on care nurses provide and how they can connect many other units.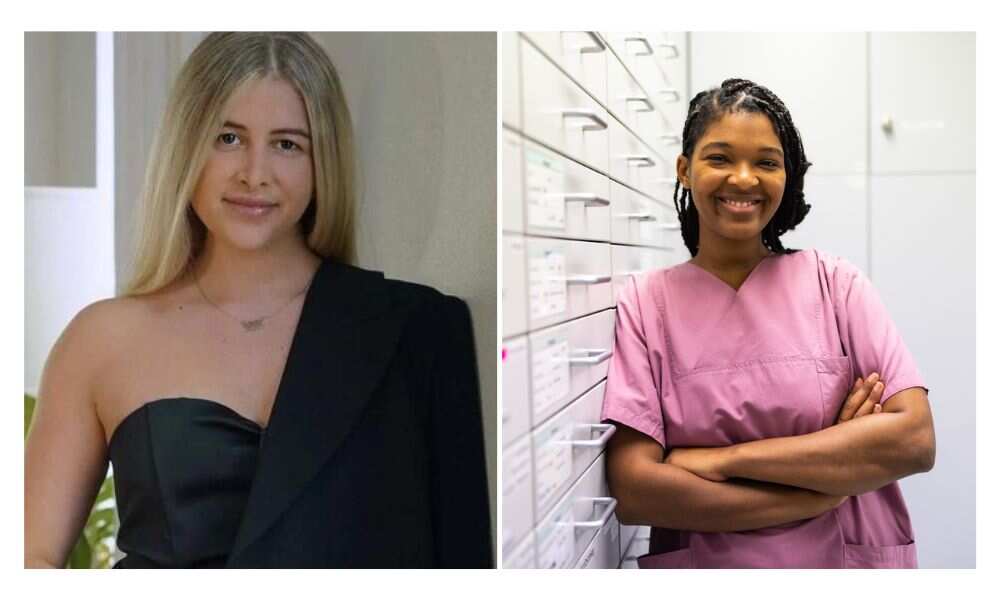 Now a full-time emergency room nurse, Beggs shares her knowledge about studying nursing and her school days with her 67,000 followers on TikTok and via her Esty store, which pays her more than her nursing career.
Beggs disclosed how she expanded her business from selling notes to creating products working with top brands and filming her YouTube content.
Registered nurse makes millions as a TikToker
While studying to become a registered nurse, Beggs began posting videos of herself handwriting her study notes with coloured pens to make them attractive on TikTok, which went viral.
Per the nurse, making them helped her studies, but she would also post tips and tricks for studying, volunteer work opportunities during the COVID-19 pandemic, and the best shoes to wear when at work.
BusinessInsider reported that her pretty handwriting was getting comments on her posts, with people asking if she sold her study sheets. At that point, she decided to implement the idea.
She created her Etsy shop named RNExplained in June 2020 and sold 10 study sheets for $2 each to nursing students. She revealed that she sold 50 study notes in the first two weeks.
Becoming a complete Estsy hustler
Beggs said she kept making study notes for all her major nursing classes, from her primary assignment of patients to pharmacology, handwriting them in the process. She would also scan them as PDFs and list them for sale in her Etsy store.
She started selling more note bundles on similar topics from $20 to $40 each.
After creating all her notes, she said she would spiral-bind them after researching paperweights and delivery costs. She printed about 200 books and put them up for sale for $150 each on the Etsy site and sold out in two hours.
Beggs noted that the book is now her best-selling product, and she sells about 15 of them a day. She has since employed her aunt, who helps her with delivery orders.
Growing her business and branching off
After completing all her study notes, she branched off into selling crewneck sweatshirts to nurses since hospitals are known for being cold, so they can wear them to work.
She posted them on TikTok and asked her Instagram followers to describe a nurse using one adjective. She has since printed those words on the back of the sweatshirt.
Beggs said her marketing background was critical in helping her to think of other fun ways of printing on the sweatshirts.
Expanding to other countries
She has shipped her products to several countries, such as the US, Canada, Australia, and New Zealand.
The trained nurse has also collaborated with other brands to market hospital equipment.
She has since launched an Amazon storefront with nursing products, and she gets a commission on the sale if anyone uses her link.
Her RNExplained hit the $2 million sales mark in October last year, and she wants to build her team with plans to start a website with her storefront.
Woman who built her online business selling used bags now makes N36.5m weekly
Legit.ng earlier reported that Nica Yusay's online purse store amazes her with how quickly her vintage bags sell out, making the 29-year-old think there is something wrong with her website.
A frugal spender, Yusay developed the knack for finding good purses at half their retail prices when she was young, gathering her collection of used bags over time but never believing she could make money out of the skill.
In January last year, she took the leap of faith. She spent about $15,000 on luxury bags to resell on sites like Poshmark and Depop after she posted a video of how to bargain prices on TikTok, which earned her over 10,000 followers almost instantly. The video has garnered over three million views.
Source: Legit.ng