Naira Scarcity: Banks, PoS Operators, Cash Out Big as Nigerians Transact N39.5tn Electronically in One Month
Nigerians are becoming more reliant on PoS and other means of electronic means for transaction
CBN determination electronic payment as seen in Nigeria recorded the highest PoS transaction and also over N39 trillion in total e-payments
The increase in the number of electronic means of payment will bring in more money for banks and also PoS operators
Nigerians recorded N807.16 billion in Point of Sale transactions in the month of January 2023.
This is a 40.69 percent increase from the N573.72bn transactions that were done in January 2022.
The figures are contained in the Nigeria Inter-Bank Settlement System data obtained from its website.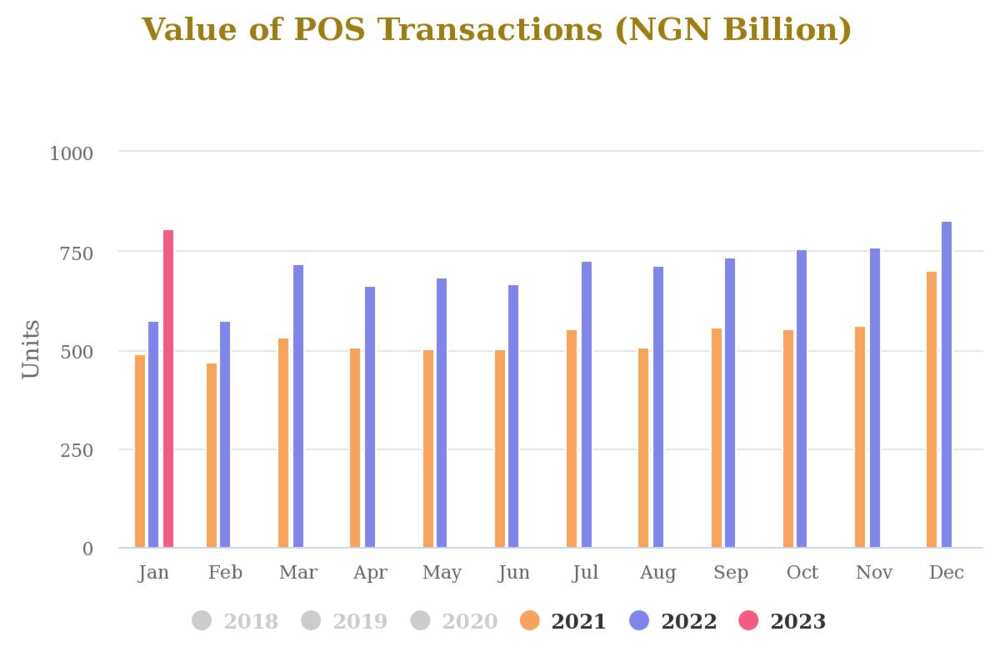 The massive increase in PoS transactions due to naira scarcity helped pushed the total cashless transactions in Nigeria to rise by 45.41 percent year on year to N39.58 trillion in January 2023.
According to NIBSS, transactions recorded via Nigeria Instant Payment System arose by 45.52 percent y-o-y from N26.65tn as of January 2022 to N38.77tn as of January 2023.
Breakdown on the number of transactions
NIBSS revealed that the usage of electronic channels for transactions grew by 45.50 percent y-o-y from 438.48 million times to 638 million times in the period under review.
According to the NIBSS, Nigerians use PoS for transactions in the month of January over 96 million times.
Punch reports that there were 955,234 deployed PoS terminals in the country as of January 2022. No figure was given for January 2023.
Impact of CBN cashless policy
In October 2022, the CBN announced a Naira redesign policy, and withdrawal limits, and encouraged Nigerians to adopt electronic forms of transactions.
Initially, there appeared to be some resistance, but as cash grew scarcer, more Nigerians went to PoS operators for cash, while others switched to electronic payment options.
USSD code to block bank account when ATM card, or phone is stolen
Meanwhile, with the CBN forging ahead with its plan to ensure that Nigeria becomes a cashless society, it is important customers are security conscious.
Nigerians will have to open a bank account and also get an ATM card or use their phones for transactions.
As more Nigerians become banked, it is expected that electronic fraud will increase, Legit.ng has provided a list of USSD codes to quick block accounts.
Source: Legit.ng