Food Security: Reps, UNESCO, POWA Synergise To Empower 100,000 Young Women in Agriculture
The state of emergency of food security has begun to trigger some big moves by some significant stakeholders to combat hunger in Nigeria
The Police Officers' Wives Association (POWA) and UNESCO have secured a crucial partnership with the House of Representatives
At least 100,000 young women would be empowered in various capacities in the agricultural sector to save Nigeria from hunger
FCT, Abuja - The House of Representatives has joined forces with the Police Officers' Wives Association (POWA) and UNESCO-REF to enhance food security in Nigeria.
The President of POWA and wife of the Police IGP, Mrs Elizabeth Egbetokun, revealed that 100,000 young women would be mobilised to start an agricultural revolution in ensuring food security in Nigeria.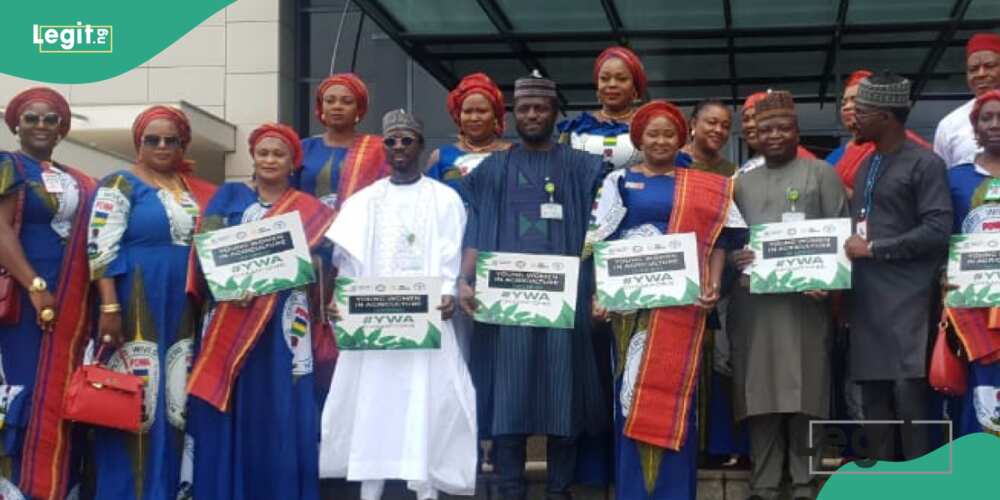 She said:
"As President of POWA, I am mobilising 100,000 women to boost the agricultural workforce, strengthening the agricultural value chain to mitigate risks of disorder due to food shortage.
PAY ATTENTION: Share your outstanding story with our editors! Please reach us through info@corp.legit.ng!
House of Reps backs agricultural initiative for young women
Meanwhile, the legislative arm of government is calling on Nigerians in the diaspora to return home and help rejuvenate the agricultural sector in Nigeria.
Speaking to journalists at the POWA secretariat in Abuja on Thursday, September 28, the House Committee on diaspora chairman, Rt Hon Tanko Adamu, said combatting food shortage has become necessary to save Nigeria from crisis.
He told journalists it is time to engage influential Nigerians worldwide to tap into an agricultural revolution to help ensure Nigeria's food security.
Adamu said:
"This is going beyond the rhetoric to combat food security. This is very practical. We're using an institutionalised mechanism using the Police Wives Association to get down and implement a structure to get young women involved in agriculture."
During a joint press briefing on Friday, September 29, at the House of Reps wing of the National Assembly, Rt Hon Adamu stated that the initiative ranges from providing nourishing food to creating jobs and economic opportunities while noting that agriculture plays a critical role in our lives.
Reps sues for return of Nigerians abroad to invest in agriculture
Speaking exclusively to Legit.ng on the side, Rt Hon Adamu said the House Committee on diaspora's partnership with POWA and UNESCO was necessary to help mobilise and influence the return of Nigerians in the diaspora to support the young women in agriculture initiative.
He said:
"This our partnership with power is very handy, and it comes rightly in place. That's why the committee is very curious and willing to work with POWA as a useful instrument to mobilise Nigerians (in diaspora) to come back and invest in their country and offer their technical support."
UNESCO's response to Tinubu's call for return of Nigerians in diaspora
When asked by Legit.ng how Nigerians in the diaspora would be incorporated into the initiative, the President Read and Earn Federation for UNESCO, Prince Abdulsalami Ladigbolu, said:
"The development of a nation depends on the cooperation of the citizens and the administration governing them.
"Linking it up with President Bola Tinubu's advocacy in New York that Nigerians in diaspora should come home and invest. So, we see it as a spontaneous reaction to trigger what is necessary to compliment his effort to make sure that Nigeria attains its position in the international community."
The Young Women in Agriculture is an initiative of the Read and Earn Federation for UNESCO (UNESCO REF), under its Strategic Intervention Programme -ALPHA (SIP-ALPHA) in partnership with the Police Officers Wives Association (POWA) and the House Committee on Diaspora.
Food security: How POWA, UNESCO will use women to save Nigeria from hunger
As more attention continues to ray on food production in Nigeria, the Police Officers Wife Association (POWA) has secured a partnership with the UNESCO Read and Earn Federation.
This partnership is believed to be the antidote that would clamp down on food insecurity across the 36 states of Nigeria.
The partnership would also help boost the agricultural value chain by integrating women as the focal point of reviving Nigeria's agricultural strength.
Source: Legit.ng