Breaking: Panic for Tinubu's FG As Labour Party Backs Proposed NLC, TUC Nationwide Strike
The NLC and TUC have received a major backing from the leadership of the Labour Party
The opposition party on Wednesday declared support for the proposed industrial action of the unions, noting the workers have shown enough patience
The proposed strike was occasioned by the refusal of the federal government to adhere to their conditions for fuel subsidy removal, among other issues, and is slated for October 3rd
On Wednesday, September 27, the leadership of the Labour Party declared support for the planned industrial action of the Nigeria Labour Congress and Trade Union Congress (TUC).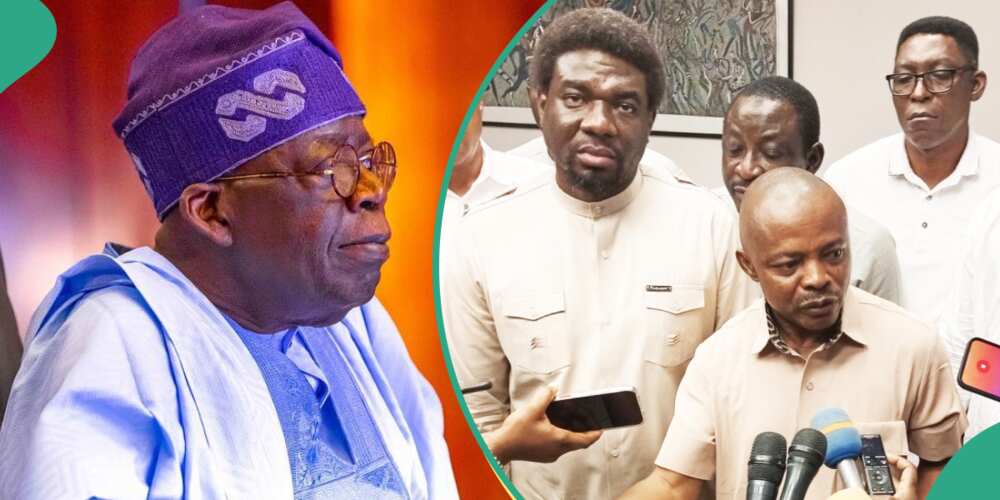 The opposition party disclosed that the presidency has been insensitive to the plight of Nigerian workers, The Punch reported.
The development is coming in the wake of organised Labour's resolve to ground activities nationwide from Tuesday, October 3, following the failure of the government to successfully implement policies to alleviate the sufferings of the masses after the removal of fuel subsidy, The Sun newspaper report added.
After the 21-day ultimatum given by the NLC lapsed last week, the NLC national president, Joe Ajaero, lamented that none of the demands put before the Federal Government was addressed.
Among other things, the NLC and the TUC are asking for wage awards, implementation of palliatives, tax exemptions and allowances to public sector workers and a review of the minimum wage.
Reacting to the proposed strike in a statement, the national publicity secretary of LP, Obiora Ifoh, bemoaned that Nigerian workers have shown enough patience and understanding.
While charging supporters of the party to stock up on food, Ifoh warned that the leadership of LP will support any legitimate means to demand better welfare for Nigerian workers.
He said,
"We are also using this medium to inform all our members and supporters to stock their homes with their necessary needs ahead of a long-drawn mass action until victory is ascertained. No retreat, no surrender."
Subsidy removal: APC chieftain speaks on Tinubu's palliative as NLC insists on strike
A chieftain of the ruling All Progressives Congress (APC) has appealed to Nigerians to be patient with President Bola Ahmed Tinubu's led federal government.
Oyo APC spokesman, Mr. Wasiu Olawale Sadare, disclosed Tinubu's administration will take Nigeria to greater heights.
He, however, urged the NLC, TUC and Nigerians to work with the president for the progress of the country.
Tinubu plans palliative for workers ahead of organised labour strike
Meanwhile, President Tinubu has been scheduled to announce his administration's palliative for organised labour, who have announced that it would commence an indefinite strike on Tuesday, October 3.
The organised labour, has accused the Tinubu-led government of its failure to provide palliative for workers to cushion the effect of the fuel subsidy removals on members.
Source: Legit.ng