"No Recruiter Will Employ You With This Kind of CV": Expert Warns Job Seekers, Displays Sample of Bad Resume
A job expert has taken his time to coach netizens on the importance of writing a well-structured resume
The intelligent young man took to his TikTok account, where he advised job seekers on the perfect kind of resume
Buttressing further, he displayed a CV format which he claimed lacked the potential to get someone a job
A self-acclaimed job expert has ignited a controversy with his recent teaching on creating a standard resume format.
These days, securing a great job requires many boxes to tick, and one of these includes a perfect resume.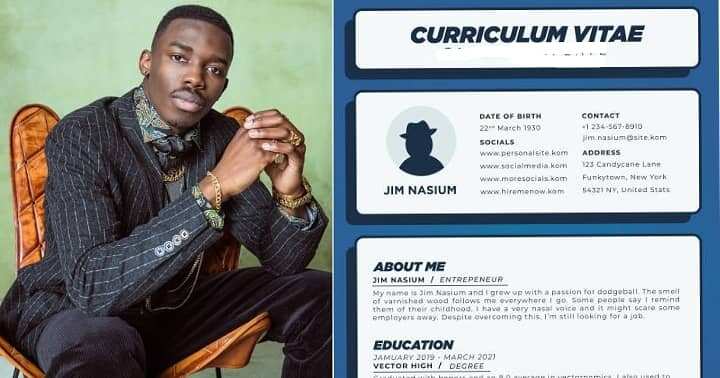 In light of this, the young man with the handle @ultmeche on TikTok addressed job seekers about the dos and don'ts of writing a great resume.
According to him, using colourful curriculum vitae (CV) formats will stop an employer from picking interest in a potential job seeker no matter his/her qualification.
"Stop using colourful formats like these. With resumes, there's a certain format to follow that recruiters use to scan quickly to determine education, experience, accomplishment and skill and a colourful template is not one of them", he wrote.
Reactions as job expert advises against colourful resumes
Mixed reactions trailed his video as many kicked against his stance while some supported him.
@rexalcoran said:
"As a member of Talent Acquisition team who screens more than 100 CVs everyday, I strongly agree. We don't need colors or any images."
@joshbeatty8 said:
"I actually prefer more artistic resumes from candidates however, hiring for SWE jobs the resume means very little."
@t.asha.p stated:
"These types of templates are job specific.. like where creativity is allowed to be showcased not for your corporate 9-5."
@mojoejoeeeeee wrote:
"That depends in the industry. As an employer of virtual assistant we highly recommend these templates as this shows how creative ang organize they are."
@luc.wu said:
"For people working in finance and investment banking in general, definitely use the plain CV and not the colorful one."
@x0neena said:
"It depends on the job. For like an office job, the second one might come off as childish, but it might be optimal for creative jobs."
Watch the video below:
Man displays perfect CV format that turned him to hot cake
Meanwhile, Legit.ng reported that a man has gone viral on social media after showing off a new Curriculum Vitae (CV) style that worked for him.
According to the young man, he had been submitting several resumes to different companies with no response. Surprisingly, he began to get several offers after changing his CV to a particular format which he displayed on TikTok.
The new style was very clean, neat and organised and some netizens claimed they were familiar with the format. The video was shared on TikTok by @professionhero.
Source: Legit.ng