From Sugar to Cement: 9 Businesses Owned by Abdul Samad Rabiu, Second Richest Man in Nigeria
Nigeria is home to numerous successful businesses that have achieved international recognition, and one such remarkable empire is BUA Group. This business conglomerate holds diversified interests spanning various sectors of the Nigerian economy, providing employment opportunities to thousands of individuals within Nigeria and neighboring African countries.
In a previous article, we fixed our searchlight on the founder and Chief Executive Officer of BUA Group, Abdul Samad Rabiu, exploring how he transformed the company from a local enterprise into a multinational conglomerate.
But here, we will be highlighting BUA Group's different subsidiaries and their contributions to the conglomerate.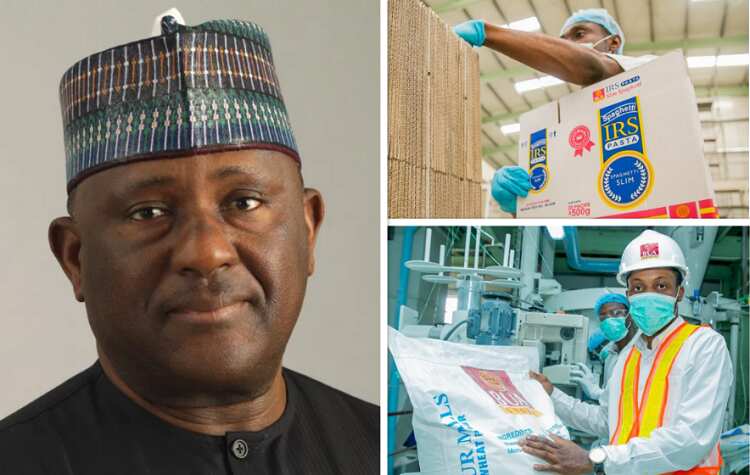 BUA Sugar Plantation
BUA Group embarked on substantial investments in the country's vast Sugar Industry. In 2008, it acquired the esteemed Lafiagi Sugar Company Ltd (LASUCO) in Kwara State, marking a pivotal step towards enhancing local sugar production.
Additionally, it established the Bassa Sugar Company in Kogi State. To support these ventures, BUA Group secured approximately 70,000 hectares of land across these locations, paving the way for expansive and state-of-the-art sugar plantations.
Once fully operational, these initiatives will make a remarkable contribution to the growth and advancement of Nigeria's homegrown sugar industry.
BUA Sugar Refining
The Group proudly boasts two cutting-edge mega sugar refineries: the BUA Sugar Refinery in Lagos and the Eastern Sugar Refinery in Port Harcourt with a combining capacity of 1,500,000 metric tonnes.
These state-of-the-art facilities employ the latest technology and automated systems, ensuring the production of top-notch sugar products for both consumption and industrial purposes.
Notably, BUA stands alone as the sole sugar refiner with refining capabilities extending beyond the borders of Lagos, Nigeria.
BUA Flour Milling & Pasta Processing
Flour plays a vital role in Nigeria's development as a staple food. Presently, wheat flour shares for bread, semolina, pasta, and other products stand at approximately 60%, 20%, 10%, and 10% respectively.
Wheat serves as the primary raw material for bread flour, confectionery flour, noodle flour, semolina, and pasta production, with a staggering 99% of the required 5.67 million metric tons being imported.
To meet the increasing demands of the population, BUA IRS Flour has established a cutting-edge plant in Port Harcourt, Nigeria.
The market is projected to experience an annual growth of 6.7% (Compound Annual Growth Rate, CAGR 2020-2025).
BUA Oil Milling
In 2001, BUA Group acquired Nigeria Oil Mills Ltd., founded in 1951. With two key facilities (Nigeria Oil Mills in Kano and BUA Oil Mills in Lagos), the company specializes in oil production from groundnut and cotton seeds, as well as the manufacturing of animal feeds and soap.
BUA Oil Mills, established in 2008, is renowned for its production of premium products like palm olein, stearin, and Distilled Fatty Acid (DFA).
BUA Rice Milling and Plantation
BUA Group has established itself as a key player in the rice industry as its rice plantation spans approximately 10,000 hectares of land.
With a mill in Kano and an expansive rice plantation in Kano, Nigeria, the Group is committed to meeting the nation's staple food needs. BUA Group operates a dynamic out-growers scheme, engaging approximately 100,000 rice farmers in Kano and Jigawa States.
As the largest mill in Nigeria, the facility's current capacity of 200,000 tonnes per annum is undergoing an upgrade to a staggering 1 million metric tonnes per annum.
BUA Cement
BUA Group has established a formidable presence in cement manufacturing, boasting three major subsidiaries and plants strategically located across Northern and Southern Nigeria.
These state-of-the-art facilities possess the capacity to supply various cement grades, catering to the specific demands of the local Nigerian markets while upholding the highest standards of manufacturing.
With an impressive combined installed capacity of 8 million metric tonnes per annum and a market capitalization of N1.18 trillion (US$3.3 billion), BUA Cement has emerged as the second largest cement producer in the Nigerian market and the largest in the North Western region.
BUA Ports & Terminals
Under the subsidiary BUA Ports & Terminals, BUA Group has secured the concession rights for Terminal 'B' of the Nigerian Ports Authority, located in Rivers State, Nigeria.
The port prides itself on a highly skilled workforce, offering competitive tariffs, and delivering unparalleled customer service. With a MARSEC level 2 certification, its operations prioritize the security and safety of both lives and goods.
BUA Mines and Steel
BUA Group, through its subsidiary BUA Iron & Steel Ltd, is addressing Nigeria's steel challenge with the establishment of a cutting-edge steel plant with a capacity of 1 million tonnes per annum.
This state-of-the-art facility will utilize locally sourced iron ore, natural gas, and limestone, ensuring self-sufficiency in steel production. To support this endeavor, BUA Group has secured an exploration license for iron ore in Kogi State, Central Nigeria.
BUA Group remains steadfast in its mission to establish a fully integrated steel plant in Kogi State. Upon completion, the BUA Steel Complex will stand as the sole steel mill in West Africa, producing steel from iron ore.
BUA Real Estate
As Nigeria's real estate market experiences increasing demand, BUA Group has responded by developing a diverse portfolio of residential, commercial, and mixed-use properties across major cities in the country.
Notable projects under BUA Estates include BUA Hills and BUA Court in Abuja, BUA Business Park in Abuja, BUA Towers in Lagos, and The BUA Place in Lagos.
These developments showcase BUA Group's commitment to creating exceptional spaces that cater to the evolving needs of individuals and businesses in Nigeria.
Abdul Samad Rabiu inches closer to position of third richest man in Africa
Meanwhile, in related news, Legit.ng reported that Abdul Samad Rabiu is rapidly approaching the esteemed status of being the third-richest individual in Africa, currently held by South African billionaire Nicky Oppenheimer.
With an astonishing net worth of $8.2 billion, Rabiu's fortune has surged by a staggering $2 billion (equivalent to N966 billion) within a single year, significantly narrowing the wealth gap between himself and Oppenheimer.
According to Forbes, Rabiu's net worth has skyrocketed from $6.1 billion in January 2022 to $8.2 billion as of Tuesday, March 28, 2023.
This remarkable increase has propelled him to the position of the fourth-richest person in Africa, surpassing Egyptian billionaire, Nassef Sawiris.
Moreover, the wealth gap between Rabiu and Oppenheimer has shrunk to a mere $100 million.
Source: Legit.ng