Abdulsamad Rabiu: Nigerian Billionaire Chasing After Dangote's Title of Richest Man in Africa
Nigeria has a lot of successful businesses that have gone from local to becoming internally recognised. One of such business empire is BUA Group, a business conglomerate that has interests in various sectors of the Nigerian economy, employing thousands of workers across the country and neighbouring African countries.
In this article, we will be pointing our searchlight on the founder and Chief Executive Officer of BUA Group, Abdulsamad Rabiu. We will be highlighting his major business thresholds and how he grew the company from a local business to a multinational conglomerate.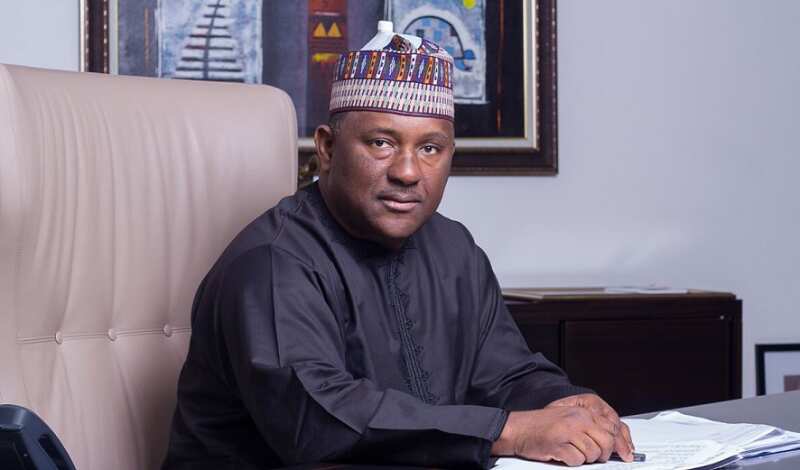 Family background & Education
Born on August 4, 1960, into a wealthy Kano family, Abdulsamad always knew from a tender age he was going to follow in the footsteps of his father, Khalifah Isyaku Rabiu, a pioneer industrialist.
Abdulsamad had his primary and secondary school (Federal Government College) in Kano State where he was born and bred. He later moved to study Economics at Capital University in Columbus, Ohio, the United States of America.
PAY ATTENTION: Share your outstanding story with our editors! Please reach us through info@corp.legit.ng!
He returned to Nigeria after his education to oversee his father's commodity trading business with new ideas acquired from his study abroad. Courtesy of his hardwork and doggedness, the business grew profits and expanded from its locality.
Going fully into his own business
While overseeing his father's business, Abdulsamad decided to establish his own company, BUA International Limited in 1988, which was into the importation of items including edible oil, iron, rice, etc.
A few years later, the company expanded into the production of steel, construction and importation of iron ore after it got a contract from the government to supply Delta Steel Company with raw materials.
Following his recent successes, BUA Limited bought Nigerian Oil Mills Limited, an oil processing company in Nigeria. At the time of acquisition, the oil mill was the largest vegetable oil processing company in West Africa.
To break the monopoly that Dangote Sugar enjoyed in the production of sugar to Nigeria, BUA commissioned its 720,000 metric tonnes/annum refinery in Lagos, the second-largest sugar refinery in sub-Saharan Africa.
In 2009, BUA Limited bought a controlling stake in a Nigerian Stock Exchange-listed Cement Company of Northern Nigeria (CCNN). In 2015, it went on to construct in Edo State a cement plant worth close to a billion dollar.
Abdulsamad has over the years grown his business into a conglomerate, The BUA Group, with several subsidiaries with interests in Cement production, Sugar refining and plantations, Flour Milling & Pasta Processing, Mines and Steel, Ports Operations and Real Estate.
Philanthropy
Through his BUA Foundation, the social corporate responsibility of his business empire, Abdulsamad has carried out multiple philanthropic works in many regards across different parts of Nigeria.
The Foundation has made contributions is healthcare, security, infrastructure, electricity, flood relief intervention, food supplies and government support.
Some of his major philanthropic works include the building of a 7,000-square-metre pediatric ward at the Aminu Kano Teaching Hospital in Kano State. Also noteworthy is the construction of the Centre for Islamic Studies at Bayero University, Kano State.
Through the BUA Foundation, Abdulsamad donated N10 billion to the Nigeria Security Support fund towards the acquisition of security equipment and provision of healthcare facilities and other supplies to families of Nigerian soldiers.
During the COVID-19 pandemic, Abdulsamada made a donation of N1 million for equipment and medical supplies to 9 states in Nigeria.
The Foundation refurbished the Neonatal Unit at Gwarimpa General Hospital, Abuja and has also built and handed over a 150-bed hospital in Abuja to the Nigerian Police.
The BUA foundation has donated ambulances, cash and food supplies to the governments of Rivers, Kwars, Jigawa, Adamawa, Lagos, Edo and Sokoto.
Awards & Recognitions
Amongst Abdulsamad's many awards, recognition and achievements is his appointment as Chairman of the France-Nigeria Investment Club by French President, Emmanuel Macron in 2021.
In 2020, Abdulsamad bagged a 2019 Business Man of the Year Award at the Vanguard Personality of the Year, while in the same year, CSR Reporters Philanthropic Awards listed him as Person Of The Year.
In 2017, Silverbird Group awarded him with the Silverbird Extraordinary Business Achievement Award.
The previous year, the CNBC, All Africa Leaders Award (AABLA) awarded him with the award for the West Africa Industrialist of the year.
Abdulsamad's BUA Group is a recipient of the West African Regional Magazine's 2015 Business Conglomerate of the year.
The BUA Group founder was conferred with the Nigerian national honour of Commander of the Order of the Federal Republic (CFR), on him by President Muhammadu Buhari.
Abdulsamad Rabiu's net worth
Since first getting on the Forbes list, Abdulsamad has continued to rise in wealth and fame. While BUA Group is estimated to generate annual revenue in excess of $2.5, Forbes estimated Abdulsamad's wealth in January 2023 to be about $7.6 billion.
With this net worth, Abdulsamad maintains his position as the second richest man in Nigeria behind Aliko Dangote and the fourth richest man in Africa coming behind Dangote, Johann Rupert family and Nicky Oppenheimer family.
Dangote, Rabiu, Adenuga combined wealth more than 83 million Nigerians
Oxfam in Nigeria has stated that three of the richest Nigerians are wealthier than 83 million other Nigerians combined, Legit.ng reported.
This is contained in a report titled 'Davos 2023 Inequality Report,' which was released during a media conference on Monday, 16 Janaury, 2023 in Abuja.
Aliko Dangote, Abdulsamad Rabiu and Mike Adenuga are the three richest men in Nigeria and they have a combined wealth of $26.8 billion.
According to the report, the richest 0.003 percent of Nigerians (6,355 individuals worth $5million and above) have 1.4 times more wealth than 107 million other Nigerians.
Source: Legit.ng