Meet Sijibomi Ogundele who rose from wheelbarrow pusher to real estate billionaire
Sijibomi Ogundele is arguably one of the youngest billionaires in Nigeria with great achievements in the real estate sector
His company, Sujimoto Construction is one of the most successful real estate and construction companies in Nigeria
Mr Sujimoto's story is nothing but inspiring to young Nigerians hoping to make a success of themselves in whatever field
Sijibomi Ogundele's rise to fame and prominence is nothing but an inspiring story of how a man born without a silver spoon can make it in Nigeria. Ogundele or Mr. Sujimoto, as he is fondly called, is the Managing Director/Chief Executive Officer of Sujimoto Construction, a luxury construction giant that focuses on building extraordinary edifices in upscale neighbourhoods.
Born on April 8, 1981, to a working father, Samson Idowu Ogundele and a businesswoman mother, Sijibomi grew up on the streets of Agege. Growing up in an impoverished neighbourhood in Oko-Oba, where only 2 residents had a generator set, Sijibomi made a vow never to remain poor, but become a success story.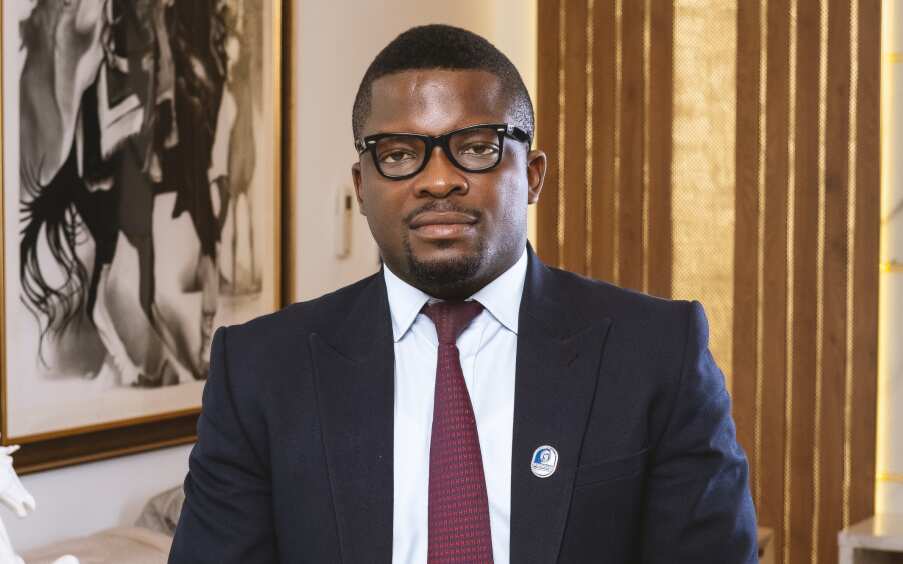 He attended Oko-Oba Primary School, Ijebu-Ode Grammar School and Lagos State Model College, Meiran. He later left Nigeria to study Law at the Anglia Ruskin University, in England
Because of his wide travels, Sijibomi now speaks Hausa, Yoruba, French, Spanish, and a little bit of Arabic and Japanese.
Sijibomi's foray into business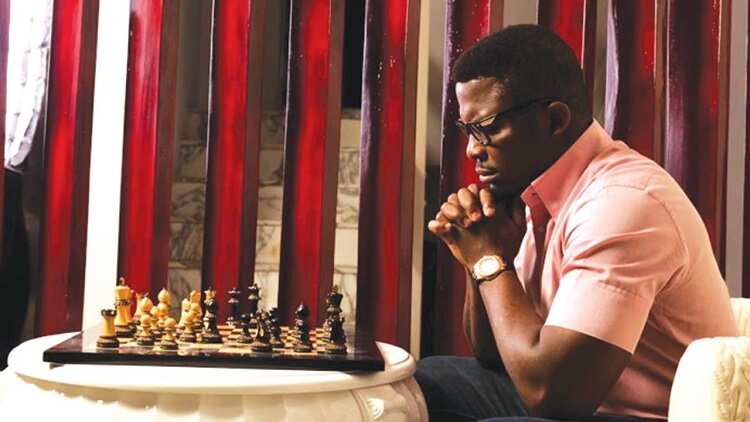 Growing up as the son of a trader mother and watching the enterprising Igbo traders in the Oke-Arin market where his mother owned a shop, Sijibomi's passion for business was fueled. His first knowledge of business was gotten from following his mother to the market and learning different aspects of business.
While helping out his mother in the market, he would assist her in conveying her goods as a wheelbarrow pusher. He would also help other traders in the market with his wheelbarrow thereby earning some wages.
From his little savings at a young age, he started a bike business. From one bike, he went on to own a few more as the business progressed.
While beginning to realise his destiny in business, real estate seemed to be the preferred door to walk through.
Sijibomi's going into real estate
Sijibomi's interest in real estate was sparked while living in South France in 1998 brokering deals in Project Management and Financing. However, his first major break was when in 2011 when he bought an apartment in Paris and decided to remodel it. After completion of the remodelling, he sold the apartment for more than double the amount he initially bought it.
This experience ignited and further deepened his interest in real estate and there has since been no going back. Moving back to Nigeria in 2014, the mission for Sijibomi was to revolutionise the Nigerian luxury real estate market.
Sijibomi's founding of Sujimoto Group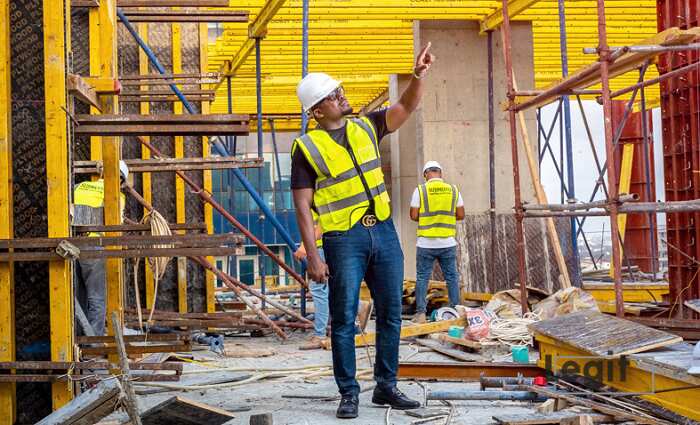 Based on his vision to redefine luxury living, the Sujimoto Group was founded in 2013 in partnership with Yazeed Alrahji, a real estate magnate in Saudi Arabia.
The name Sujimoto was borrowed from Sijibomi's mentor, Sujimoto Koga, a Japanese professor. Sijibomi has often stated that the professor helped boost his confidence and influenced his business initiatives.
Today, the firm has offices in the big cities of Lagos, Abuja, Accra, Riyadh, Dubai, Madrid and Paris.
Sujimoto's Projects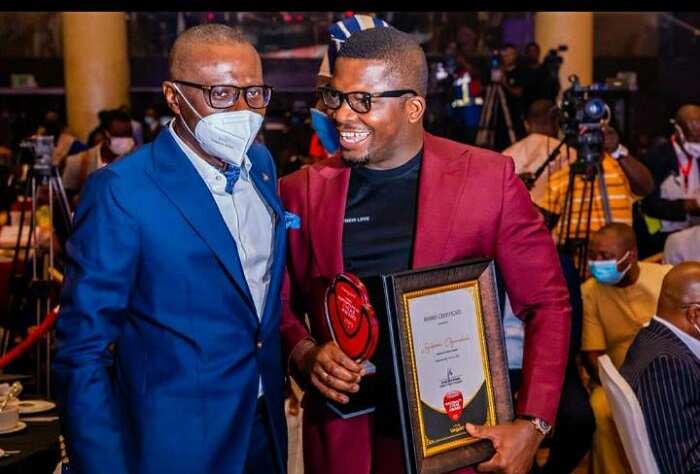 The Sujimoto Group is renowned for holding the fort of luxury real estate in Nigeria's biggest city, building ravishing structures of the highest detail quality.
A set of 16 townhouses of 4-bedroom apartments in Accra, Ghana, known as Lincoln Avenue was Sujimoto's first major real estate project.
Some of its most amazing projects include MediciBySujimoto, the LucreziaBySujimoto in Banana Island, LeonardoBy Sujimoto in Banana Island, The Giovanni and The HQ in Ikoyi; QueenAminaBySujimoto in Abuja and of course, The Sujimoto tower in Dubai, a 44 story building.
Sujimoto and Philanthropy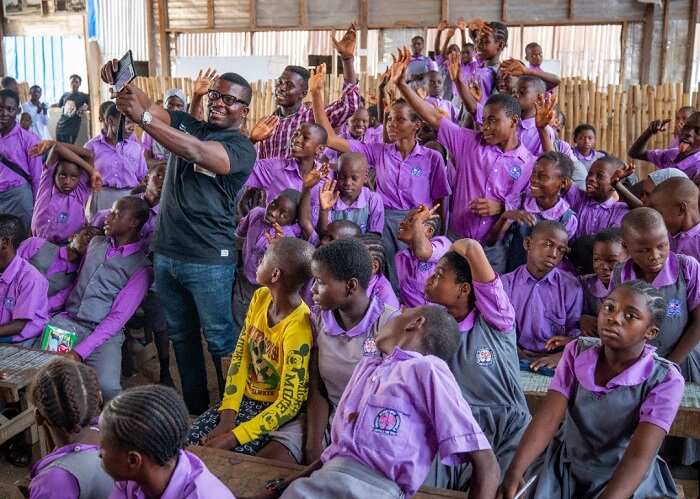 Philanthropy is one area that delights Mr Ogundele. In 2015, he gifted a fully furnished luxury apartment and education to one Olajumoke Orisaguna, a bread-seller turned model who was discovered by photographer-musician, TY Bello on the streets of Lagos.
As a Corporate Social Responsibility (CSR) effort, Sujimoto gave out hampers to 10,000 women, single mothers, widows and other underprivileged Nigerians.
Students and teachers of his alma mater, New Oko-oba Primary School, Agege, Lagos, continue to benefit from his benevolence every year.
On the occasion of his 40th birthday, over 400 students of the Bright Achiever's School, a free slum school community project for disadvantaged children in Ilaje Bariga were supported with packages, cash donations and free scholarships
Awards and recognition Sijibomi has received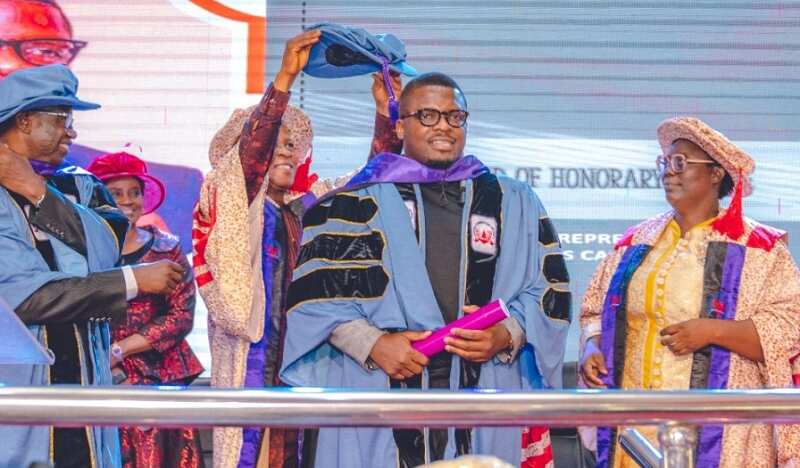 Mr Ogundele has gained several recognition and awards for his illustrious impact in the real estate sector in Nigeria. Amongst a few of them are an Honorary Doctorate Degree from the Precious Cornerstone University in Oyo State and Vanguard Young Entrepreneur of the year 2020.
For his effort in building a dynamic luxury construction company, he has received extensive coverage by most reputable media platforms including CNN, Forbes, CNBC Africa, and Channels Television, amongst others.
Sujimoto, Okonkwo, Others Top Legit.ng List of Most Outstanding Business Personalities in Real Estate
Sijibomi Ogundele's Sujimoto Construction, Ichechi Okonkwo's Victoria Crest Homes, and 5 other real estate companies rank among the top firms driving Nigeria's real estate sector.
Legit.ng in its Legit Business Names of 2022, recently celebrated top personalities in Nigeria's real estate industry whose firms disrupted the sector in 2022 in the face of tough macroeconomic conditions.
They include Sijibomi Ogundele (Sujimoto Group), Ichechi Okonkwo (Victoria Crest), Oba Adetola Emmanuel King (Adron Homes), Ladi Agboola (Purple Group), Bamidele Onalaja (Revolution Plus), Olawale Ayilara (Landwey), and Festus Adebayo (Africa Int'l Housing show).
Source: Legit.ng