Lagos to Abuja One Way Ticket now Goes for N60,000, as the Most Expensive Airline, Route is Revealed
The cost of travelling by air within the country has skyrocketed in recent months amid an increase in the number of passengers
Between January to June 2021, data from the National Bureau of Statistics shows over 18 Nigerian airports recorded 5.27 million domestic passengers arrival and departure traffic
Nigeria currently has at least 31 active airports, Lagos, Abuja, and Port Harcourt records the highest passengers traffic
Amid rising cases of kidnap, armed robbery on roads, Nigerians who choose to travel by air are being forced to pay more than they did in recent years.
According to a Daily Trust report, all domestic airlines in the country have increased airfare by 20 to 40 percent in major routes.
The report noted that from Lagos-Abuja on Air Peace for a one-way ticket costs between N38,000 and N60,000 for a trip scheduled for the next 48 hours unlike the previous price of N29,000 to N44,000 just within the last few weeks.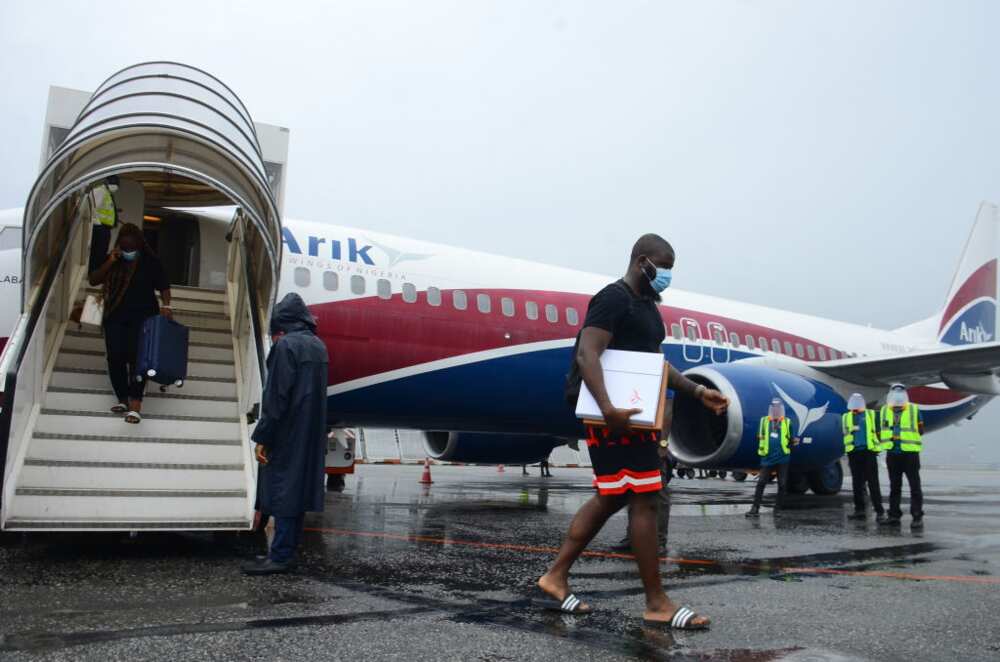 Other Airlines
While Arik Air's cheapest ticket to Abuja from Lagos is currently between N30,000 and N33,000, it was between N27,000 and N30,000 earlier this year.
The Lagos-Kano flight ticket price has also been changed by all airlines, with Azman Air charging as high as N50,400 for a one-way travel and the lowest being N33,126 for a flight next week, up from N27,000 only recently.
Arik Air charges N46,112 for a flight from Lagos to Kano, while Max Air charges N38,000 and N43,000 depending on the day of travel.
Other routes
Flights to Akure, Ilorin, and Ibadan have also been altered at Murtala Muhammed Airport, according to the report.
The one-way cost on Air Peace from Abuja to Ibadan is approximately N60,000; Lagos-Ilorin is between N29,000 and N35,700; and Lagos-Akure is between N38,000 and N60,000 for a 35-minute flight, up from an average of N30,000 two months ago.
The eastern routes are also among the most costly at the present, with Enugu flights on Air Peace costing as high as N55,500 and Dana flights costing over N53,000 a month ago.
Passengers over the counter paying more
A passenger in the report noted that an Overland ticket to Ilorin for the afternoon trip cost roughly N80,000 at the Murtala Muhammad Airport's General Aviation Terminal (domestic).
A price that, if booked sooner, might have ranged between N40,000 and N50,000.
More findings
The report shows that the most expensive routes are flight operations to Asaba, Dutse, Katsina, Maiduguri, Yola, Ibadan, Akure, Ilorin, Sokoto, and Gombe.
On these routes, tickets range from N32, 000 to even N100, 000 for a 60-minute flight.
Chaos in Calabar airport
In another development paseengers onboard Aero Contractors flight N2-175 from Abuja to Calabar, Cross Rivers state had their luggage left behind in Abuja.
Legit.ng reported that the passengers said they were disappointed at the inhumane treatment meted to them by the airline.
Other passengers who had their luggage abandoned by the airline for over two days were also at the Margaret Ekpo International Airport, Calabar waiting to claim their belongings.
Source: Legit.ng