New Report Details How Emefiele Secretly Resigned Paving Way For Tinubu to Appoint New CBN Governor
A new report has detailed how the former governor of the Central Bank of Nigeria (CBN), Godwin Emefiele resigned
Emefiele reportedly resigned in detention, paving the way for Tinubu to appoint Olayemi Cardoso as the new CBN boss
Alongside Cardoso, Tinubu also sent the names of four new deputy governors to the Senate for confirmation
A Reuters report said that the suspended governor of the Central Bank of Nigeria (CBN), Godwin Emefiele, resigned from his position in August.
President Bola Tinubu nominated the ex-head of Citibank in Nigeria, Olayemi Cardoso, to serve as Nigeria's new central bank's boss a few days before CBN's next MPC meeting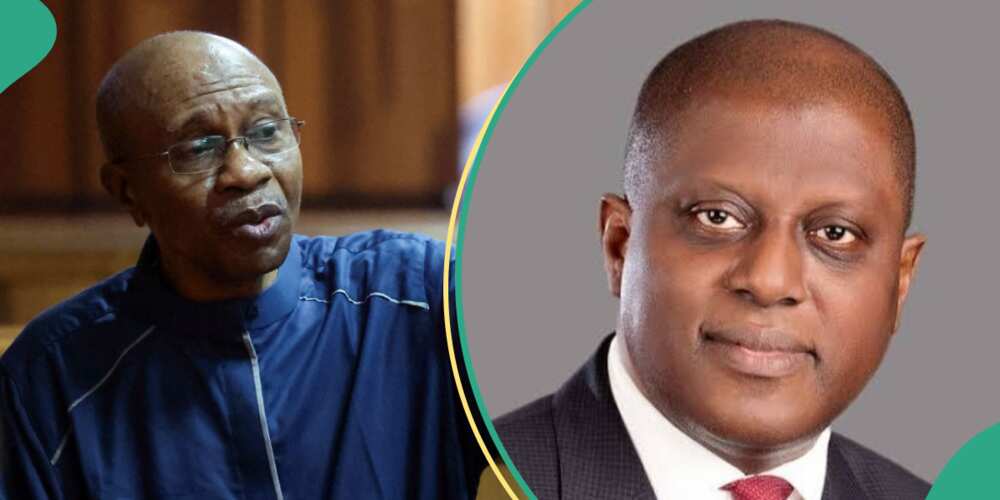 Tinubu nominates four new deputy CBN governors
According to Reuters, government sources said that Emefiele resigned in August, which cleared the way for Cardoso's appointment.
PAY ATTENTION: Follow us on Instagram - get the most important news directly in your favourite app!
Tinubu sent Cardoso's name to the Senate for confirmation alongside four new deputy governors.
Details are still sketchy if the former deputies also resigned their positions.
Reuters said that CBN did not respond to its requests to comment if Emefiele and his deputy governors resigned.
Presidential Spokesman Ajuri Ngelale declined comments when asked about Emefiele's resignation.
CBN secretly increases interest rates
BusinessDay reports that the apex bank raised interest rates by 25 basis points in July under Folashodun Shonubi, the Acting CBN governor.
CBN is expected to increase interest rates again on September 26, per some analysts who wish a more hawkish view.
The bank is due to set new rates again on September 26, and some analysts expect a more hawkish stance.
President Tinubu said during his inaugural address in May that the CBN will undergo a thorough house cleaning.
Emefiele reportedly resigned in detention
Soon after the president's statement, the Department of State Security Services (DSS) arrested Emefiele in June, and the CBN unified the exchange rates.
Reports say President Tibubu's government wants to encourage investments rather than rely on borrowings to create new jobs as it tries to revamp Nigeria's struggling economy with a huge debt burden, weak currency, double-digit inflation, and unstable power supplies.
The CBN governor was part of the team which worked on an economic blueprint for Tinubu's government.
He served as commissioner for financial planning and budget in Lagos under Tinubu as Governor from 1990 to 2007.
BREAKING: Tinubu nominates Yemi Cardoso as new CBN Governor
Legit.ng reported that President Bola Ahmed Tinubu has nominated Dr. Olayemi Michael Cardoso as the new Governor of the Central Bank of Nigeria (CBN), who will replace the embattled Godwin Emefiele suspended months ago.
The nomination of Cardoso was made known on Friday, September 15, via a statement issued by Ajuri Ngelale, the special adviser to the President on media and publicity.
Cardoso's appointment for a five-year term will be subject to the screening and confirmation of the Nigerian Senate.
Source: Legit.ng