New Governors That Will Inherit N4.27 Trillion Domestic Debt Burden From May 29
About 28 incoming governors will carry a debt burden running into trillions of naira
Some of the governors are new on the job, while 11 were re-elected and would grapple with huge debts
Data from the Debt Management Office (DMO) states that the total debt by the states amounts to N4.27 trillion
New governors, including re-elected incumbents, will bear a huge debt burden starting May 29, 2023.
Their predecessors left the debts, except for 11 governors, who were re-elected.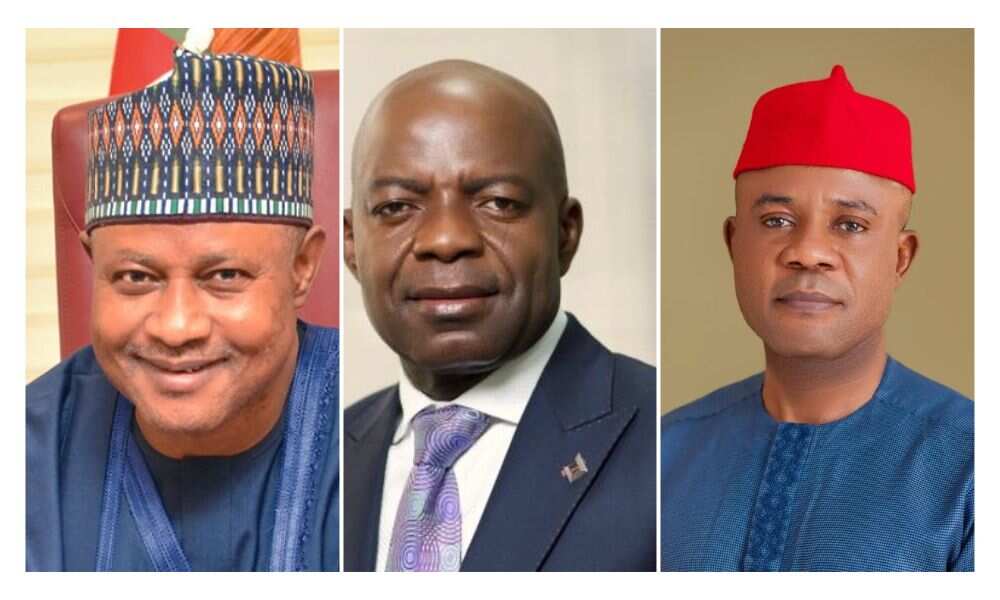 28 governors and the burden of domestic debts
These governors will face a mountainous debt burden of N4.27 trillion.
Experts have pointed out that the debt stock will pose a considerable challenge to the governors, who will be new on the job beginning May 29, 2023.
According to data from the Debt Management Office (DMO), the total domestic debt of the 28 states where elections took place on March 18, 2023, is about N4.27 trillion as of September last year.
The states accumulate foreign debt stock of $3.729 billion as of June 30, 2022.
BusinessDay reports that the debt burden made the top list of experts' worries as monthly revenues dwindle from the federal account, including poor revenue generation by the states.
DMO data shows the entire domestic debt stock for the 36 states and Abuja was N5.36 trillion as of September 2022. Their external debt stock was valued at $4.526 billion as of June 2022.
States and their domestic debts
Adamawa: N122bn
Oyo: N160bn
Imo: N210bn
Bayelsa: N151bn
Ogun: N241bn
Akwa Ibom: N219bn
Anambra N75bn
Bauchi N144bn
Rivers, N225bn.
Kano: N125bn
Ebonyi: N67bn
Edo: N110bn
Ekiti: N118bn
Taraba: N90.8bn
Cross River: N175.1bn
Zamfara N109.6bn
Borno: N96.3bn
Katsina: N62.3bn
Enugu: N89.8bn
Benue: N143.3bn
Kogi: N90.1 billion
Nasarawa: N72.6bn
Kebbi: N60.1bn
Kwara: N109.5bn
Jigawa, N44.4bn
Abia: N104.5bn
Yobe: N92.8bn:
Sokoto: N85.5bn:
Delta: N272.6bn.
Lagos: N877bn
Gombe: N139bn
Kaduna: N86bn
Niger: N98bn:
Ondo: N78 billion
Osun: N149 billion
Plateau: N151bn
FCT: N112bn
More states rely on federal allocations
Per a report from the National Bureau of Statistics (NBS), 36 states and Abuja generated total revenue of N1.90 trillion in 2021.
BudgIT, the civic accountability platform, said that in 2022 about 50% of the total revenue of 33 states was transferred from federal allocations, and 13 states relied on federal grants for about 70% of their incomes.
Delta receives highest amount as Nigerian states share N3.16 trillion from Federation Account in 2022
Legit.ng reported that the National Bureau of Statistics has revealed that thirty-six (36) states shared the sum of N3.16 trillion in 2022.
NBS disclosed this in its Federation Account Allocation Committee report published on its website.
Checks show that the amount disbursed to states by 2022 was the highest on record.
Source: Legit.ng