Delta State Earns Highest as Oil-Producing States Share N970.20 Billion in 2022
Oil-producing states in Nigeria share about N970-20 billion from the derivation fund
Abia, Akwa Ibom, Delta, Bayelsa and Edo states are some of the states which got the fund
The states are also the most indebted states in Nigeria with Delta State leading with the highest domestic debt
Nigeria's nine oil-producing states shared a total of N970 billion from the federal account in 2022 via the 13% derivation formula.
Information from the National Bureau of Statistics (NBS) reveals that Abia, Akwa Ibom, Bayelsa, Delta, Edo, Imo, Ondo, and Rivers states were listed as states which received the fund.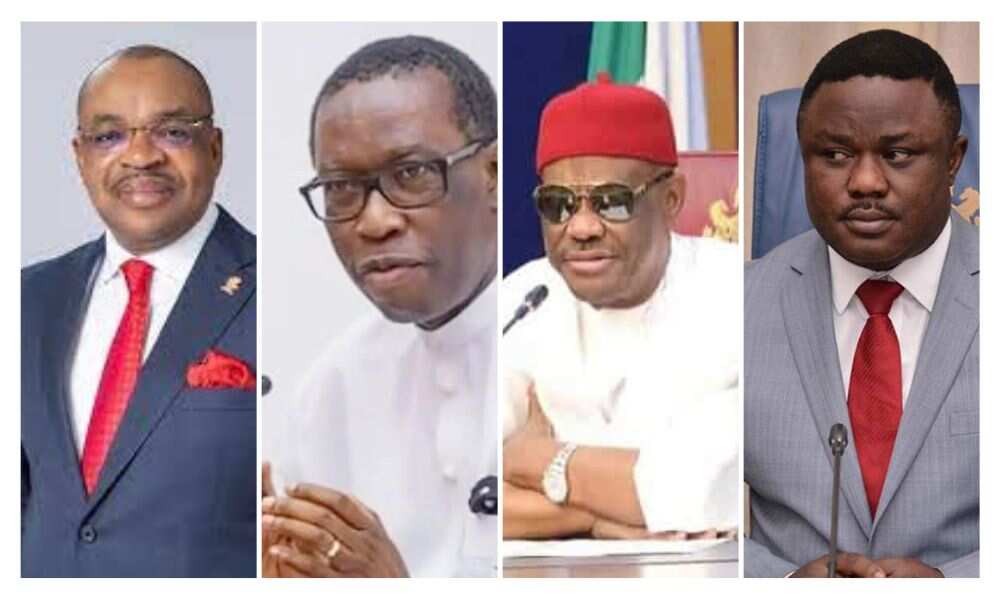 Delta leads states with highest oil revenue in Nigeria
The 13% derivation fund is from the federation revenue to oil-producing communities via the state governments as provided for in the constitution.
A study of the NBS report shows that Delta State got the highest allocation totalling N296.20 billion, representing 31% of the total revenue from the derivation account.
Akwa Ibom follows with N222.52 billion, about 19% of the total disbursement during the review period.
Others include:
Bayelsa: N188.02 billion
Rivers: N169.79 billion
Edo: N37.49 billion
Ondo: N25.95 billion
Imo: N18.61 billion
Abia: N6.95 billion
and Anambra: N4.25 billion
The derivation fund differs from the three per cent provided for the host communities in the new Petroleum Industry Act (PIA) from the oil company's expenses known as OPEX.
Rivers State Governor, Nyesom Wike had said that President Muhammadu Buhari approved the payment of the funds owed to the states in the Niger Delta from 1999 to date.
States with highest domestic debts
TheCable reports that Wike asserted that the funds approved by Buhari were owed from the 13% derivation, which he said, helped his infrastructural development in Rivers State.
Some of the oil-producing states also battle huge domestic debt burdens and a massive infrastructural deficit despite the 13% derivation fund.
The Debt Management Office (DMO) stated that Delta is leading other states with about N22.61 billion in domestic debt followed by Rivers at N225.51 and N219.62 billion owed by Akwa Ibom.
Imo State follows with a domestic debt of N207 billion, Bayelsa, at N151.16 billion, Abia at N110.99 billion, Ondo at N104.67 billion and Anambra at N78.82 billion.
Lagos, Kano lead states in Nigeria with highest local government allocations as FG shares N2.02trn to LGs
Legit.ng reported that in 2022, local government areas in Nigeria received about N2.02 trillion from federal allocation disbursement. The development comes as local councils in Lagos, Kano, Oyo, Katsina, and Rivers states earned the highest allocations for 2022.
Local council areas in the five states received 24.83%, about N500 billion of the total budget. Read more: https://www.legit.ng/business-economy/economy/1524170-lagos-kano-leads-states-nigeria-highest-local-government-allocations/
Bayelsa, Gombe, Ebonyi, Nasarawa, and Ekiti states saw local government areas with the lowest allocations for last year.
Source: Legit.ng