Lagos, Kano Lead States in Nigeria With Highest Local Government Allocations as FG Shares N2.02trn to LGs
Local government areas in Nigeria received about N2.02 trillion in 2022
Recent data shows that Lagos, Kano, and Rivers states got the highest budget while Bayelsa and Gombe got the lowest
Local government areas in Nigeria have asked the federal government to increase their monthly allocations
In 2022, local government areas in Nigeria received about N2.02 trillion from federal allocation disbursement.
The development comes as local councils in Lagos, Kano, Oyo, Katsina, and Rivers states earned the highest allocations for 2022. Local council areas in the five states received 24.83%, about N500 billion of the total budget.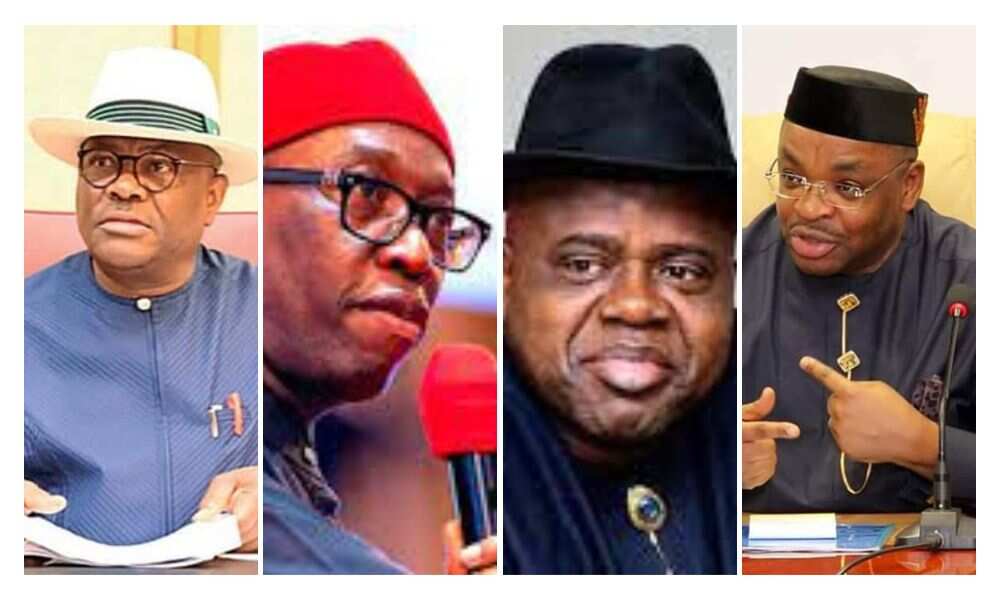 States with lowest federal government allocation
Bayelsa, Gombe, Ebonyi, Nasarawa, and Ekiti states saw local government areas with the lowest allocations for last year.
The eight local governments in Bayelsa received 24.03 billion. The 11 local government areas in Gombe received 28.97 billion, Ebonyi's 13 local councils received N31.73 billion, Nasarawa's 13 local councils received N31.96 billion, and the 16 LGAs in Ekiti received 34.86 billion.
Others include the 16 local councils in Kwara, which got N37.69 billion, the 14 local councils in Zamfara received about N38.37 billion and the 17 in Abia state received N39.33 billion.
About six local council areas in the Federal Capital Territory, Abuja received N39,52 billion, Taraba local councils received N40.42 billion, and Yobe's local government councils received N41.22 billion.
Other are the 18 local councils in Cross River receiving N41.69 billion, Ondo's 18 LGAs received 43.03 billion, Enugu's 17 LGAs got N43.42 billion, the 18 in Edo received N43.54 billion; Plateau received 44.33 billion, 20 LGAs in Ogun received about N45.68 billion, Adamawa's 21 local government areas received N49.23 billion, 21 in Kogi state received N49.30 billion, 21 LGAs in Kebbi received almost N50 billion, Anambra State's LGAs received N52 billion, 23 in Sokoto got N55.58 billion, the 20 local government areas in Bauchi received N55.90 billion. Benue's 23 local governments received N57.28 billion.
Delta State LGAs received N57.68 billion for its 25 local government areas, Imo State got N58.25 billion for its 27 local government areas, N58.42 billion went to the 30 LGAs in Osun, N60.68 billion to the 25 in Niger State, N61.63 billion went to the 27 local councils in Jigawa, N65.37 to Borno's 27 LGAs, N66.31 billion went to the 31 LGAs in Akwa Ibom, N67.69 billion to Kaduna's 23 LGs, N80.39 billion to the 23 in Rivers, N81.81 billion went to the 34 LGAs in Katsina, N84.51 billion went to Oyo, N107.29 billion to Kano's 44 LGAs, and N146.39 billion went to the 20 LGAs in Lagos.
Sources of federation account
All the 774 local government areas in the country get monthly allocations from the federation account.
They share revenues from oil, taxes, Nigerian Customs trade facilitation activities, Company Income Tax, sale of national assets, and surplus and dividends from state-owned businesses.
Local governments ask for more allocations
Punch reports that in the current sharing formula, the Federal Government receives 48.5%, the state government receives 26.72%, and the local government receives 20.6% from the federal account.
State governments in Nigeria asked the Revenue Mobilisation Allocation and Fiscal Commission to shore up their shares of their federal allocation.
The Deputy National President of the Association of Local Governments in Nigeria, Shehu Jega, said local governments in Nigeria need higher revenue allocations to survive and avoid extinction.
He said:
"ALGON wishes to tell the Revenue Mobilisation, Allocation, and Fiscal Commission that it has a significantly vital role in rescuing the local government system from extinction – extinction in the sense that the local government system needs an increase in the revenue sharing formula.
"After that allocation, it has to be monitored to ensure that each local government council in the country gets its allocation straight to its account."
President of the National Union of Local Government Employees, Ambali Olatunji, said that LGAs rarely get most of the funds disbursed because of state governments.
States in Nigeria with the highest external debts as national debt stock hits $41.77 billion
Legit.ng reported that according to the Debt Manage Management Office (DMO), Nigeria's debt stock had hit about $41.77 billion as of March 2022.
A good number of these debts are external borrowings by states in Nigeria which contribute a large chunk of the total debt stocks.
Of the total external debt stock, Lagos State, Kaduna, and Cross River are the leading states in Nigeria.
Source: Legit.ng