BREAKING: Niger Delta militants strike again
- One of the Niger Delta militant groups has attacked an oil facility in Delta state
- The group threatened to launch more attacks if their demands wouldn't be addressed
- The militants also advised the locals to vacate the region if they love their lives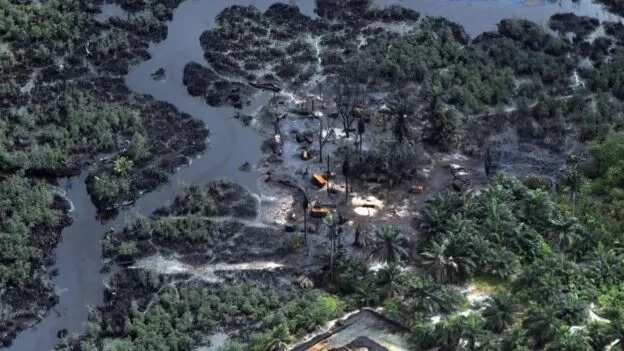 The suspected Niger Delta militants have attacked oil delivery line belonging to the Nigerian Petroleum Development Company crossing Afiesere-Iwhrenene communities in Delta state.
The Niger Delta Greenland Justice Mandate, one of the groups operating in the area, took responsibility for the incident, which happened at about 1am on September 13, Tuesday.
READ ALSO: Avengers mock Buhari, Nigerian army
The Punch reports that Aldo Agbalaja, the spokesperson of the group, confirmed the development in a statement.
Greenland warned Nigerians over further attacks while revealing that Tuesday's attack was carried out as part of 'Operation Crocodile Tears'.
The statement reads in part: "As a mark of our faith to totally grounding the Nigerian oil economy, the gallant "Opudo" strike forces brought down the Afiesere- Iwhrenene major delivery line in Ughelli North, leading to the UPS/UQCC operated by NPDC/SHORELINES at about 1am today 13th september 2016.
"The Niger Delta is not a conquered territory and our people have never succumbed to intimidation before, rather we match force with the oppressor's brutality.
"The Nigerian government should already know that the people of this part are not fools, who will not be able to see when they are being treated with disdain."
The militants restated its call to those living and working around oil companies to vacate such premises to avoid being wounded during attacks.
"For the last time, leave these areas if you live around them and if you love your lives," they said.
READ ALSO: "Dear Avengers, you are worse than Boko Haram, your religion has condemned you"
Their operation was launched in response to the military exercise "Crocodile Smile", which aimed to stop the attacks on oil and gas facilities.
The Niger Delta Avengers, another militant group, mocked the army for this operation as soldiers reportedly dying due to poor training.
READ ALSO: This Is How Much MPs And Other Top Government Officials In Kenya Earn
Source: Legit.ng