- MEND has disbanded its negotiation team it set to meet with the federal government
- It said it will monitor the Avengers and their negotiation team for 6 months
- The militant group said it hopes all Niger Delta people speak with one voice
The Movement for the Emancipation for the Niger Delta (MEND) has said that it is watching Chief Edwin Clark and his group for six months.
Clark was selected by the Niger Delta Avengers to lead the negotiation team to dialogue with the federal government but MEND has said it will watch their activities of the team.
Vanguard reports that MEND also formally disbanded its Aaron Team 2 Dialogue initiative and said it wants the Niger Delta region to speak with one voice.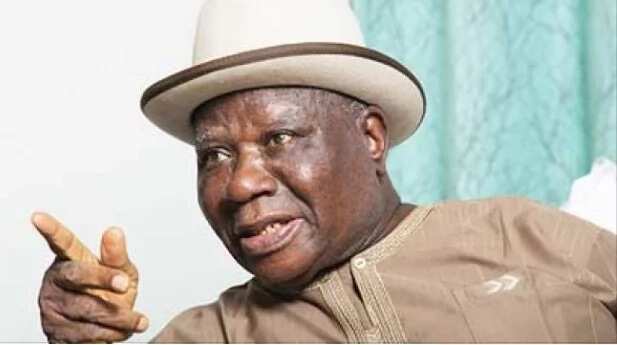 "However, MEND shall continue to monitor the pace of progress of Chief Edwin Clark -led team and reserves the right to recall its nominees after six months."
READ ALSO: Re: Stop army operation in Niger Delta, focus on dialogue
"The disbanding became necessary following MEND's decision to recognise and work with Ijaw National Leader Chief (Dr) Edwin Kiagbodo Clark as the leader of a pan-Niger Delta dialogue and peace initiative. "
"We have always advocated that the Niger Delta region must speak with a single voice under a single umbrella body; otherwise the much sought-after peace and development shall elude the region, again.
"Therefore, under the new collaborative arrangement, MEND has nominated Messrs Ledum Mitee, Ibanga Isine and Timipa Jenkins Okponipere Esq., to work alongside Chief (Dr) Clark and other stakeholders."
"Nevertheless, MEND is compelled to categorically warn that, it is not yet uhuru. The Chief Edwin Clark-led new initiative should realize that MEND was already in preliminary talks with the Federal Government as confirmed by President Muhammadu Buhari himself. "
"In fact, we have so far, been able to secure a number of concessions; some of which include, but are not limited to the release of political prisoners. We expect that Chief Clark and his team shall follow through with the rest of the dialogue and peace process."
"The Movement for the Emancipation of the Niger Delta (MEND) also condemns in very strong terms, the extra-judicial killings and deception by the Bayelsa State Government-sponsored militia under the leadership of our former Commander, Mr. Africanus Ukparasia aka General Africa, an ex-militant whose legal agreement signed under the Presidential Amnesty Programme clearly forbade him to bear arms under any guise."
It asserted: "In flagrant violation and disregard of the unilateral ceasefire recently declared by the Niger Delta Avengers (NDA), and previously declared ceasefire by MEND to give ongoing peace talks a chance, these soldiers of fortune calling themselves Bayelsa State Waterways Security Task Force and their military collaborators, have been attacking and killing soft targets such as debtors, personal enemies and perceived informants of NDA and cultists; thereafter displaying their corpses, and weapons from the military armoury as if those arms and ammunition were recovered."
READ ALSO: Tompolo: The rise of a defiant militant commander in the Niger Delta
"Africanus, his thugs and the military are hereby warned to put a stop to their criminal acts and respect the ongoing ceasefire or else he, Africanus, and all his known fixed assets acquired during the fraudulent amnesty period will become legitimate targets.
"Africanus is also warned not to venture close to any MEND camps as our commanders have been informed to see him as an enemy and defend themselves."
Meanwhile, the Niger Delta Avengers denied report that it has selected Professor Wole Soyinka to lead a dialogue team to negotiate with the federal government.
The group accused the Movement for the Emancipation of the Niger Delta (MEND) for orchestrating the fake list and insisted that it was ready for dialogue when the federal government shows genuine interest.
READ ALSO: Why late Ole Ntimama decided to work with President Uhuru