We are not ready for dialogue - Niger Delta Avengers
- Niger Delta Avengers has cautioned the Niger Delta elders to discontinue from appealing to the group to accept the proposed dialogue by the President Muhammadu Buhari led
- Avengers also stated that it was not afraid of the country's military as it was very much prepared to defeat the uniform men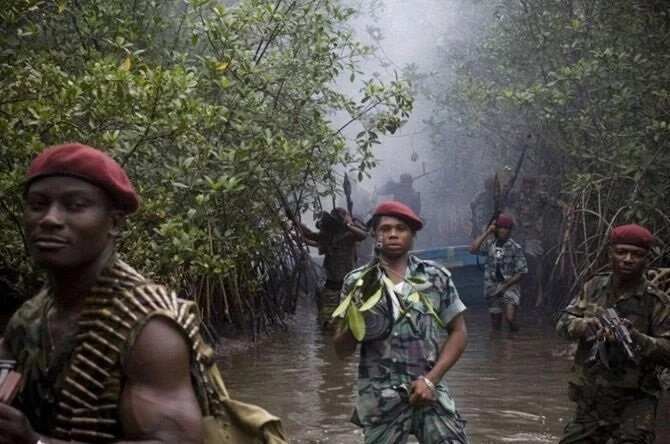 Hard fighting militant group, Niger Delta Avengers has cautioned the Niger Delta elders to discontinue from appealing to the group to accept the proposed dialogue by the President Muhammadu Buhari led Federal Government.
NDA as they are fondly called said President Buhari is not sincere and cannot not be trusted.
READ ALSO: Final showdown: Avengers send powerful message to Buhari, warn navy chiefs
In a statement issued to the public by its spokesman, Agbinibo Mudoch, the militants dared the Nigerian military to a combat in the creeks.
Avengers also denied reports that some of its members had been arrested by Nigerian Navy.
"To the elders of the Niger Delta, hope it is clear to you our elders that the Buhari-led government is unreliable, unreasonable and irresponsible. Can you tell the world the government official you have been dialoguing with? Is it the President? Or is there any committee that is set up for it?
"We respect you our elders. As such, stop behaving, as if the Niger Delta is a seized region. Stop acting like you are begging the government for a dialogue. The worse the government will do is to bombard our villages and towns in the name of looking for NDA. So, our elders should tread carefully with the Nigerian government."
NDA also stated that it was not afraid of the country's military as it was very much prepared to defeat the uniform men whenever they challenge it in battle.
READ ALSO: Revealed: How Buhari can get rid of Niger Delta Avengers in one week
"Since we (NDA) started the struggle, none of our operatives has been arrested. All those in detention in the name of NDA are not part of NDA.  The world should know this. Stanley Tonghan and Felix Miyenminiye are not members of NDA. We don't know them or have any connection with them.
"The suspects (Tonghan and Felix Miyenminiye) were paid five million naira to give Nigerian military intelligence information on the activities of NDA.  The suspects' failure to deliver led to their arrest. They were therefore tagged NDA members. What a shame?" the NDA probed.
Sandys Omadeli Uvwoh who is a Niger Delta chieftain has blamed people from the region for the cause of the problems it is encountering.
In an interview with Vanguard, the septuagenarian described the poor state of the region as self-inflicted.
Source: Legit.ng