Feature: The plague ravaging the nation's tomatoes
- Tuta absoluta, aka the tomato leafminer, is ravaging tomato farms in the north-east, north-west and central regions of Nigeria
- The larvae attack the leaves of the tomato plant by feeding on them voraciously
- The 'Tomato Ebola' has the ability to wipe out a farm within days
- It has caused a colossal shortage in supply, with consequently sky-rocketing prices, increasing by at least five-fold
Just when the nation's tomato farmers were beginning to reap the rewards of the government's stopping of the importation of substandard tomato produce, which was costing Nigeria N80bn annually, there comes a plague that is threatening to wipe out tomato farms.
Its devastating effects have prompted Nigeria's and Africa's wealthiest man, Aliko Dangote, to suspend production at his recently built tomato processing plant in northern Kano state because of a lack of tomatoes.
The culprit is a moth with the biological name tuta absoluta, aka the tomato leafminer, but now generally referred to as the 'Tomato Ebola', reflecting its destructive power in comparison to the dreaded Ebola virus.
Tomato Ebola
Tuta absoluta is a grey-brown species of moth that is about 7mm long, with the ability to wipe out a farm within days. A female pest can produce up to 260 eggs in 21 days. This reproductive capability, coupled with a lack of expertise concerning its control, were the reasons for its spread and the scale of the devastation.
The tomato is the main host plant, but tuta absoluta also attacks other crop plants, including potato and pepper plants. Eight to ten generations can occur in a single year if the conditions are favourable.
Devastation
The larva attacks the leaves of the tomato plant by feeding on it voraciously, producing large galleries in leaves, and consuming green and ripe fruits, consequently causing up to 100% loss in yield in some farms.
READ ALSO: Delta will never become part of Biafra - SSG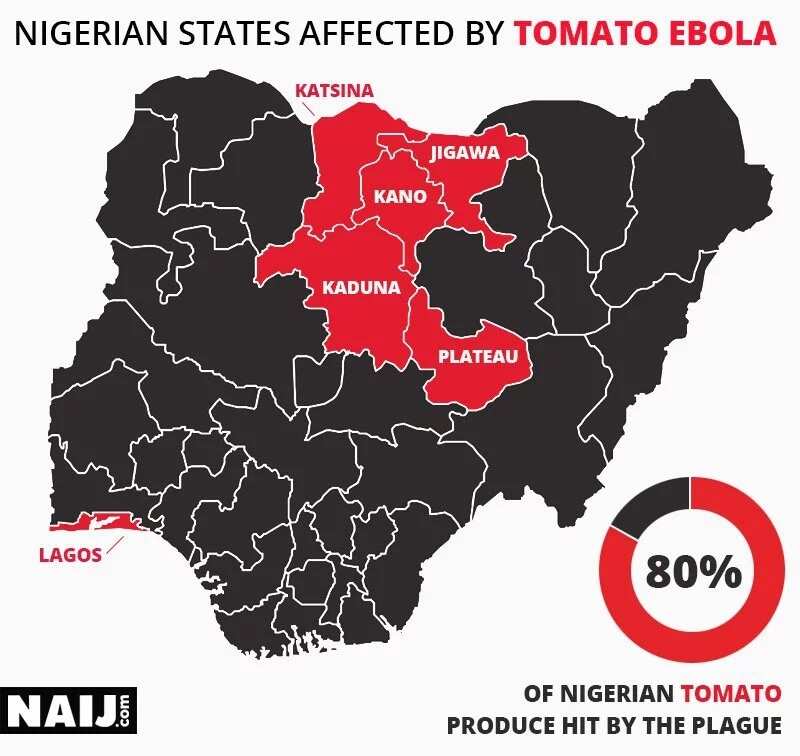 All the available and usual pesticides have been applied to no avail, as the larvae have developed resistance to them, reviving themselves about three hours after being sprayed with pesticides.
Eighty per cent of Nigeria's tomato production has been hit by the plague, which has become widespread and now affects production in six states: Jigawa, Kano, Katsina, Plateau, Kaduna and Lagos.
Hundreds of hectares of tomato farms have been ravaged, resulting in a scarcity, thereby sky-rocketing the prices in the market. The cost of tomatoes has increased at least five-fold, or 500%, with no sign of slowing down.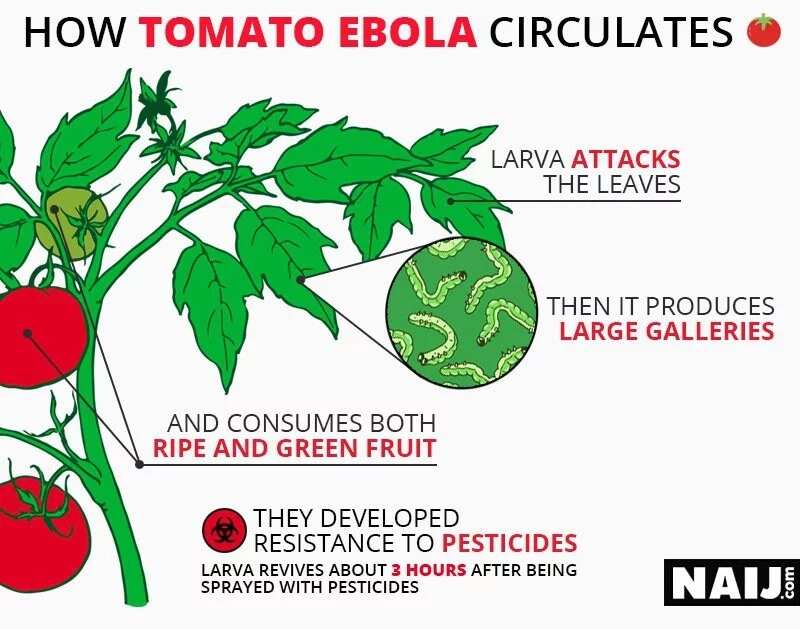 The current crisis is a huge blow for Nigeria's President Muhammadu Buhari who has been urging the nation to return to agriculture to minimise the economy's dependency on petroleum, which is now causing suffering due to the huge decrease in the crude oil market price.
Global spread
The moth was first identified as a tomato pest in 1927, when it was prevalent in many South American countries. It was first identified in Spain in 2006, before its detection in France, Italy, Greece, Malta, Morocco, Libya and Algeria.
It continued its voracious appetite by infecting the Middle Eastern states of Lebanon, Jordan, Iraq, Iran and Saudi Arabia.
It further advanced to Africa, from Egypt to Sudan, Ethiopia, and Senegal, before being reported here in Nigeria.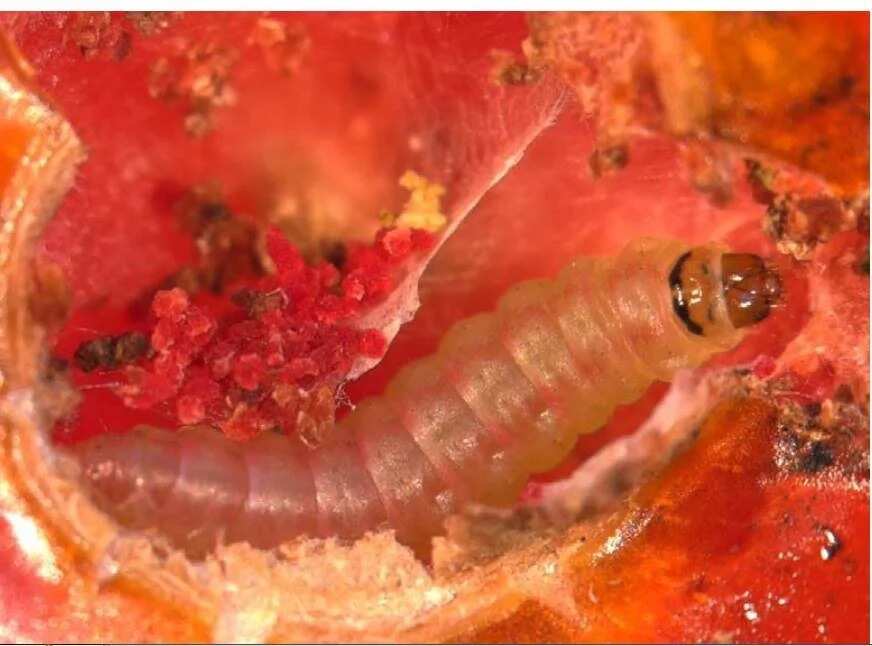 READ ALSO: Boko Haram members surrender in scores, army rescues 157
Control
Nigeria needs to reach out to other countries previously affected in order to curb the destructive spread of this resistant moth. Newer compounds were used to control European outbreaks, so we need to seek the assistance and expertise of our European, South American and African partners.
Tomatoes are a staple in many of our dishes, hence the public outcry over the scarcity and the soaring cost. All hands must be on deck to curb the pest's spread.
However, Dr Ogbonnaya Onu,
He said: "Fortunately, an agency of the ministry has developed a pesticide agent that is very effective against the new tomato pest called tuta absoluta."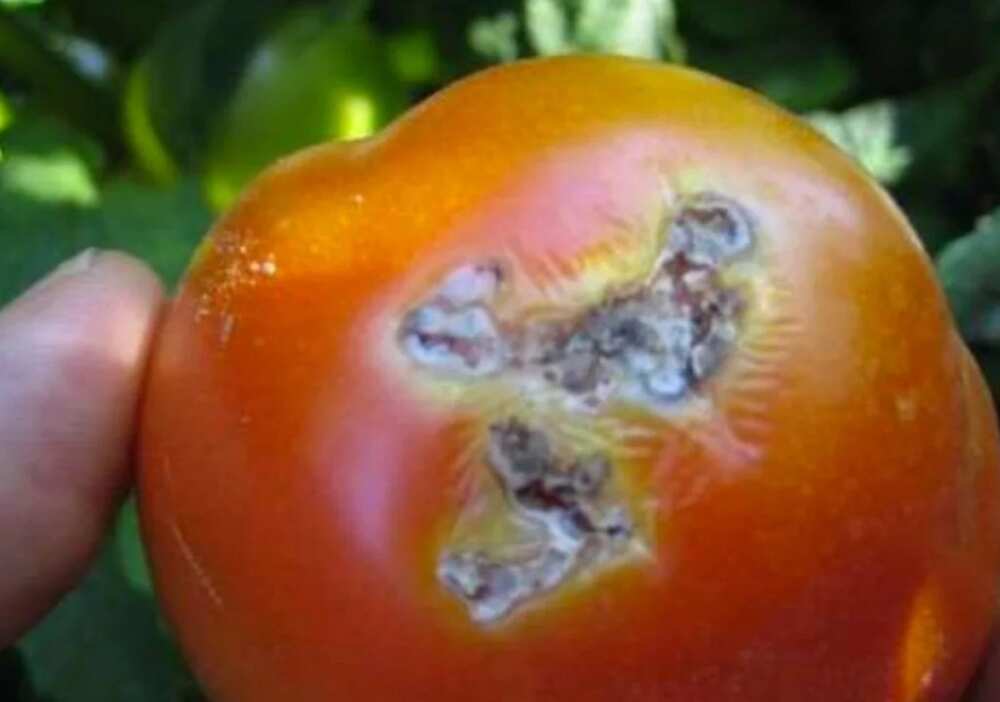 He expressed further confidence in the pesticide, adding:"The pest ravaging tomato farms is of great concern to the nation, and this had led to an agency of the ministry to develop a pesticide which is very effective against the new tomato pest."
Government reactions
The current crisis prompted the governor of Kaduna state, Mallam Nasir El-Rufai, to declare a "tomato state of emergency."
Kaduna state's commissioner of agriculture, Maigari Daniel Manzo, stated at a recent news conference that 80 per cent of tomato farms have been ravaged by the pest.
He further said that over 200 tomato farmers in three out of 12 tomato-producing local government areas of the state were affected by the plague, costing farmers about N1 billion worth of tomatoes in the last month.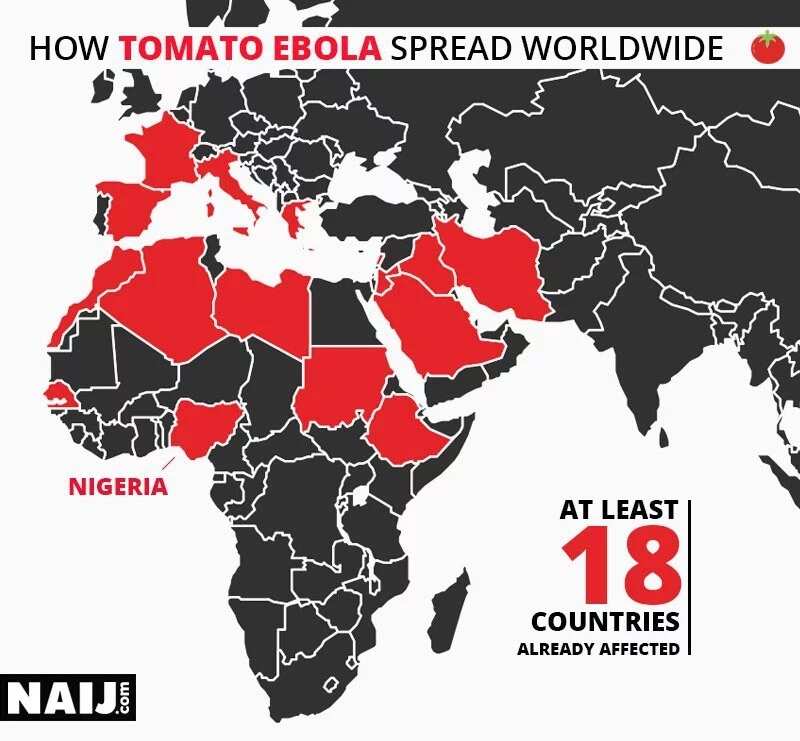 Maigari said: "You spray it; after about three hours it comes back to life."
Nigeria's federal agriculture minister, Audu Ogbeh, warned that the pest, which can also attack pepper and potato plants, poses a threat to national food security.
"So we are confronting something quite serious. But the good thing is that we are tackling it right now as experts will commence work immediately. We are bringing the commissioners and governors of states to jointly attack the pest, which, if not dealt with, will create serious problems for food security in our country," he said.
Source: Legit.ng