Fayose claims Chibok girls are not missing
- Fayose accuses Buhari of deluding Nigerians over Chibok girls
- He claims that the abduction was a mere political fabrication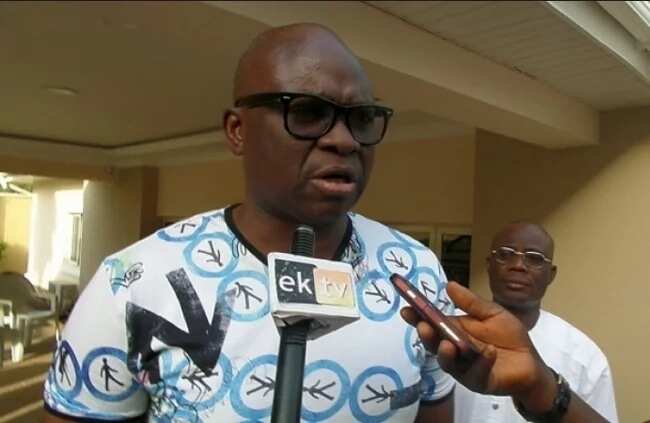 Ayo Fayose, the governor of Ekiti state, has claimed that the rumour of the abduction of the Chibok girls was mere political fabrication meant to oust ex-president Goodluck Jonathan from the office at all costs.
He has accused the federal government of deceiving Nigerians over the alleged missing schoolgirls, supposing that the All Progressives Congress used the situation to defeat Jonathan.
Fayose said he viewed with delight the advocacy of Oby Ezekwesili-led Bring Back Our Girls group, which has been pressing for the recovery of the missing girls.
READ ALSO: Chibok girls? The identity of suicide bombers held in Cameroon REVEALED
"You can't get what is not missing," he stated.
Fayose, speaking in Ado Ekiti during a two-day workshop organized by Women Arise for Change Initiative, said: "The cries over missing girls were just a political strategy. What could Boko Haram have used to carry those girls? However, if truly missing, they should be recovered. One thing I know is that what is not missing you cannot get."
"It pains me that some of the human rights activists had gone since the advent of President Muhammadu Buhari's government. They have lost their voices. Where were they when DSS invaded the Ekiti House of Assembly and arrested a lawmaker and locked him up?
"They were flouting court's orders at will and victimising opposition. It is better we collectively speak up now or we are consumed.
"In some homes, men had cowed their wives and made them subservient. The wives have no rights to claim or defend. But before you can claim anything, the wives or female in general must be up to the task. You have to be intellectually and socially alert.
READ ALSO: Year after election: We'll judge Buhari after four years, like we did with GEJ – Nigerians
"Don't just, because you are a woman, lose your voice. With this, women shall collectively regain what belongs to them."
The girls were abducted in April, 2014 by the Boko Haram sect and had since been declared missing by the federal government.
When the Chibok girls were kidnapped, some key Jonathan supporters openly doubted the story, and believed it was part of a grand design by the north to bring down the Jonathan government.
Nigerian army recorded a huge success in the Boko Haram war, rescuing many people and resizing all territories from the insurgents. However, despite all the efforts, the Chibok girls remain missing.
Source: Legit.ng