Boko Haram finally surrenders (Updated)
- Doubt has been cast on unconfirmed reports that the leader of Boko Haram, Abubakar Shekau, has surrendered
- Leadership earlier posted a video purporting to show Shekau urging his followers to surrender
- Analysis of the video by Legit.ng failed to confirm any such order
Reports that emerged in the early hours of March 24 suggested that Boko Haram had finally surrendered to the superior power of Nigeria.
A video published by Leadership, shows the group's leader, Abubakar Shekau, who was previously rumoured to have been killed, advising his followers to "surrender to save themselves".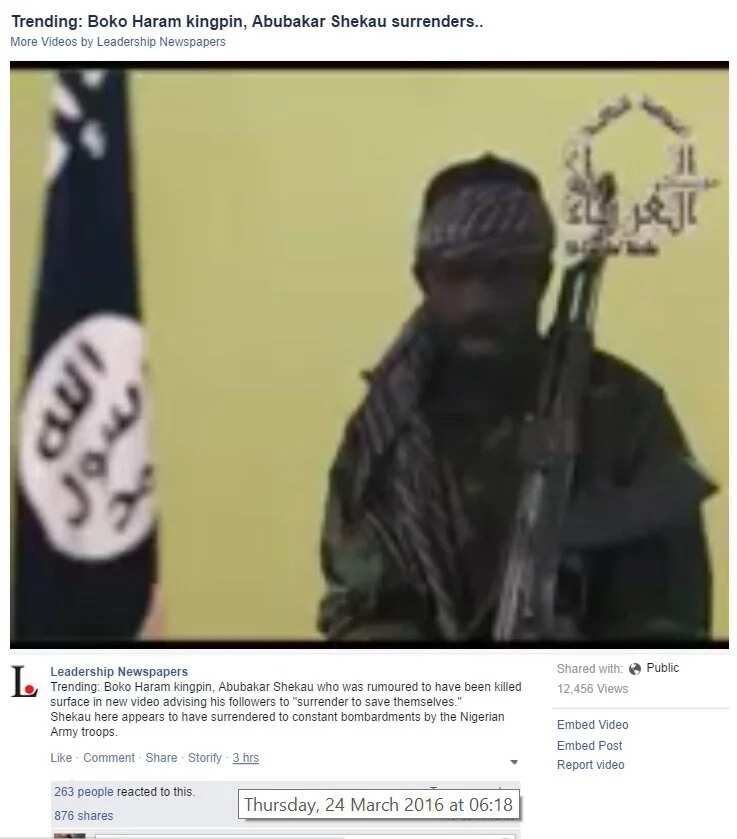 Shekau in the video uploaded by the Leadership reportedly appeared to have surrendered to constant bombardments by the Nigerian troops.
However, analysis of the speech by Shekau casts doubt on the claims of the terrorist leader's surrender.
Legit.ng's editors have carefully listened to the now-viral speech by Shekau. They could not verify any message urging the Islamists to lay down their weapons in the video.
Contrary to the Leadership's take on the video, our translators noted that Shekau continually used: "Naji sakon ku, naji, gaisuwar ku, Allah ya saka maku da alkairi," meaning "I have received ya messages, I have heard you greetings, God bless you."
He also spoke about their deformed caliphate in Gwoza, noting that the people are also wishing him well.
Further analysis of the video suggests that a surrendering man does not surrender with arms at his shoulder. Shekau was carrying a firearm and could not possibly be telling others to lay down theirs, experts say.
See the original of the post below.
Trending: Boko Haram kingpin, Abubakar Shekau surrenders..Trending: Boko Haram kingpin, Abubakar Shekau who was rumoured to have been killed surface in new video advising his followers to "surrender to save themselves."Shekau here appears to have surrendered to constant bombardments by the Nigerian Army troops.

Posted by Leadership Newspapers on Wednesday, March 23, 2016
There have been several controversies regarding the leadership of the Boko Haram sect and the well being of Shekau. On several occasions the leader of the Islamist group has been pronounced killed.
However, for every time a statement is made regarding his death, Shekau makes it a point of duty to reassure his followers that he is still alive and that their course is a worthy one supported by God Almighty. His medium of choice being videos that many have had to wonder if it really is the terrorist leader or his clone.
It would be recalled that there was also a time when the media had it that Shekau had been apprehended.
The jihadist leader was reportedly arrested by the Nigerien troops at Abadam, Borno state, and taken across the border to Bosso, Niger Republic. But the military could not confirm the alleged attack, as some claim the he has so many impersonators.
About two years there were security reports, that Shekau have died as a result of wounds he sustained during a shoot-out with security agents. The reports suggested that he was almost captured, but his aides managed to evacuate him across the border to Cameroon.
Sources said Shekau didn't make it but there was no evidence to prove it, until his picture surfaced, showing him on a hospital bed, looking lifeless.
The war against the insurgent sect is still ongoing, there have been daily reports regarding the Nigerian troops' success against the sect. In a recent statement, the army said they conducted clearing operations at Menari, Bulamari, Zangebe, Maafa, Mijigine, Baale and Kaltaram villages in Mafa local government area of Borno state.
The operation reportedly led to the rescue of 180 people who had been held hostage by the terrorists. Stolen cattle belonging to the hostages were also discovered in Giltimari and Baale.
Source: Legit.ng