- Army sends 12 senior officers to EFCC
- Officers to face court martial if found culpable
- Ex-president Goodluck Jonathan's aide-de-camp (ADC) also under investigation
The Economic and Financial Crimes Commission (EFCC) is investigating 12 senior army officers for their role in the $2.1billion arms deals.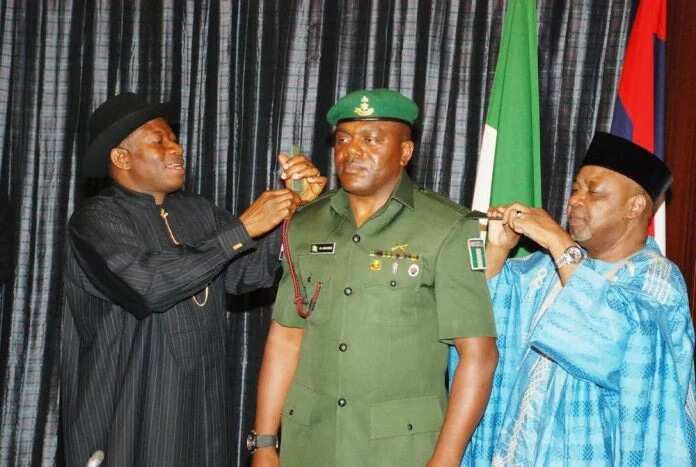 The senior officers who were sent to the EFCC by the military authorities will be tried by a military Court Martial if found culpable.
READ ALSO: EFCC grills ex-governor aides, scores of others
Disclosing this in a statement on Friday, February 12, acting director of army public relations, Col. Sani Kukasheka Usman said the senior officers "comprised of comprised of 3 serving Major Generals, and one retired, 3 Brigadier Generals, 4 Colonels and 1 Lieutenant Colonel".
Likewise, reports have it that Colonel Ojogbane Adegbe, ex-president Goodluck Jonathan's aide-de-camp (ADC), is also facing investigation by the EFCC over the disbursement of more than N10 billion oil proceeds to Peoples Democratic Party (PDP) nomination convention delegates.
Col. Ojogbane Adegbe is being detained by the Economic and Financial Crimes Commission (EFCC), which is on the trail of another key aide to the former President – Waripamowei Dudafa, former Special Assistant on Domestic Affairs.
READ ALSO: I was never arrested by EFCC over arms deal - ex-VP aide
Meanwhile, the All Progressives Congress (APC) candidate in the forthcoming rerun election in Benue south senatorial district, Daniel Onjeh has asked his opponent and former Senate President, David Mark to explain what happened to the N1bn earmarked by the federal government for the dualization of Otukpo township road.
Onjeh said Mark, who represented the zone from 1999 till November 28, 2015, is in a better position to explain who the contract was awarded to since it passed through the senate chamber.
The aspiring senator made this call following the revelation by the Senate committee on Works that a contractor collected N1bn from the Federal Ministry of Works for the dualization of Otukpo township road and disappeared.