33-year-old woman delivers baby from alleged 4-year-old pregnancy (photo)
- Woman delivers baby after being pregnant for four years
- The baby was said to have "got lost" in the womb
- A consultant on naturopathic gynaecologist said it was an abnormal medical record
A 33-year-old woman identified as Oluwabunmi Ogidan delivered of a baby on Wednesday, January 27, after reportedly being pregnant for four years.
The town of Ikugbomire in Obafemi Owode local government area, Ogun state, became a sort of Mecca as people trooped to Alayo Vantage Hospital from far and near for a glimpse of the miracle baby, The Nation reports.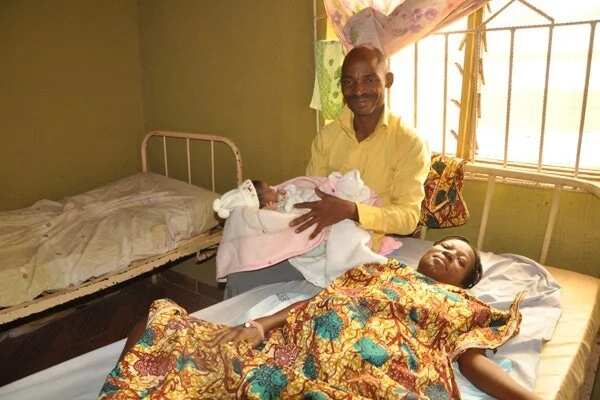 Narrating what happened, her husband said: "We went for pregnancy test and it was confirmed positive. A few days after, my wife complained that she was feeling pains in her womb. We went to a midwife who told us that the pain was not a problem; that the pregnancy was intact. I was not satisfied, so I took her to another hospital (name withheld) where we did a scan but the doctor said he didn't see any pregnancy. The doctor said there had been a miscarriage. I asked him that shouldn't there be an outflow of blood if she had a miscarriage? The doctor said yes. I told him that we had not witnessed anything like that and he was shocked."
READ ALSO: Woman Delivers Bible And Baby In Osun
He said they ran to their pastor, Prophet Emmanuel Ogbara, who assured him that God had told him the pregnancy was intact.
They returned to the hospital and were told that she had multiple fibroid in her womb with no chance of conception.
"All this while, my wife's menstruation had ceased. It was only once after the pregnancy was sighted that we observed that little blood came out but stopped almost immediately. We left there for the Government Hospital in Owode, Ogun state," Bankole said.
Meanwhile, Oluwabunmi's stomach had protruded as if she was due for delivery and she had become the gossip of the town's people.
Bankole explained that on September 10, 2015, his wife became ill with labour signs and he took her to the hospital. She was treated and asked to go for scan.
"To the glory of God, the doctor here said he had seen a baby; that my wife was carrying four months pregnancy. At the church, the prophet confirmed again that the child had all along been there; only that scan could not pick it. So the hospital continued to nurture the baby for antenatal. But here again, they still saw fibroid in the womb. But to the glory of God 27th January this year (2016), our baby finally arrived," he said.
But before the baby was born, it was said to have "got lost" in the womb.
The happy mother got married to her husband, Bankole Ogidan, on August 27, 2011, and, in 2013, there were first signs that she was pregnant.
The hospital's matron said: "We had to do an operation. When we did, we found that contrary to scan reports, we met a different thing in the womb. It was a sac with pus inside. It was not fibroid. And looking inside, we didn't see any baby. But I remembered that I used to hear sound inside Mrs Ogidan's womb, so the doctor searched further; the baby was hidden in the uterus.
READ ALSO: Newborn Boy Found In Baby Jesus Manger At Church
"We thank God. It's a miracle. The sac was so big that it swallowed up the uterus where the baby was. The sac was so big that the uterus could not be easily found. The doctor said he had never seen such a thing before."
Dr Sam Akinyemi, a consultant on naturopathic and a gynaecologist, described the situation as "an abnormal medical record".
Source: Legit.ng