Rally In Lagos: APC Warns Pro-Biafra Activists
The Lagos state chapter of the All Progressives Congress (APC) has issued a warning to those activists planning to organize mass demonstration in Lagos under the aegis of the Movement for the Actualisation of Sovereign State of Biafra and the Independent People of Biafra (IPOB).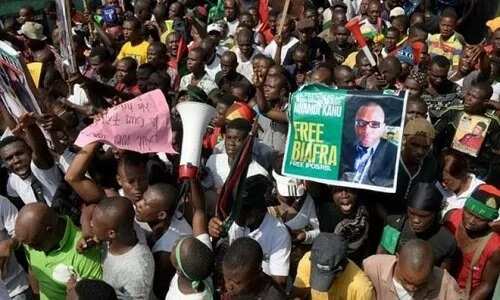 PM News reports that the warning was contained in a statement made by Joe Igbokwe, the Lagos state publicity secretary of the APC.
Igbokwe stressed that the state would not allow politically sponsored hoodlums masquerading as pro-Biafran protesters or any other group to plunge Lagos into crisis.
Appealing to those behind the plot, Igbokwe noted that the security agencies led by the Lagos state commissioner of police, Fatai Owoseni, vowed to deal ruthlessly with anybody found to be involved in such protests.
READ ALSO: Biafra Will Come To Fulfillment In 2015- Popular Prophet
[article_adwert]
"As a party that governs Lagos, it will be derelict of us to watch a group of politically-sponsored hoodlums tamper with the tight security system that has been effortlessly put in place by the state government to combat increasing crime rates in the state. We cannot allow these hoodlums, sponsored by politicians that failed woefully in the last general elections, to unleash mayhem on peace loving Lagosians so as to achieve dark political aims that run parallel to the interests of Lagosians.
"It is obvious that the sponsors of the planned protest want to throw the state into needless mayhem by their act but the state will be ready to mete out to them the appropriate antidotes for such folly. Knowing full well that whatever they purport to represent is alien to Lagos and Lagosians, we wonder what the evil masterminds of these purported protests want to achieve in Lagos if not to plunge the state into unmitigated disruption and crisis and we state that Lagos will not allow such plans.
READ ALSO: Nigerians Have The Right To Demonstrate But Peacefully – Metuh On Pro-Biafra Agitators
"Knowing full well that hoodlums are meant to capitalize on any so-called protests to unleash mayhem on Lagosians and compromise its tight security, we have no doubt that the brains behind the protest have very sinister intents the state will not allow," the APC said.
The party urged market leaders to desist from any plot and not allow their markets to be used for such dangerous activities; otherwise, the state would not hesitate to show such market leaders the exit.
The APC also called on Lagosians to be law abiding and inform security agencies about the masterminds of such evil plots that endanger the security of lives and properties in Lagos.
The IPOB has earlier announced that the pro-Biafran activists will be storm Lagos on December 16, 17.
According to the group's statement, the rally will kick off on Wednesday morning from Alaba international market down to Mile 2.  The protesters will make a stopover at Trade Fair international market complex.
Source: Legit.ng