Last season top scorer, Mfom Udoh came off the bench to give Enyimba all three points at Umuahia as the league toppers edge closer to a seventh Nigeria Premier Football League title after 1-0 away win against Abia Warriors.
Mfom Udoh broke the deadlock in the 69th minute after a fantastic run, leaving his marker for dead, and finishing coolly past substitute keeper Akpan Bassey.
Legit.ng was live at Umuahia to bring you minute-by-minute account of the game. Read our coverage below:
[article_adwert]
Enyimba XI: Thomas, Ojobo, John, Aloma, Anaemena, Udoji, Sokari, Abalogu, Anaezemba, Bassey, Onyekachi
Abia Warriors XI: 22. Chinedu Anozie, 21. Ndifreke Effiong, 3. Valentine Nwabili, 28. Henry Ochuba, 27. Nnaemeka Anyanwu, 13. Ike ThankGod, 34. Anthony Okemiri, 25. Sheriff Bashir, 10. Chisom Chikatara, 12. Ifeanyi Onyeali, 31. Shedrack Asiegbu
90+: FT. All over here in Umuahia.  Abia Warriors 0-1 Enyimba. The Peoples Elephant secure a first-ever league win over Abia Warriors courtesy Mfon Udoh's superb solo run.
89' Rasping drive from Najare,which sails wide. We will have two minutes of added time.
87' Abia Warriors 0-1 Enyimba. Warriors goalie Bassey Akpan makes a superb fingertip save to deny Idris Aloma (Enyimba).
80: Musa Najare (Enyimba) does a one-two with Mfon Udoh before shooting straight at Bassey Akpan.
74' A quiet spell of possession here for the hosts. Goalscorer Mfon Udoh is down on the turf in pain.
70: SUB Enyimba! Ifeanyi George returns from injury, and replaces Andrew Abalogu.
69' GOOOOOOOOOOOOOALLL! Mfon Udoh breaks the deadlock. A fantastic run by last season's league topscorer, left his marker for dead, and finished coolly past substitute keeper Akpan Bassey.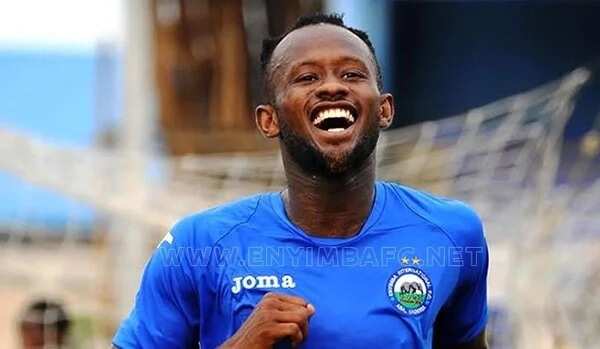 66' Mfom Udoh lines up the shot from distance, and it fizzes just wide. Agonizingly close.
64' Referee Bashir getting some treatment for a spot of cramp.
60: Chisom Chikara has requested to be substituted as he is nursing a knee injury
58' Enyimba come close again. Ojobo fires in a great cross, but it just evades Najare in the centre
55' Abia Warriors 0 - 0 Enyimba, the latter piling on the pressure in this second half.
53' SO CLOSE!!! A last ditch effort by an Abia Warrior defender denies Sokari from giving Enyimba the lead.
52' Warriors win a free-kick deep in our half, but it's comfortably cleared.
50: Substitutions! Musa Najare comes on, and Kingsley Sokari makes way. Also, Bassey is carrying a knock, so on comes Mfom Udoh.
49' Enyimba goalie Femi Thomas and defender Aloma having an argument over the space given to Chikatara in the box
47' Just like they did in the first half, Abia Warriors have started better against Enyimba in the oriental derby.
46: The second half is underway!
HT: Abia Warriors 0-0 Enyimba
Shots (On target): 4 (1) - 5 (2)
Corners: 2 - 2
Fouls: 5 - 9
Offside: 0 - 0
Bookings: 1 - 1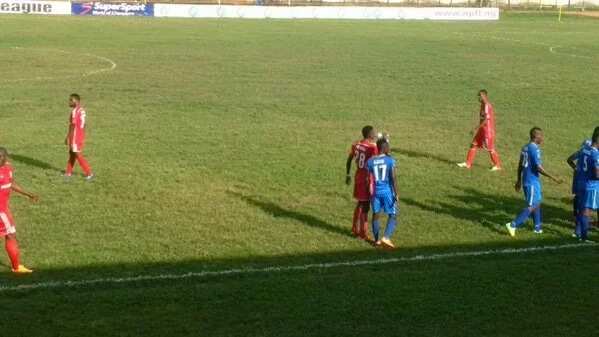 45+2: HALF TIME Abia Warriors 0-0 Enyimba. Score remains goalless!
45+1: Uche John goes in the referee's book.
45: Abia Warriors 0-0 Enyimba. 3 minutes added time. Caution for Enyimba's Ifeanyi Anaemena
44: WHAT A MISSED CHANCE!!! Chikatara pounces on a loose ball but Aloma does enough to deny the Abia Warriors striker a shooting chance.
44: Nzube Anaezemba (Enyimba) strikes from 20 yards, deflected for a corner. The Corner is however cleared
43: Chisom Chikatara has been closely man marked in this Oriental derby.
40: Udoji plays a one-two with Markson Ojobo, but slips at a crucial moment. It's all Enyimba at the moment.
38: After keeping out the spotkick, Warriors make a change as goalkeeper Chinedu Anozie is off, and on comes Akpan Bassey.
35: GAME HALTED! For the third time in this match...Abia Warriors goalie Chinedu Anozie is receiving treatment.
30: WHAT A MISS! Chinedu Anozie dives the right place to deny Captain Chinedu Udoji from giving Enyimba the lead. Could this hamper their NPFL title dream?
26' PENALTY...Enyimba awarded a penalty! Andrew Abalogu and a Warriors defender clash, and referee Bashir pointed to the spot. Captain Chinedu Udoji to take.
24' The derby is stopped as the Abia Warriors goalie receives treatment and the players use that for a water break.
22: CHANCE! A howler from Warriors 'keeper Anozie, gives Enyimba's Bassey a shooting chance but the striker couldn't punish the keeper for his error, heading his effort wide instead. Big Let-off for the away team.
20: Sokari strikes his effort way over the bar.
20: FREEKICK to Enyimba in a dangerous position, Sokari standing over this.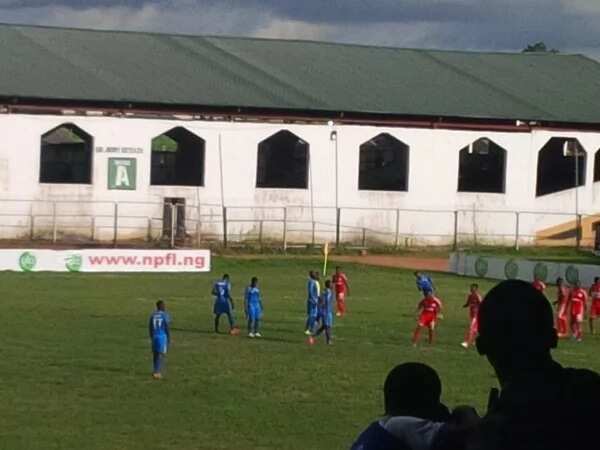 18: The freekick is taken but cleared easily. Abia Warriors 0-0 Enyimba.
17: FOUL... an Enyimba defender raises a high foot on Chikatara...he is lucky not to receive a card. Freekick to Abia Warriors.
15: The corner kick is taken, but cleared easily by Abia Warriors bacline. Entertaining game we have here!
13: The hosts have had the better of the opening exchanges but they have a corner kick to defend.
12: Good move by Enyimba involving Ojobo and Sokari ends in Abalogu crossing to the goalie.
11: Captain Udoji forces striker Chikatara to concede a throw in... Abia Warriors 0 - 0 Enyimba
10: Femi Thomas delaying the chance to take a kick...his Enyimba team mates berate him. Enyimba have been a bit nervy in first 10 minutes.
6: Abia Warriors started the match better but Enyimba have now gotten control of the midfield after the frenzy opening spell.
4: Femi Thomas still receiving treatment.
2: Goalie Femi Thomas of Enyimba is called into action right away and he is down after hitting the post. He made a wonderful save to deny Abia Warriors starman Chisom Chikatara.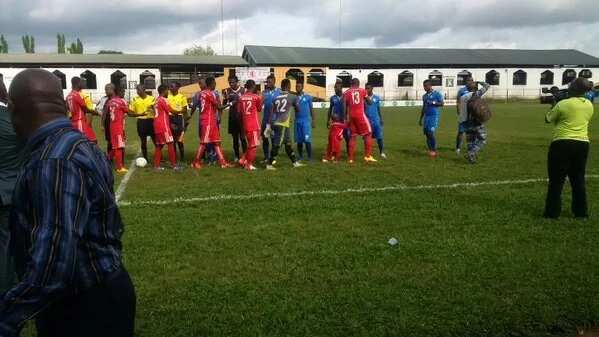 1: The game is underway