How Mrs Hannah Idowu Dideolu Awolowo Died
Mrs Omotola Oyediran, first daughter of the Awolowo dynasty, Mama Hannah Idowu Dideolu Awolowo has disclosed that her mother ate pounded cocoa-yam, just before she died yesterday September 19.
The Yeye Oba of Ile Ife passed-on at exactly 3:15pm yesterday, at her residence in Ikenne local government area of Ogun state.
According to her first daughter, Omotola, the lovely mother 'slept' peacefully in the presence of virtually all her children and grand children.
READ ALSO: I Wanted To Celebrate Mama Awolowo's 100th Birthday – Ambode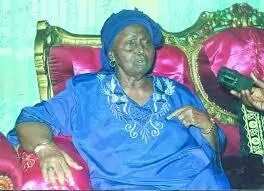 "We were in a meeting at Efunyela hall where arrangement on her centenary birthday is being planned. She came to meet us there and played a lot with us, she prayed a lot for all us one after another and she even ate pounded cocoa-yam with us.
"Immediately after she finished eating, she told us that she wanted to go in and rest a bit, not knowing that she will be going to rest till eternity.
"It is with gratitude to God for her remarkable and illustrious life, the entire Awolowo family announce the glorious home calling of our dear Matriarch, Yeye Oodua, Hannah Idowu Dideolu Awolowo on Saturday (yesterday) afternoon.
"Mama died as gloriously as she lived, she spent the day in the company of her children, grandchildren and great grandchildren.
"She shared a precious five minutes with them when she went in to pray for them as they met to plan her centenary birthday.
"She died a couple of hours later as she had always wished, surrounded by her children, grandchildren and great grand children."
Meanwhile, Governor Ibikunle Amosun has described the late matriarch as a role model of distinction.
Her transition came at a time preparations were on top gear by the family and the state government for a befitting centenary celebration.
[article_adwert]
In a statement issued and signed lastnight by the secretary to the state government, Barrister Taiwo Adeoluwa, the governor described the death of the matriarch of the Awolowo family as a great loss.
He however said Mama's exit deserved celebration because her life and times were noble and golden, adding that, "this was an exemplary life that truly ran its full course," the governor said.
The statement reads further, "Mama HID stood by her husband like the Rock of Gibraltar throughout the tough political career of the foremost nationalist and leader of the Action Group as well as the Unity Party of Nigeria. She was indeed a 'jewel of inestimable value' as was fondly described by Chief Obafemi Awolowo.
"Nigeria has lost a role model of distinction, a highly disciplined and principled woman, a trustworthy ally and dependable politician who equally made her mark in the business world,"Amosun disclosed.
The governor recalled that following the formation of the United Progressive Grand Alliance (UPGA) in 1964 between the Action Group (AG) and National Council of Nigerian Citizens (NCNC), Mama stood in for Chief Awolowo who was then in prison in the hope that she would contest the federal election and upon victory, step down for her husband in a by-election in order for the late sage to realise his political dream.
"In spite of the political vicissitudes of the First Republic, Mama HID toured the entire country with her husband campaigning in the Second Republic. She was a woman of valour and a friend indeed," Amosun said.
The governor urged the younger generation of women to follow in the footsteps of Mama HID.
At the residence, both deputy governor and the SSG were in with a closed-door meeting with the family members which lasted for about 45 minutes with details not revealed.
Speaking with Legit.ng, the SSG revealed that the state government will take active role in the burial arrangement of the late sage's wife.
He disclosed that he was with Mama on Thursday after the meeting of the birthday celebration at her residence.
"Truly Mama has gone, we thank God. The state government has issued a statement, I believe you have seen that. It is worthy to be noted that Mama's death is a celebration to all of us. She lived an exemplary and worthy life.
"It is a lesson for every woman to learn from her life, she stood firmly by her husband through thick and thin. She is mother to the governor, she loves him so much like her own biological son and the governor also hold her in high esteem. We are going to celebrate her a lot.
READ ALSO: President Buhari Mourns Death Of HID Awolowo
"I met with the family member briefly just now and I have told them that we are going to play an active role in her burial. When the family will be sitting for her burial arrangement, the government will definitely be part of the arrangement. We will officially announce the burial arrangement has we have officially announced her death now,"Adeoluwa posited.
Mrs Hannah Idowu Dideolu Awolowo (née Adelana) was born in Ikenne on November 25, 1915.
The remains of Late Mrs Hannah Idowu Dideolu Awolowo, widow of the first Premier of Western Region of Nigeria, Chief Obafemi Awolowo has been deposited at the Babcock University morgue.
Source: Legit.ng