Fayose Calls On Buhari To Sack DSS Boss
Ayodele Fayose, the governor of Ekiti state, has condemned the alleged invasion of the Akwa Ibom state government house in Uyo by the special squad of the Department of State Services (DSS). He also called on President Muhammadu Buhari to sack Alhaji Lawal Daura, the director general of the agency, saying "he is dragging Nigeria back to era of military dictatorship".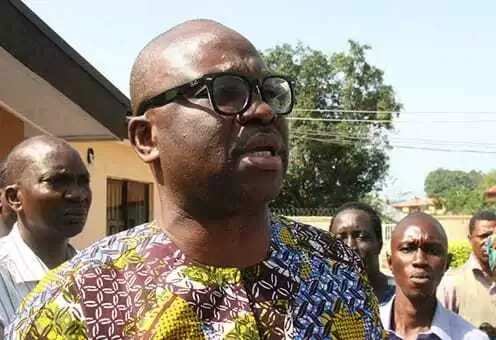 Vanguard reports that the governor made a statement through his special assistant on public communications and new media, Lere Olayinka, on Friday, September 4.
Speaking with journalists at a press conference in Ado-Ekiti, he described the claim that the security operatives were looking for bombs as unacceptable, stressing that the DSS men must look for bomb in the Northeast region.
Fayose described the invasion as "regrettable, unfortunate, condemnable", adding that the actions of the DSS boss have come to symbolize dictatorship which "democracy abhors."
"Obviously, the Thursday invasion of the Akwa Ibom government house by men of the DSS and the arrest of the state INEC REC are part of the sinister plot by the All Progressives Congress to circumvent the will of the people of the South South and Southeast states controlled by the PDP, using the DSS, but it will fail ultimately.
READ ALSO:APC Lists Fayose's Sins After Attack On Buhari Over Lopsided Appointments
[article_adwert]
"To say the least, invasion of the Akwa Ibom state government house on Thursday (September 3) as ordered by Daura, was a rape of democracy and invitation to chaos and anarchy. It is authoritarian, dictatorial and I condemn it strongly.
"If a Government House occupied by a Governor who enjoys the same immunity enjoyed by the President as provided by the 1999 Constitution of the Federal Republic of Nigeria could be invaded by a Special Squad of the DSS, it means Lawal Daura is moving this country towards dictatorship and it must be said that Daura and his DSS men will definitely have Nigerians to contend with.
"As for me, I will continue to talk because Nigeria is not a banana republic that can be ruled anyhow by anyone and Mr. Daura and those urging him on should know that this reign of brute force over co situational democracy will fail.
"Most importantly, Lawal Daura and his desperate men should know that here in Nigeria of today, the power of the people is greater than the power of those in power and the people will always rise in defence of their government no matter how strong the aggression," the statement read in part.
READ ALSO: 'Fayose Belongs To Cesspit" – Senator Blasts Ekiti Governor Over Attacks On Buhari
Earlier this month, the controversial Ekiti state governor once again took a swipe at President Buhari, accusing him of operating as a president of the Northern Nigeria only.
According to him, the steps Buhari has taken since his inauguration "are tainted in ethnic and tribal colouration which is detrimental to the unity of the country">
Source: Legit.ng