Buhari, Osinbajo Declare Assets
Nigeria's President Muhammadu Buhari and Vice President Yemi Osinbajo, have declared their assets.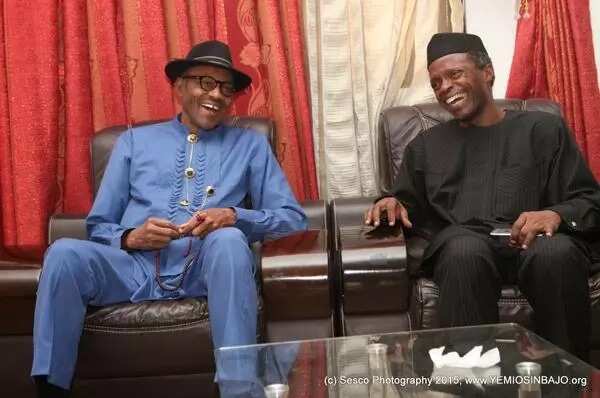 A statement by the Senior Special Adviser on Media and Publicity to the President, Mr Garba Shehu said that prior to being sworn in on May 29, President Buhari had the followings:
- N30 million to his name;
- one bank account, with the Union Bank;
- five homes, and two mud houses in Daura;
- two undeveloped plots of land, one in Kano and the other in Port Harcourt;
- own farms, an orchard and a ranch.
The total number of his holdings in the farm include 270 heads of cattle, 25 sheep, five horses, a variety of birds and a number of economic trees.
The president uses a number of cars, two of which he bought from his savings and the others supplied to him by the federal government in his capacity as the former head of state.
The rest were donated to him by well-wishers after his jeep was damaged in a Boko Haram bomb attack on his convoy in July 2014.
President Buhari "had shares in Berger Paints, Union Bank and Skye Bank".
READ ALSO: To Intimidate Jonathan? Buhari Set To Visit Bayelsa For The First Time To Receive PDP Defectors
[article_adwert]
The statement further added that the vice president, Professor Yemi Osinbajo (SAN), had the following assets:
- a bank balance of about N94 million and USD900,000 in his bank accounts.
- 4-bedroom residence at Victoria Garden City, Lagos and a 3-bedroom flat at 2 Mosley Road, Ikoyi;  2-bedroom flat at Redemption Camp along Lagos-Ibadan Expressway and a 2-bedroom mortgaged property in Bedford, England;
- a law firm, known as SimmonsCooper;
- shareholding in six private companies based in Lagos, including Octogenerium Ltd., Windsor Grant Ltd., Tarapolsa, Vistorion Ltd., Aviva Ltd. and MTN Nigeria.
READ ALSO: APC Accuses Akpabio Of Planning To Truncate Buhari's Anti-Corruption War
The presidency had earlier denied that President Muhammadu Buhari promised during the election campaign before the April general elections earlier this year to declare his assets if he became president.
Source: Legit.ng