One Of Jonathan's Minister Stole $6billion - Oshiomhole
Edo state Governor Adams Oshimhole on July 27 made a scandalous disclosure regarding a minister who served under Goodluck Jonathan's administration saying that the official had stolen $6billion.
The governor said the information had been provided during President Muhammadu Buhari's visit to the US, Premium Times reports. Recall that Oshimhole was part of the delegation that accompanied the president to America.
Without giving the name of the allegedly guilty minister, Oshimhole said in the course of the Monday meeting at the state house:
"We have moved away from a president that doesn't seem to know his powers to one that understands that he is a president of the country in the continent.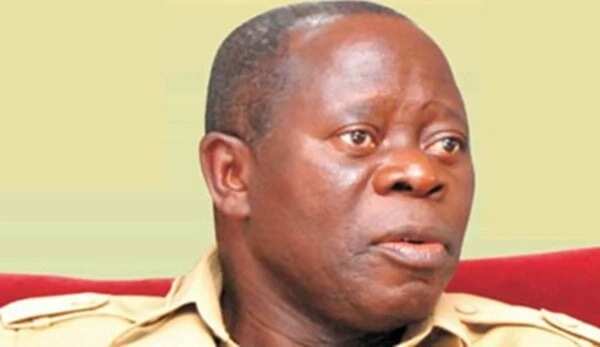 "PDP destroyed the country- I mean from the lips of American officials; senior officials of the state department. They said one minister under PDP cornered as much as $6billion, and the man said even by Washington standard that is earth-quaking."
Oshiomhole accused the PDP of having ruined all Nigeria's relevant institutions.
READ ALSO: NASS Crisis: READ What Oshiomhole Discussed With Buhari
"We are a very patient people. If we were not a patient people, anybody wearing the tag of PDP ought to feel very unsafe because you are all victims - all of us here."
The governor claimed that the US seniors saw Goodluck Jonathan as a confused president. He referred to the chat with US Assistant Secretary of State, Johnnie Carson, when the American official said that every time there seemed to be light at the end of the tunnel, "you would wake up the following day under president Jonathan to find out that even the tunnel had been removed".
READ ALSO: How Gov Oshiomole Plans To Eradicate Crime In Edo State
This is not the case with the incumbent president, however, Oshimohole said:
"Now last week, this same Carson cheered the president's address at the Institute of Peace. And he said 'we now have a man of enormous integrity; one that has shown so much faith in the democratic process; one that refused to be frustrated even in the face of massively rigged elections."
The rift between the supporters of the immediate past government and the acting administration continues even after the power transition to Muhammadu Buhari. The APC is accusing their predecessors of having destroyed the economy of the country by corruption. The PDP, on its part, blasts the new government of lacking focus and being unable to tackle the challenges.
Source: Legit.ng