BREAKING: Powerful Blast Hits Crowded Damaturu Market
Another powerful blast hit a crowded market in the capital of Yobe state Damaturu, taking many lives. The explosion occurred at around 9.30 am on Sunday – just six days after a suicide bombing at a checkpoint in the same city.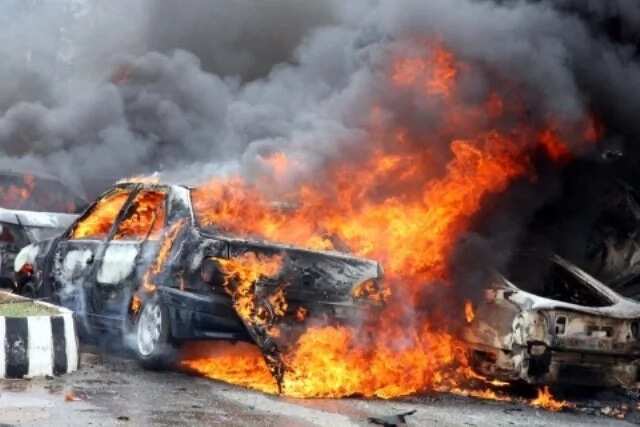 Dozens were injured and at least 15 people killed including female suicide bomber in a powerful blast that hit a crowded market in the city of Damaturu on Sunday. The explosive device went off at around 9.30 am on Sunday.
READ ALSO: BREAKING: 10-Year-Old Suicide Bomber Kills Many In Fresh Damaturu Attack (UPDATED)
The attack comes just six day after a suicide bombing at a checkpoint on the outskirts of the same city.
According to the latest reports, 15 people were killed and at least 50 others seriously wounded when a female suicide bomber detonated a bomb hidden under her veil at a market, popularly known as Sunday market.
READ ALSO: Damaturu Tragedy: Explosion Force Blew Off People's Limbs — Survivor Narrates
The Sunday market in Damaturu attracts thousands vendors every week on Sundays. According to survived witnesses, the female suicide bomber set off her explosive device in the crowded place right outside the entrance of the market where traders usually off-load their goods.
"It was a messy scene to behold. More than a dozen persons were battered by the bomb – beyond recognition; many other victims who did not die, were left with damaging injuries that they may not survive", told the press a trader Abdullahi Haruna, who witnessed the blast.
Damaturu Specialist Hospital representative confirmed that "as at 11am, fifteen people were confirmed dead, while over 50 are seriously injured and are being attended at the accident and emergency ward".
The police spokesperson, Toyin Gbadegeshin, informed the press that the suicide bomber was about ten years old. "A female suicide bomber, aged about 10 years, detonated the explosive device at a crowded main entrance of the popular Sunday market, killing 15 people, including ten females and five males," he told.
He also added that the attack could be much more powerful as five other units of undetonated explosives were found at the scene.
He said that those devices were similar to those ones used in a recent suicide blast at a checkpoint on the outskirts of Damaturu six days ago.
Two other female suicide bombers with hidden explosive devices were arrested in the city shortly after the blast.
Another intending female suicide bomber was shot at and arrested at the market shortly after the first attack and later confessed that there was another woman who was about to detonate a bomb inside the hospital when people gather there in search for their friends and relatives wounded in the blast at the market.
Shortly after security operatives have been tipped about this sinister plan by Boko Haram militants, they rushed to the hospital, identified a female would-be suicide bomber and disarmed her.
The checkpoint on a major highway connecting Damaturu with Borno state capital Maiduguri was reportedly hit by the bomber on Monday.
The police spokesman, Toyin Gbadegesin told the press that "eight people including the suicide bomber died, two security operatives were among the dead".
Three days ago a bomb was detonated at the Eid-al-Fitr prayer ground in Damaturu, Yobe state, in the early hours of Friday, July 17.
Another bomb blast rocked the popular Bayan Tasha market/ motor park in Damaturu on Saturday​, May 15, barely hours since the deaths of at least 27 civilians in a Borno attack on the same day.
Source: Legit.ng