Jonathan Fails In Bid To Stop Probe Of Ex-Ministers
Indications have emerged that last minute efforts of former president Goodluck Jonathan to save the face of his ex-ministers  and aides from dragnet of  President Muhammadu Buhrai has failed.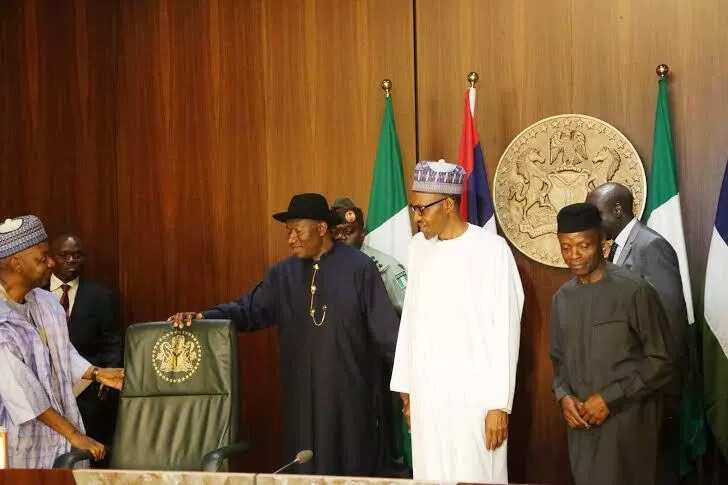 Jonathan who is banking on the support of  Gen. Abdulsalami Abubakar's  peace committee that played a crucial role that led to a peaceful transition.
The Nation reports that Abubakar was able to get audience with Buhari over Jonathan request due to the busy schedule of the president.
It was gathered that Jonathan was seeking a peace session between him and the president at the instance of the Abdulsalami committee, but the retired general efforts had not yield much as he attempted five times to meet President but state duties did not allow a meeting.
Jonathan, who arrived in the country about a week ago, is said to be worried about the fate of his former National Security Adviser (NSA), Col.  Sambo Dasuki (rtd.) and detention of his ex-Chief Security Officer (CSO), Mr. Gordon Obuah.
There were unconfirmed reports yesterday that his former Aide-de-Camp, and later Chief Personal Security Officer, Mr. Moses Jitoboh, had been picked up by security agents.
There were rumours that the arrest of Jitoboh was linked to the Economic and Financial Crimes Commission (EFCC) but a source in the anti-graft agency denied knowledge of such.
Many of Jonathan's ministers relocated abroad immediately after May 29 handover date.
READ ALSO: PDP Chieftain Calls On Buhari To Extend Probe To 1999
Sources held that  Buhari has  reaffirmed his resolve to recover all stolen fund cached by corrupt officials during Jonathan's administration.
A source said: "Jonathan had approached the Abdulsalami Committee to intervene and prevail on Buhari to stop scandalising his administration and haunting his former aides/ ex-ministers.
"Jonathan has been saying that Buhari's attitude so far was not yet in line with the peace agreement the two leaders entered into before the 2015 general elections.
"But the committee members, especially Abdulsalami, have not been able to have audience with the President due to the President's tight state duties or commitments.
"The President hosted ex-President Olusegun Obasanjo to a dinner to break the Ramadan fast. But the two leaders could not talk much on the state of the nation as Obasanjo insisted on going back to Abeokuta at 9pm, The Nation learnt.
"So, Jonathan has really run into a brick wall in his plans to seek soft-landing for some of his aides and ex-ministers."
The pre-election agreement between Buhari and Jonathan does not cover shielding corrupt suspects from prosecution, the source added.
A source in the presidency said: "We really do not know what agreement Jonathan and his group are talking about. The Abuja Accord and the Peace Agreement border on peaceful conduct of the 2015 elections, free and fairness of the process, acceptance of the outcome and the preservation of the nation's unity.
"There is nowhere it is stated that those who looted the treasury should either not be questioned or legally arrested by the relevant agencies.
"It is important to clear the air on this matter. What the President promised was not to witch-hunt. And he even said ex-President Jonathan had nothing to fear."
READ ALSO: Ebun Buhari Can't Be Blackmailed By Insinuation Of Vengeance
It was gathered that some former ministers with sensitive portfolios where funds were mismanaged have relocated overseas.
Although most of these ex-ministers promised to return home any time they are invited, only two or three of them have been coming to Nigeria.
A former minister said: "I have been around. I have not gone anywhere. I am trying to earn my legitimate living.
"The former President said he was in a cage while in power. I have also realized that we were all in a cage. We have to support the present administration to succeed."
Another former Minister said: "Some of us have tried to lie low because we have paid our dues. We only need to rally round the new government."
The March accord, which was fostered by the national peace committee on 2015 elections, was read by Bishop Mathew Hassan Kukah at Ladi Kwali Hall, Sheraton Hotel, Abuja.
The joint statement by Jonathan and Buhari, said: "You may recall that on 14th January, 2015, both of us, along with nine other party leaders, signed what has now come to be known as the Abuja Accord.
"The substance of that Accord was our commitment to free, fair and credible elections in our dear country.
"In the accord, we agreed to, among other things, run an issue-based campaign and pledged that our electoral campaigns will not involve any religious incitement, ethnic or tribal profiling, both by ourselves and all agents acting in our names.
"Now that the campaigns have come to an end, we meet today to renew our pledge for peaceful elections.
"We therefore call on all fellow citizens of our dear country, and our party supporters, to refrain from violence or any act that may in any way jeopardise our collective vision of a free, fair and credible election.
"In addition, we call on INEC and all security agencies to ensure strict adherence to their constitutional roles.
"We also pledge to respect the outcome of free, fair and credible elections.
"Today (Thursday), we again renew our commitment to a united, democratic and prosperous Nigeria. We want to urge all Nigerians to stand together at this critical phase of our nation's history."
Source: Legit.ng