Nigerian music artist whose daughter turned three recently Timaya, took his time to send out words of advice to colleague, Burna Boy over the nominee list of the MTV Africa Music Awards (MAMA), which was unveiled last month.
READ ALSO: Burna Boy Threatens Bloggers - I Will Beat You Up!
The MTV Africa Music Awards organisers unveiled nominees for the 2015 edition in June and Burna Boy, felt disappointed when he couldn't find his name on the list.
He took to the social media to rant and air his frustration where the organisers replied him saying he should try again next year.
Burna Boy's frustration obviously caught the attention of Timaya, an act who has been around for much longer and the 'Bow Down' star deemed it fit to share some words of wisdom with Burna.
In Timaya's words he adviced his colleague saying, don't allow anyone feel you are not good enough...
READ ALSO: Photos: Timaya's Daughter Clocks 3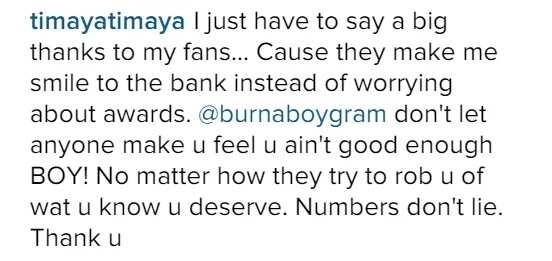 However, the PortHarcourt born singer gained grounds and international prominence through his third studio album De Rebirth, and its lead single "Plantain Boy". Both were commercially successful.
Source: Legit.ng